Are you looking for resources to improve your department's day-to-day workload? We've chosen the best Excel spreadsheets for human resources: performance appraisals, annual leave, timekeeping, work climate, organogram and payroll. And it's all free!
Usage of Excel spreadsheets in HR
The personnel department manages and stores and large quantity of information, which also increases as the company grows. It's easy to manage when the company is still small. But once the company has more than 50 staff, and in addition to hiring specialised HR professionals, as studies recommend, it's also important to use the appropriate tools to help you grow and stay efficient. Excel spreadsheets for human resources suddenly become obsolete, especially when you reach this point.


The future lies with HR software such as Kenjo that enable teams to grow, to become more productive thanks to task automation, and to make better decisions based on objective data. However, we have an intermediate solution for those departments that still opt for traditional systems: preconfigured Excel templates for human resources. We gathered a selection of the best on the market, some of which are created by Kenjo.
Excel template for performance appraisal
The performance appraisal template is one of the most useful of the free templates for human resources available. It was created by Kenjo and enables you to upload a record for each employee, where you can register all the appraisals you carry out during the year.

Can you customise it to suit your needs? Of course, just enter the questions you normally ask at appraisals and classify them using the pre-set categories we've created for you.
Apart from storing information, the Excel template also enables you to generate charts to analyse the performance of each employee or team throughout the year, and even draw comparisons with their colleagues. You can also compare the results of several teams according to the department or manager. Click on the link below to download our performance evaluation template.
Excel template for annual leave
How do you track your team's annual leave? You'll find it much easier, faster and more secure with this human resources Excel template. Just enter each employee's information and start to use it.
It was inspired by our absence and annual leave software, so you'll be able to access each employee's record and an overall calendar where you can see, at a glance, the entire team's absences with colour-coded identification. Click on the following link and download our Excel template for holidays and absences.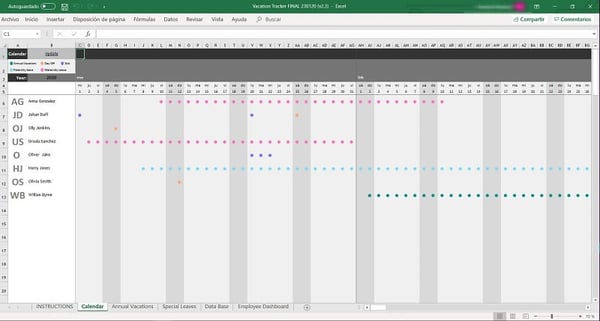 This will enable you to track annual leave for every employee, the number of absences, and thanks to the calendar, you will be able to better coordinate your staff by visualising those who are available on a daily basis.
Excel template to track your HR KPIs
As legendary Austrian management consultant and educator Peter Drucker said "what is not measured cannot be improved". You cannot analyse the progress of your department without implementing the right KPIs (Key Performance Indicators). KPIs allow us to obtain information about the actions in an organisation in order to draw conclusions and assess which processes need improving.
Our Human resources KPI Excel template requires you to only enter the information of your employees and it automatically generates different graphs for you. In this very visual way, you will be able to see the valuable information related to your department.
Excel template to calculate salary increases
Setting salaries is one of the most complicated tasks that a Human Resources department has to undertake. At Kenjo, we want to help you in facilitating this task by offering you a thorough template to define your next compensation plan.
With this template you will be able to calculate the salary increases of your employees based on their job performance. You can also analyse the information through comparative graphs and tables.
Excel templates for your training plan
Now more than ever, employee training is vital to the development and operation of a company. Technologies are constantly changing and employees need to keep up to date with them and learn new skills. To do this, it is essential for HR departments to have training plans for the growth and success of their employees.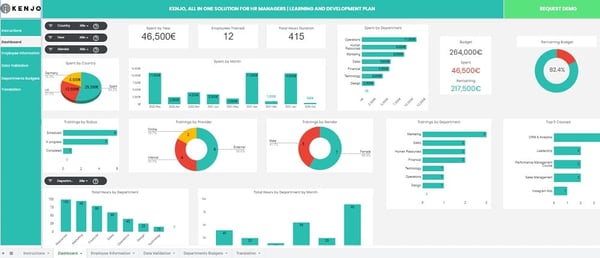 At Kenjo, we have developed a company training plan Excel template. This will allow you to keep track of the training of your employees and the budget allocated to it. Download this template by clicking the following image.
Excel template for employee recruitment tracking
Another fundamental tool for a HR department is a recruiting and hiring excel template. When carrying out a recruitment process it is important to make a plan and have a system that allows you to monitor this process. When the time comes to make a decision, this template will allow you to see all the information of the candidates at a glance so you can compare them and choose the most suitable candidate for the position.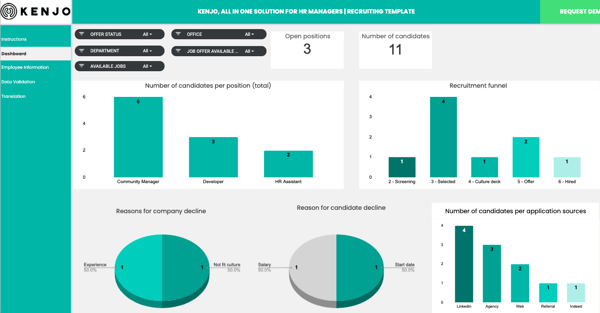 In this excel recruitment tracker template you will be able to classify the candidates, indicate the phase of the process they are in and see all the observations you have made about each of them.
Timekeeping template
The Working Time Regulations stipulate a maximum 48-hour week for all UK employees. Employees can opt out if they choose, but employers have the responsibility of tracking time and attendance of all staff, mainly to ensure that they are not doing too much overtime. Tracking time and attendance is also extremely important for remote workers, who need to keep track of hours worked, as well as those with flexible working agreements. Employees with children under 17 years old have the right to request flexible working, after the Children and Families Act came into force in June 2014

What system are you using to keep track of time and attendance? Some Excel templates allow you to simply enter clock-in and clock-out times and it will automatically calculate the number of hours, as well as any overtime worked. Download the template here.
Workplace survey template
Work climate includes a range of factors such as motivation and employee satisfaction. Gauging and understanding how the team perceives the company, as well as their own job role, will give you an idea about the atmosphere within the company, enabling you to make improvements that will increase your productivity and the well-being of your workforce. To do this, it's fundamental to ask staff to complete workplace surveys from time to time.

You can use a template (download here) which generates a human resources dashboard with the survey results.
OrgChart template
Whether your company has a vertical or horizontal structure, having an organigram is important so that reporting lines are clear to everyone. This will give you a handy and clear view of the company structure, the different teams, job roles and departments. It's a key tool for improving communication and is very useful, for example, while onboarding new staff members.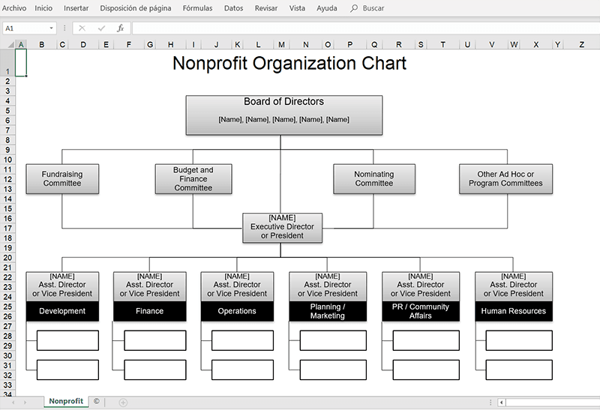 Click here to see a range of different organigram models that you can customise and adapt to your organisation. It's important to keep it up to date after every promotion, and when someone joins or leaves the company.
Payroll template for Human Resources

Payroll administration is one the most important functions of a HR department. With a platform like Kenjo, you could save up to 40% of the time spent on this type of administrative task. Nevertheless, if you're still using Excel then it's always better to use a template.

There is no official payroll template but the HMRC offers useful information on the most important aspects a payslip should include. You can create your own or choose an online platform to help you. This template gives you a base to work from and allows you to quickly and easily create payslips for your team.
Excel template for shift planning
Organising rotating shifts ranks among the most time-consuming tasks of HR managers. Lacking the right tools, this task can quickly make for a real mess in the department.

We created a shift planning excel template that HR managers can use to effectively and comprehensively manage their employees' shift.
NPS calculator
The NPS, or Net Promoter Score is a method created by Fred Reichheld to measure the satisfaction of employees, clients, etc. They are asked to answer questions such as "How likely are you to recommend this (product, service, company) to a friend or family?" and the person has to give a rating from zero (least likely) to 10 (most likely). In this way, three types of profile are established: Promoters, Passives and Detractors.

Hotjar has created an automatic calculator that helps you determine how many Promoters, Detractors you have in your company and discover your NPS.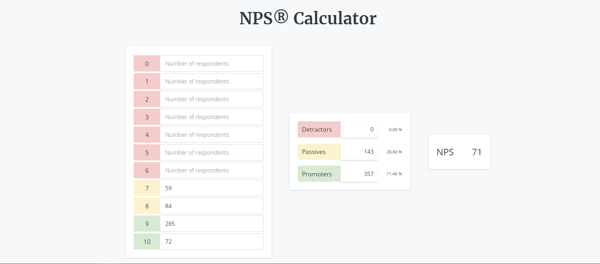 Digitise your HR department with Kenjo
Take the quality and efficiency of your work to the next level and leave Excel templates behind. Digitise your HR department with Kenjo human resources software. You will be able to manage your payroll, recruitment processes, annual leave and absences, workplace surveys, etc. all in one place, and share the information with your team and become more agile in your day-to-day work. We calculate that, on average, you'll save 40% of the time spent on administrative tasks.
You may also be interested in our article about the 3 best human resources software.