Technology has grown from a nice-to-have luxury into a key tool for staff management. Nowadays, specialist programs are the norm in HR departments, where they use human resources software on a daily basis to streamline human capital management.
The human resources department is among those that has the biggest workload in any company. The functions of a human resources department are extremely diverse, as this team is responsible for managing all of the company's human capital.

For this reason, HR department's are increasingly investing in technology and use human resources software as part of their daily routine to carry out their human capital management tasks. HR software delivers an efficiency boost to the department. It also provides a steady stream of valuable information to aid decision-making.

Below, we will take a look at some features of HR software and the best options on the market.
What is HR software?
HR software is an IT tool that integrates and simplifies the department's processes and task management.
By incorporating suitable software into the company, it is possible to optimise many processes and overcome the challenges facing personnel management at any given moment.
Human resources software can do a variety of things, including automating the recruitment processes, performance reviews, attendance, payroll management, reports and analysis, and many more.
A good HR program will:
Save time and money.

Increase productivity.
Improve the strategic weight of the HR department within the company.
Enhance security.
Advantages of implementing human resources software
According to human resources statistics, the digitisation of human resources is something that human capital management departments are beginning to assimilate, and its benefits are becoming more and more obvious. A study by KPMG found that 88% of professionals who have invested in digitisation believe that it's been worth it.

If you haven't already implemented HR software in your company, read on to discover the main benefits it offers us. We're convinced that once you learn about its benefits, you'll want to implement one in your department too 😊
Increased productivity
As we mentioned earlier in this article, the human resources department among those that has the biggest workload in any company. Using a human resources software and its automated processes can hugely improve your department's productivity.

Tools like Excel templates for HR or manual data entry are things of the past. They are largely ineffective methods that take up too much time, have to be updated manually, and more importantly, the data could easily be lost.
Cost savings
Automating different processes can generate significant time savings for department managers. These time savings translate into cost savings, as human resources staff can spend much of their working day on other types of tasks.

At Kenjo we've calculated how much time can be saved by using a specialised software like ours, and the results are quite astonishing. The human resources department could save up to 40% of the time spent on administrative tasks.
Improve communication in your company
This is one of the main benefits of using a personnel management software, as it greatly improves communication between staff and human resources managers.

For example, when a worker requests annual leave they would normally do so by emailing the human resources department, or by talking directly to their manager. This isn't a particularly effective form of communication because, once the company grows, managers will find themselves overwhelmed by having to deal with lots of email or written notes.
Increased security

This is one area which raises the most concern for department managers. Can you imagine getting to work one day and all of the data has been deleted?

Using a human capital management software eliminates the chance of this ever happening, as all the data is stored in the cloud and a range of backups are regularly performed. In addition, you can also restrict access to the data and give it only to those who need it.
Desktop software vs. cloud-based HR software
When deciding on human capital management software, you have cloud or desktop alternatives to choose between. Until a few years ago, the latter was standard. You bought a licence and downloaded it onto the computers of the employees who were going to use it.
However, this model is quickly becoming obsolete in favour of cloud software. With this option, you no longer need to install a memory-greedy program on the hard drive, as the software runs directly over the internet. All you need are the login details, a device, and a decent connection.
What are the advantages of using cloud-based HR software?
The program does not take up space on the computer's memory.
You can access it from anywhere, making it perfect for remote working.
It's compatible with multiple devices, so you can use a computer or tablet.
Cloud software is usually more economical than desktop options.
The security systems update regularly.
What are the best HR software options?
There are different types of HR software on the market, such as HRIS, HCM, and HRMS, which each target specific HR functions.
Before you choose one program over another, it's best to identify all your department's day-to-day tasks and go for an HR management software that covers all the necessary functions. This way, you'll avoid the confusion of having different software for different tasks.

If you want to know more about how to pick the right one, take a look at our guide to choosing HR software.
Kenjo
Kenjo is a comprehensive program designed to make life easier for the HR department. As such, it incorporates functions such as onboarding and recruitment management, holiday and time-off requests, attendance, and performance reviews, among others.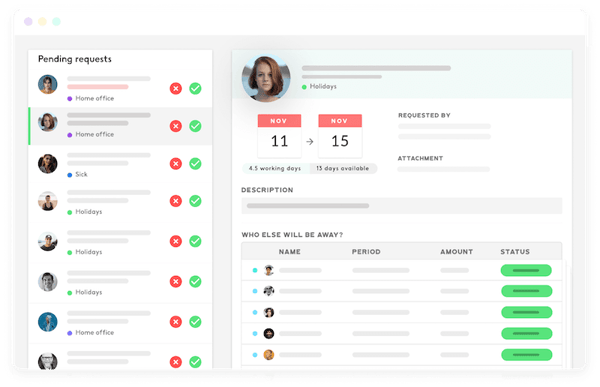 Kenjo Interface
Working with Kenjo is a breeze. Why? Firstly, implementation is remarkably simple as it is cloud-based. There is no need to install anything, just pop in your company details, and off you go. Secondly, its intuitive design means learning to use the software takes very little time.
Are you remote working? Perfect, because to access Kenjo all you need is a device and an internet connection.
Lastly, another advantage of working with Kenjo is that you only pay for the number of employees you have, so the rate is calculated in line with the size of your company.
You can choose between two different plans: Premium and Professional. Premium is €8 per month per employee and the Professional is €5 per month per employee. What's the difference? The latter does not include electronic signatures or performance reviews. If you're still not convinced, you also have the option of 14 days free to try it out.
Workday
Workday is a software solution for finances, business planning, and human resources. The HR management program specifically is built as a single system with one data source. The program is also cloud-based, so it can offer frequent new features to satisfy HR teams' changing requirements. It also includes recruitment functions, talent management, compensation and benefits, payroll, attendance, and training, among others.
Workday is popular with companies as the broad platform offers many possibilities. However, it often takes longer to implement and learn how to use than other solutions.
Oracle Talent Management
Oracle is a company that specialises in developing cloud-based solutions. One of these is Oracle Talent Management: a program that promises to help you "take control of every stage of the talent lifecycle".
With this software, it is possible to attract candidates to the recruitment process, increase productivity and improve decision-making with integrated talent management.
As such, it includes sections for recruitment, onboarding, performance management, compensation, career development, learning, succession planning, and an opportunity marketplace.
However, there are no details about cost or the possibility of doing a free trial on the company website.
SAP SuccessFactors
Another HR administration software is SAP SuccessFactors. It works on the principle of taking the best parts of traditional human capital management (HCM) and transforming them into Human Experience Management (HXM)
This system makes it possible to automate processes, improve efficiency and manage the employee lifecycle from the cloud. In general, it is a very complete program as it includes a wide variety of functions: payroll, holiday management, 360 feedback, and recruitment, etc.
You can request a demo from the website and, as with other platforms, it is possible to access a free trial. However, there is no information on plans or prices.
Hibob
Hibob is a Human Resources Management (HRM) solution created to improve employee experience in small to medium businesses. To do this, it combines the usual human capital management (HCM) functions with UI and UX to attract, retain and engage talent.
It stands out because of the way it markedly simplifies all processes, helping companies to connect and interact with their employees. What's more, it uses data to help HR professionals take better decisions. It integrates with Slack, Comeet, Workable and Google Calendar.
Meta4
Meta4 is a very complete Human Resources software. The main difference to other similar offerings is that it lets you identify, organise and design plans to manage your human capital in the best way possible. For this, it encompasses every stage an employee will pass through within a company.
Within this solution, you can manage payroll, facilitate communication between managers, classify talent by area, etc. This makes the management process much more responsive and lowers the cost. Being a cloud-based system, it can be used from a mobile or a computer.
Freshteam
Freshteam comes from Californian business software developers Freshworks and is a talent management solution that targets primarily growing businesses. While it doesn't have some features like performance reviews that other programs offer, it is a system designed to develop as your business grows.
The basic 'sprout' package, for example, is free for the first 50 employees, which can then be upgraded to a more comprehensive package as the company's requirements change.
The system encompasses an applicant tracking system, onboarding, employee information system, and time-off, and comes with a mobile app. Information about pricing, a demo, and a free trial is available on the website.
Comparison table of the best HR programs
The table below gives you a visual summary of the most interesting information about the programs mentioned.
Program

Languages

Free Trial

Average score on Capterra

Kenjo

German, English, Spanish

Yes

4.5 / 5

Workday

Arabic, Bulgarian, Danish, German, Greek, English, Finnish, Italian, French, Japanese,

Korean, Dutch, Russian, Spanish,

Swedish, Turkish, Chinese

Yes

4.4 / 5

Oracle

English, Spanish

Yes

4 / 5

SAP Success Factor

English, Spanish

Yes

3.9 / 5

Hibob

English

Yes

4.6 / 5

Meta4

English, Spanish, French,

Portuguese

Yes

4.3 / 5

Freshteam

English, French, Italian, German, Spanish, Dutch, Portuguese (Br), Chinese

Yes

4.3 / 5