The human resources department is among those that has the biggest workload in any company. The functions of a human resources department are extremely diverse, as this team is responsible for managing all of the company's human capital.

For this reason, HR department's are increasingly investing in technology and use human resources software as part of their daily routine to carry out their human capital management tasks.

The following article looks at the advantages of using this kind of software, the reasons why you should implement this type of software in your company and the three best software platforms on the market.
What is human resources software?
Human resources software can be defined as an IT platform that can help you manage all aspects of an organisation's human capital: payroll, annual leave, absences, onboarding, recruitment, timekeeping, etc.

The aim of implementing an HR management software is to centralise all of this department's information in one place, and therefore facilitating the departmental manager's job. In some companies this type of software is also known as a human resources ERP system.
Advantages of implementing human resources software
According to human resources statistics, the digitisation of human resources is something that human capital management departments are beginning to assimilate, and its benefits are becoming more and more obvious. A study by KPMG found that 88% of professionals who have invested in digitisation believe that it's been worth it.

If you haven't already implemented HR software in your company, read on to discover the main benefits it offers us. We're convinced that once you learn about its benefits, you'll want to implement one in your department too 😊
Increased productivity
As we mentioned earlier in this article, the human resources department among those that has the biggest workload in any company. Using a human resources software and its automated processes can hugely improve your department's productivity.

Tools like Excel templates for HR or manual data entry are things of the past. They are largely ineffective methods that take up too much time, have to be updated manually, and more importantly, the data could easily be lost.
Cost savings
Automating different processes can generate significant time savings for department managers. These time savings translate into cost savings, as human resources staff can spend much of their working day on other types of tasks.

At Kenjo we've calculated how much time can be saved by using a specialised software like ours, and the results are quite astonishing. The human resources department could save up to 40% of the time spent on administrative tasks.
Improve communication in your company
This is one of the main benefits of using a personnel management software, as it greatly improves communication between staff and human resources managers.

For example, when a worker requests annual leave they would normally do so by emailing the human resources department, or by talking directly to their manager. This isn't a particularly effective form of communication because, once the company grows, managers will find themselves overwhelmed by having to deal with lots of email or written notes.
Increased security

This is one area which raises the most concern for department managers. Can you imagine getting to work one day and all of the data has been deleted?

Using a human capital management software eliminates the chance of this ever happening, as all the data is stored in the cloud and a range of backups are regularly performed. In addition, you can also restrict access to the data and give it only to those who need it.
Desktop software vs. cloud-based software

The world of software has evolved rapidly in recent years Until recently, we had to buy software, install it on our computer and use it on the same device every time we needed it.
Cloud-based software has now superseded this model. With this new format, you don't need to install any programmes on your computer, as the software runs directly in the cloud (SaaS). Another thing to bear in mind is that you can run this software from any computer, and from anywhere in the world. All you need is an internet connection.

The ideal solution today, therefore, is to choose a cloud-based human resources management software so that anyone in the team can access it from anywhere in the world, and from any computer. In addition, you won't need to worry about the safety of your data, as these kinds of software comply with the strictest security and data protection legislation.
The best 3 human resources software
There are different types of human resources software on the market that are geared towards a particular feature. The most recommendable solution in such situations would be an all-in-one software which covers the department's basic daily needs and minimises the chaos of having to use different software. Let's take a closer look at the best software on the market. You can also see our article on how to choose a human resources software.
Kenjo, the all-in-one software to digitise your department.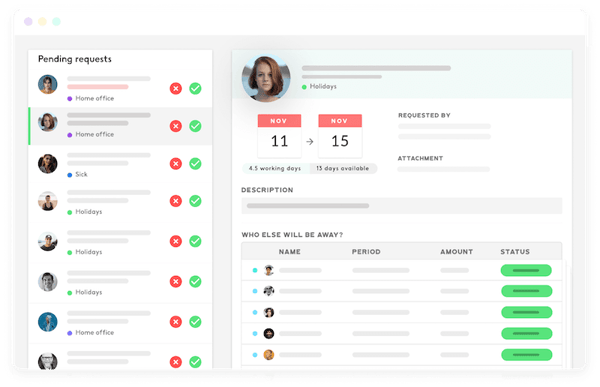 Kenjo has been on the market more than two years and is used by hundreds of businesses to manage their human resources functions. The company's main objective is to digitise HR departments with the aim of saving time on tasks that are purely administrative, leaving them to invest this time in what's really important: people.

This software incorporates the main features used by human resources managers. Using Kenjo makes the human resources manager's job much easier. Some of these features include:


Absence and leave.
Employee portal.
Time tracking and attendance.
Onboarding.
Work climate surveys.
Measuring employee performance.

Applicant tracking system (ATS).

As this is a cloud-based solution (SaaS), you won't need to install any programmes on your computer, as the software runs directly in the cloud. Another thing to bear in mind is that you can run this software from any computer, and from anywhere in the world. The only thing you need is an internet connection.
E-volution, recruitment solutions
This cloud-based software enables you to simplify and automate workforce administration and payroll processes and activities, allowing human resources managers to focus on talent development, career paths, staff training and objectives.

This platform offers some benefits, such as:
It relieves the department of a considerable amount of operational tasks and allows them to focus on strategic objectives.
Real-time personal and professional data analysis, skills, performance, etc.
Staff remuneration based on determined parameters which increase their commitment to the company.
Increased capacity for resource planning and forecasting.
Cost and time reduction per transaction.
Performance management and measurement, identifying the performance of colleagues and developing subsequent action plans.
GuestPeople
This office software has been designed specifically with directors and managers of SMEs in mind. It enables you to quickly define your company's organisational structure, define each employee's job role, pinpoint skills and define objectives.

Each employee will have their own record with all the corresponding data and information, and will be positioned in a chart which will provide them with a reference for their work. In addition, the HR department will be able to access each employee's record to learn more about their occupational map, objectives and skills.

This platform offers a series of characteristics.
Step by step guided support.
Adjustable filters to suit your preferences.
Customisable chart design and generation.
Multi-user and multi-company.
List and report generation.
It's important to bear in mind that this software is targeted more towards accomplishing the department's established objectives and not to resolve the department's daily operational needs. Another point to remember is that this is a cloud-based software, meaning that you won't need to install it onto your computer.