Choosing the right HR software can feel insurmountable. The global HR software market is forecast to hit $38Bn annually by 2027 – that's a lot of options, and most providers seem to say similar things.
And you're already flat-out (that's why you're looking at buying HR software, duh).
This article shares some pointers, to help you choose the right HR software faster – so you can stop reading articles like this, and start enjoying hassle-free, error-free, admin-free HR. And better employee engagement too.
How to choose human resources software?
So, this article's going to talk you through the steps to choose an HR system that's right for your business.
In this order:
First, we'll give you a quick reminder of why HR software matters (For a full deep-dive, check out our recent article, 'What does HR software do?').
Second, we'll talk about when's the right time to buy HR software. It's probably now – that's why you're here. But that's different for different size companies.
Third, we'll share the absolute must-have features from HR software. Like a cheat's buying guide.
Finally, we'll tell you four questions to ask suppliers once you've narrowed your shortlist down.
As easy as 1, 2, 3, 4, eh? Let's go.
Why is HR software important?
HR software streamlines, accelerates, automates and optimises your HR processes from recruitment to offboarding. (Or at least, all-in-one HR software addresses touch points throughout the hire-to-retire lifecycle.)
HR software decreases HR's admin burden, which is important for two reasons:
It improves HR delivery – reducing errors, reducing costs, accelerating processes and introducing consistency. That's important to having a more efficient, cost-effective HR function.
It frees HR's time to add more value in higher-touch, higher-impact areas, like building an employee engagement program instead of manually reconciling payroll data.
This second point is where HR software is most valuable. It's not just that HR software enables better delivery of core HR functions. Or that HR software delivers automated, consistent, fast, streamlined processes.
It's also that HR software is a tool that empowers HR to deliver a better employee experience. That's a major strategic priority:
80% of executives rate employee experience as important or very important, Deloitte says. But 59% believe their companies are not ready or only somewhat ready to address EX.
The upshot is, HR software empowers HR professionals to move from a transactional process-focussed function towards a strategic, people-focussed function that powers engagement.
But how do you know if it's the right time to consider HR software?
When to buy HR software?
Typically, a great time to buy HR software is when you're facing a new process or people's challenges that you're struggling to solve. Those challenges tend to vary depending on the size of your business. But spoiler alert: the answer's NOW in both cases…
HR for 10 - 50 employees
The perception of HR in small businesses can be a real issue. You mightn't even have dedicated HR people, instead asking office managers or line managers to double-up. And resources are typically very limited – typically you're relying on spreadsheets and manual chasing.
Not good, because smaller companies are especially vulnerable to HR issues like long-term absences, team conflict, performance management issues, turnover, and costs associated with employment law breaches.
If that sounds familiar, now's a great time to buy HR software. You'll see immediate value from automating repetitive manual processes, and you'll build the structures to support future growth.
Read more: Building an HR department from scratch: An interview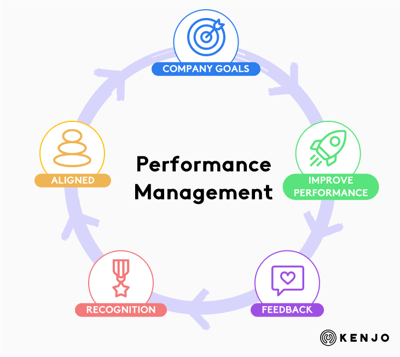 HR for 50 – 100+ employees
At this level, the biggest problem tends to be that HR hasn't kept up with growth. Perhaps you've put up with less-than-perfect processes and weird workarounds for so long, that backtracking becomes harder and harder. Making the move to HR software starts to feel like an insurmountably huge project.
Especially given you're already snowed under. If you're still using spreadsheets to track and manage employee data at this point, the admin burden of simple day-to-day HR is likely totally unmanageable.
You'd like to spend more time focussing on strategic tasks – like implementing best-practice performance management, or building engagement programs. But all your time's taken up with tasks like managing time-off, tracking payments and scheduling interviews.
Look, honestly, you needed HR software yesterday. But in lieu of time travel, now works.
What HR software features does your company need?
Deciding essential versus non-essential HR software features is one of the most important stages in choosing the right system. Your exact needs will depend on the size of your business and the challenges you're facing, but there are three common must-haves:
All-in-one functionality. Most growing and medium-to-large businesses see most value from all-in-one HR software, rather than multiple pure-play systems. That's typically a cost, complexity and efficiency decision. In that case, check the HR software you're evaluating offers good functionality throughout the end-to-end employee lifecycle. Some companies also use an ERP system for human resources.
Employee self-service. The best HR software is typically employee self-service, which empowers your people to handle many of their own HR tasks like… checking their holiday. Asking for time-off. Checking invoice statuses. Updating their address. Inputting overtime. Uploading new certifications. When you decentralise responsibility for these basic tasks, you free HR's bandwidth dramatically.
Robust reporting functionality. This is non-negotiable. Your HR software shouldn't just be an automation engine. It should be an improvement engine. To improve, you need robust reporting functionality that shows how you're performing against your most important KPIs. You can't improve what you can't see, whether that's accelerating time-to-hire, decreasing attrition, increasing diversity, or anything else that falls in the people's remit.
Outside those three essential features, you'll have different priorities depending on your business. Like, maybe introducing smart goal setting is your biggest priority, or implementing best-practice onboarding, or simply creating a cloud-based document hub to manage employee documents.
Once you've found HR software that ticks your functionality boxes, the next step is to talk to the suppliers.
Four questions to ask when choosing HR software
Product features aren't everything, of course. Here are four questions to ask HR software suppliers, during your evaluation process.
1 – How do you ensure prices are fair?
One of the most common objections to buying HR software is cost – and it's true that some HR software can cost tens of thousands of pounds monthly.
But there are plenty of options that don't cost those sorts of figures. It's fairest if prices are tied to value, so you're never paying for more than you use. At Kenjo, for example, we offer a transparent, flexible pricing model based on the number of your employees. (Check out our pricing calculator here.)
2 - What happens when we need help?
HR software should remove headaches, not create them. If something goes wrong, you need fast access to support, to help you fix it. Ideally that'll be available 24/7 with fast resolution times, so you're not stuck twiddling your thumbs waiting for help.
3 - Will our people actually use it?
There's no point investing in HR software unless your people use it. If adoption is low, your investment can't deliver ROI.
Ask prospective suppliers what sort of training is needed. What's the learning curve like? Do users have to be tech-savvy? Can users use the software on-the-go or only via desktop?
4 - How long does it take to get up and running?
Some HR systems take months to implement. For most businesses, you're best off with software that's up and running within days and weeks, not weeks and months.
When you're choosing HR software, ask suppliers about their customer success teams and typical implementation process. Do you have to install anything? Who handles importing your data? Who has to be involved? Will business-as-usual be disrupted?
What next?
Grab a demo from Kenjo, of course…!
Seriously, we've tried to be unbiased but we know from the reviews from our lovely customers that we tick a whole heap of boxes. We'd love to chat. No hard sell, no sales pitch. We'll just show you around, and you'll be armed with more info than when you started 👇👇