At this point, we all know that technology is a great asset to human resources, today and in the future. Even so, things evolve so quickly that it's sometimes hard to keep up with the latest developments.
In this post, we talk about what an ERP system can do for HR. ERP systems have been around for a long time in companies. They were created to integrate and facilitate business management and, therefore, include modules for people management. But apart from just talking about it, we want to go a step further and compare it to one of the most disruptive technologies: the HRMS.
What is the meaning of ERP?
ERP stands for Enterprise Resource Planning. It's the name given to software that enables companies to manage different business areas, such as human resources, for example.
They are mainly designed for large companies that need an extensive management system. So, ERPs consists of modules that deal with specific areas of the company. And, of course, human resources is one of these.
The objective of an ERP for HR is, therefore, to automate administrative tasks and speed up internal processes to save team members a great deal of time and effort.
You can use this tool for management, payroll, recruitment, evaluations and job offers. All of this integrates into a single module which makes general management and decision-making easier.
Features of an ERP for HR
Today there are a variety of different digital tools that can make the HR department's life easier. One of these is the Human Resources Management System (HRMS). This HR software has been specifically designed to manage, computerise and automate the HR department's processes.
As it's specialised software, so to speak, that isn't part of a much more comprehensive platform (as is the case of ERPs), it has a more robust system with more features.
You can see how they compare in this table:
| | | |
| --- | --- | --- |
| Features | Features of an ERP module | HRMS Features |
| Basic employee database management | ✓ | ✓ |
| Payroll and compensation management | ✓ | ✓ |
| Time and attendance management | ✓ | ✓ |
| Employee training and development | ✓ | |
| Recruitment | ✓ | ✓ |
| Reports and analysis | ✓ | ✓ |
| Employee portal | | ✓ |
| Workflows | | ✓ |
| Performance evaluation | | ✓ |
| Org Chart | | ✓ |
| Workplace surveys | | ✓ |
Let's look at them individually.
1. Features of an ERP HR module
As we mentioned previously, an ERP consists of a range of modules that serve different business areas. The human resources part usually helps automate the tasks that take up most of this department's time.
When looking for an ERP for human resources, it's essential to choose one that offers as many features as possible. Here are some of the most common:
Basic employee database management: storage and management of your workforce's personal data.
Payroll and compensation management: monitoring payroll and the adjustments that may arise.
Time and attendance management: the time each employee's clocks in and out.
Employee training and development: design and development of the company's internal training programmes.
Recruitment: carry out selection processes, publish job offers, etc.
Reports and analysis: generate KPI reports to make better decisions in HR.
Also, many ERPs in HR are cloud-based, so you can access the information from wherever you are and from any device.
2. Features of an HRMS
Payroll management: record and monitor payroll adjustments, send information to your payroll manager or agency, etc.
Time and attendance management: record the time each employee's clocks in and out to comply with employment laws. Stores this data for four years.
Employee portal: Employees can access information that's relevant to them (holidays, payslips, etc.).
Workflows: task automation to save time.
Absence and leave: management and authorisation of employees' leave and absences via a single channel.
Performance evaluation: design and implementation of performance reviews within the company.
Recruitment and selection: support for talent selection by filtering CVs, consolidate communication, design the interview process, etc.
Org chart: design the organisational structure to understand internal flows better.
Workplace surveys: send questionnaires automatically to gauge employees' satisfaction levels.
Reporting and analysis: automatic and configurable reports with valuable information for HR.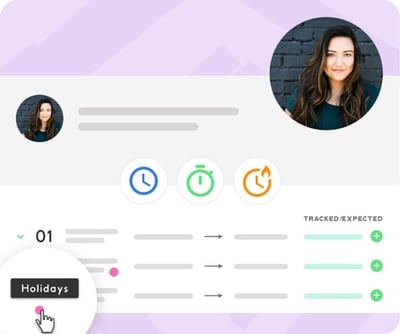 Kenjo Interface
Difference between ERP and HRMS
As we can see, there are significant differences between an ERP and an HRMS. The main difference is that an ERP is designed from a business management perspective, and an HRMS serves the specific needs of a human resources department.
A quality HRMS covers most of the day-to-day processes in people management. These systems have been created to save you time, improve the efficiency and the strategic influence of the department within the company. And for this reason, they include features that you won't find in an ERP.
So, when it comes to deciding between one or the other, the best option is the most comprehensive, in which case, the HRMS wins hands down.