Good HR software is a pre-requisite for good HR.

That's true whether you're a growing start-up using spreadsheets or a 500-person enterprise with an arm-long list of tech products.

In this article, we'll deep-dive into what HR software does, how (and why!) it works and what type's right for your business. Here goes.
So… What does HR software do?

The short answer is, good HR software empowers HR teams to add more value – to achieve better people (and business!) outcomes:
Like… higher engagement. Fewer absences. Higher productivity. Decreased turnover.
And like… higher profitability. Faster time-to-market. Increased innovation. Better organisational resilience.
HR software works by streamlining, accelerating, automating and optimising your end-to-end HR processes. Well, the repetitive, manual and boring bits, anyway. If you're using all-in-one HR software you'd expect your system to digitise the hire-to-retire cycle.
That's stuff like:
Recruitment.
Onboarding.
Performance management.
Employee document management.
Compliance management.
Employee engagement.
Time-off management.
Attendance tracking.
Payroll.
Offboarding.
Reporting and analytics.
All-in-one HR software is also typically employee self-service, so employees can log into your tool (hopefully via mobile…) and input their timesheets, find resources, change their own details, submit time-off requests, check invoices, and so on.

It gives control back to your people, essentially, and stops HR wasting time as gatekeeper.
Understanding human resources software: why does it matter?
When you decrease the HR admin burden, you do two great things:


1. Give every employee a consistently great experience
Automating and accelerating admin embeds consistency into your processes. When the manual repetitive parts of HR aren't automated, you rely on HR professionals to operate like machines, without subjectivity, disruption or delay.

And – shocker! – because humans aren't machines, that doesn't work out well.

That's why Gallup says most organisations rarely meet their people's basic needs at any stage in the employee lifecycle. And worldwide employee engagement sits at only 15%.

Here's that in action.


Take onboarding.

Jackie signs your offer letter (woo!) but your HR team is snowed under, so they forget to send her a welcome email. After all the excitement of recruitment, Jackie feels deflated and unmotivated.

And maybe, when her current boss begs her to stay, she decides she's not so excited by your company after all. Situations like Jackie's happen constantly – because only 12% of employees strongly agree their company does a great job at onboarding.
Or time-off.

Mandi's planning a trip with friends, so she puts in a time-off request. But HR has a queue a mile long for absence requests and takes weeks to confirm.

Mandi's impatient, and resentful to hear her friends chatting about the trip without. her. Plus, when she finally gets sign-off to book, she's out-of-pocket because flights have gone up. Not good for engagement, or long-term retention. But again, consistent with the stats: in 2020, more than a quarter of employees have felt undervalued and underappreciated.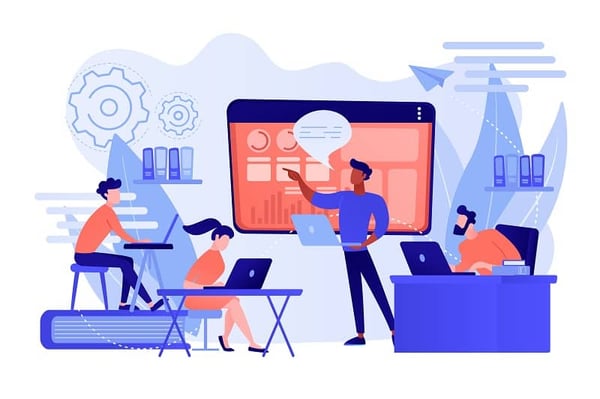 Or performance management.

Leo's busted a gut on a big project, and he's super excited to finish. But his manager doesn't even review his work. (No surprise, given only 20% of employees strongly agree their performance is managed in a way that motivates outstanding work).

Leo doesn't know his manager's also working flat-out on another project – he just feels unappreciated and frustrated. And maybe, when a recruiter calls from your competitor, Leo decides to listen.
Sammi's had an amazing year. She's excelled at everything you've given her, and regularly takes on extra responsibility with great success. When a promotion opens, she knows she's a shoe-in. Except… then you promote Johnny.

Sammi feels totally let down. And maybe you have let her down. Because without consistent processes and objective information, how do you know unconscious bias hasn't driven the wrong decision?

After all, research has proved unconscious bias happens around accent, race, gender, attractiveness, age, height and weight. Was Johnny really the best person to promote?
The thing is, we often forget employee experience isn't one joined-up, seamless process. Rather, the employee experience is based on individual moments – like with Jackie, Mandi, Leo and Sammi.

To properly move the needle on employee experience, HR teams have to find a way to consistently create better interactions throughout employees' work lives. (That's what Gartner calls a "moments that matter' approach").

That's what HR software does.
2. Improve HR delivery
The second amazing thing HR software does is make getting stuff done feel easy and intuitive, rather than a bureaucratic, frustrating nightmare.

(Let's face it, you didn't get into HR to chase forms, hire managers or consolidate spreadsheets…!)

Good HR software reduces manual errors in processes notorious for them, like payroll. It dramatically reduces costs by realising efficiencies. Plus all-in-one HR software consolidates your employee data into a single source of truth, so you have better visibility across the biz.

So, that's you making HR faster, more cost-effective and more fun. But there's another implication too:

HR software adds hours to everyone's day.
If you use those extra hours wisely, HR software shifts from being a smart operational investment to a smart strategic one.

Think about it:
What could you achieve with the extra time?
What big ideas could you bring to life?
How much more of a difference could you make to your people?
Especially right now, when HR's under more pressure than ever, facing new challenges and heavier burdens. HR software helps you stand tall, straighten your shoulders and step into the spotlight.


Ultimately, the benefits of HR software all circle back to one main point: improving the employee experience.
How does HR software work?
There are loosely two types of HR software: all-in-one systems (like Kenjo) that manage the entire employee lifecycle, and pure-play systems that focus on one element.

You'll also see them called standalone HR systems versus integrated systems, or all-in-one versus dedicated or specialist systems. Even all-in-one versus point solutions. You can see our article about how to choose HR software.

Whatever they're called, it's the oldest debate in HR tech: how do you decide which HR software is better for your business? Let's run through both (we're admittedly a little biased but we'll do our best…).
Pure-play HR software
Pure-play HR software refers to software with a hyper-narrow focus. An example would be, say, payroll software. Ideally these systems integrate well with other tools business, to create an interoperable tech stack.

The benefit of pure-play software is that it's more efficient if you only need to transform one element of your HR.

Like, say you're already happily using a great all-in-one HRM but need additional contractor management functionality. Choosing an easy-to-integrate contractor management tool would probably make most sense.

The main problem with pure-play tools is the tech headache when, inevitably, the modules don't all play well together. Especially for bigger businesses, the efficiency losses from inefficient processes and weird workarounds are often shocking.
All-in-one HR software

All-in-one HR software handles your entire HR function from one place. It typically makes most sense for growing and medium-to-large businesses who need to maintain control over multiple offices by centralising complex processes. There are different types of all-in-one software: HRIS, HCM and HRMS.

By creating a single system of record, all-in-one HR software empowers businesses to maintain compliance and keep control over large employee datasets. So there's less risk of duplicate data or security breaches.

It's also typically the option businesses of any size prefer if they're using outdated, legacy tools. (Or even building an HR department from scratch).

If you're serious about transforming your HR, bitty piece-by-piece transformation tends to take longer and cost more.

Plus, there's the opportunity cost of delaying. Gallup say highly engaged business units show a 41% reduction in absenteeism, 59% less turnover and 17% higher productivity. Not many businesses can afford to leave those outcomes on the table.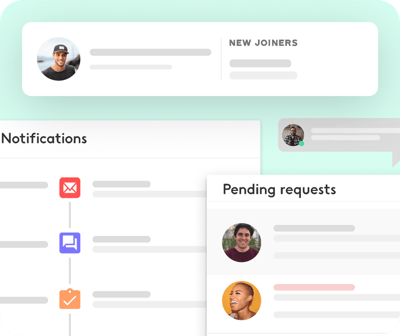 The disadvantage of all-in-one tools is the perceived time and cost of implementation. Like any change project, taking action is more effort than doing nothing.

We make implementation super easy, mind you. Kenjo is cloud-based so there's no installation necessary, and we can import your data straight from Excel. Our customer success people are fantastic – you'll be in very safe hands!

Of course though, there's the long-term cost of doing nothing to consider too. All-in-one HR software is typically more time-efficient long-term, because everyone's interacting in the same platform.

When new hires become employees, say, they can intuitively use the employee engagement modules because they're been using the onboarding module. Less training, lower costs and better adoption.

Although we naturally think all-in-one HR software is better for most businesses, the truth is that any HR software is better than none. The most important thing for HR professionals is to assess whether your HR tools help or hinder your mission to serve your people.
Upgrading HR software: What's next?
If you're thinking down the all-in-one HR software route, we reckon Kenjo's the absolute best out there. And more to the point, so do our customers!

We offer a 14-day free trial so you can get hands-on yourself. Hit the button below for free, unlimited access (no contract or credit card details needed) 👇👇