If you're still in doubt about what an HRMS system is, then you're missing out on the chance to digitise your HR department and start working more efficiently. This software will help you perform many of the department's tedious and repetitive tasks so you can spend more time on the strategic part of your profession.
What is a HRMS software?
HRMS stands for human resources management system. As the name suggests, it's a kind of HR management system that's designed to manage, computerise and digitise this department's processes.

You could say that HRMS software gathers information about the organisation's most valuable assets and puts it in the hands of those who need it. We look into the main functions of a human resources management system in this article and talk about how this type of software can help you.

In other words, this software enables HR to carry out a complete tracking of all activity by company employees, their needs, automate mechanical tasks, store the data collected, use it for analysis and therefore make the correct decisions.
What's the difference between HRMS, HRIS and HCM systems?
When looking at the different types of human resources software on the market, you'll come across three types that are identified by different acronyms. Telling the difference between them can often be confusing. Here's what each one means:
HRMS: Human resources management system.
HRIS: Human resources information system.
HCM: Human capital management.
What's the difference between each one? Which one should we use?

According to an article by HR expert Mark Maorino, the functions and services offered by each one are:
So, we can conclude that a HRIS has been designed to manage people, policies and procedures within the organisation.

HCM systems include some of the same elements as HRIS, but also offer talent management as well as other global features such as different language, currency and localisation settings, etc.

And lastly, HRMS software includes all the elements of a HRIS and many of those offered by a HCM system. Features can differ depending on the supplier but, according to Maorino, any HRMS should at least include payroll and time and attendance functions.
Benefits of human resource management systems
HR managers can reap huge benefits by digitising their department through a human resource management system.
HRMS systems enable you to optimise mechanical HR tasks
Administrative tasks and paperwork take up too much of the HR team's time. This raises a big dilemma, especially for managers, as fulfilling these obligations keeps them from tackling other more strategic issues that add more value to the company.

The answer lies in implementing a human resources management system and digitising the department's internal processes. This software will enable the team to speed up and automate the more mechanical tasks. It will directly improve productivity and save up to 80% of the time they could be dedicated to more important areas.
They help you to easily track the company's most important KPIs
KPI's are critical metrics for evaluating the company's progress. They enable you to measure productivity, performance, the quality of work carried out, customer service, etc. Ultimately, the things that are most important to your business.

Selecting a series of KPIs, creating a dashboard and regularly tracking them is vital. HRMS software makes this far more straightforward as it gathers much of the essential data a company needs, and particularly for the HR department. For example:
Talent management
Absenteeism.
Time taken to reach objectives.
Duration in the position.
You can manage the HR department more efficiently
One of the main advantages of a human resources management system is that it facilitates data collection, centralises the information, automates workflows and enables you to see what's happening within the company through graphs and tables. This considerably improves the department's efficiency and the results obtained.

Among the tasks you can optimise are:
Absence management.
Payroll management.
Performance evaluation.
Recruitment processes.
They offer a self-service platform for employees
Employees will naturally have questions for the HR department about conditions, salaries, etc. But as the company grows, it becomes increasingly difficult to answer all the queries adequately.

HRMS systems incorporate employee portals that give them more independence and enable them to manage many of their own processes:
Request holidays.
See how many days of leave they have left.
Submit doctors sick notes.
This software gives employees a tool that helps them resolve queries and carry out many tasks without having to ask the HR department.
Protects the personal data of employees and the company
The investment in security required by suppliers of human resources management systems is most certainly triple that of any ordinary company. That's because, for them, guaranteeing data protection is fundamental.

HRMS software protects information from cyber attacks, and encryption also prevents unauthorised users from accessing it. For example, employees can access their payslip with private passwords and can only see their own personal information.

Another advantage of HRMS systems is that they enable HR managers to control access: in other words, they can decide who can access and what they can see.
Main features of human resource management systems
When it comes to choosing a HRMS system, it's vital to analyse the features that each one offers and assess whether they are suitable for the department's needs.
Payroll management
Payroll incidences (salary increases, sick leave...) is one of the tasks that most concerns the HR department. This job is made infinitely easier by using software that gathers this information and transmits it to the respective managers or departments. In this way, the HR team no longer have to make handwritten notes and risk losing them or making mistakes.

Customised software enables you to:
Detect and receive notifications about any changes to payslips.
Track incidences.
Separate the different types of payslip (permanent and temporary employees).
Store medical reports.
Send information to the accountant or payroll department.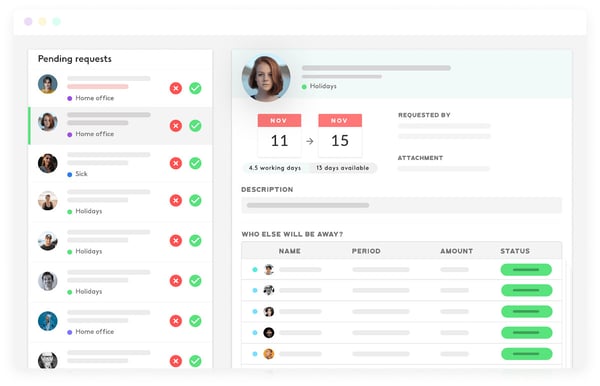 Kenjo Interface
Timekeeping
One of the features that's exclusive to a HRMS system, that other types of software don't offer, is time and attendance management. Registering working hours is obligatory in most countries, even for those who work from home. While companies should choose the solution that best fits their needs, the simplest choice would be a cloud-based software that enables employees to clock in and out from wherever they are.
Employee portal
Similar to HIRS software, HRMS systems offer access for employees. This enables them to clock in and out, request holidays, upload doctor's sick notes, etc.

Not only that, but this platform also collects all the information and notifications relevant to that person. Consequently, the employee will be notified of any updates through the software.

This gives employees more independence and lightens the HR department's workload.
Workflows
Workflows enable you to automate tasks and save time on administration. They allow you to set up instant notifications when holidays are approved or keep potential job candidates informed about the progress of their application.
Absence and leave
HR departments receive countless emails from employees requesting holidays, justifying absences, etc. One way of optimising this work is to centralise it in a time off and absence management software which enables you to manage these authorisations almost automatically. This makes it much easier to manage resources, spot potential gaps and find solutions.
Performance evaluation
More and more, businesses are conducting regular performance reviews to assess their employees' performance in the company. In other words, they analyse the results of their work and if they are fulfilling expectations. They usually ask for feedback from colleagues and analyse the objectives. This can be a tedious job, but performance management software can help enormously. These systems facilitate data collection and match them to the employee.
Personnel recruitment and selection
Some features also support the recruitment process. It's really handy to be able to publish a job opening on several platforms at once, filter CVs, standardise communication and also, get useful statistics about your selection processes.

The time spent on going through CVs and carrying out interviews can be reduced by 60% if you use a specialised recruitment software.
Org Chart
How is the company structured? Who reports to whom? It's essential to be able to answer these questions clearly to ensure that everything runs smoothly within the company. An organogram software helps you depict the structure and the company's internal processes, and share with your current and future team.
Workplace surveys
Today, we all know that the work climate directly influences employees' motivation and commitment levels. Gauging the opinion of employees is essential to ensure that everything runs as it should. One simple way of getting this information is to send regular anonymous surveys that allow your team to express themselves freely. You'll find digital employee experience software with pre designed questionnaires make this task so much easier.
Reporting and analysis

The strategic influence of HR within a company is growing and is increasing the need for decision-making based on real and objective data. A reporting and analysis tool will help you analyse information in real-time and make better decisions.

So, these are the main features of a human resources management system. These programs are a fundamental pillar of a digitised, and therefore, efficient, HR department. They help you to optimise internal processes so that you can spend time focusing on strategy and people.