Customer experience is becoming increasingly more important from a sales perspective; in HR, what's been dubbed the " employee experience" is strongly gaining ground. This has given rise to digital employee experience software, which has been created to design and manage the organisation's relationship with its employees.
What's the definition of employee experience?
The Chartered Institute of Personnel and Development (CIPD) defines EX, or employee experience (also known as employee engagement) as "the result of all interactions an employee has with their employer. It's a specialised field which focuses on creating a great working environment for organisations to get the most out of their people."
Jacob Morgan also created another widely accepted definition: "Employee experience is the combination of three distinct things that exist within any organisation regardless of industry, size, and location. The other parts of employee experience are the technological environment and the physical environment." He explains it in this video:
So, you could say that employee experience is the worker's perception of their relationship with the company. This includes all touchpoints, from applying for the job until they leave the organisation.
Then we have to term "digital employee experience" (DEX), which refers to the employees' experience with the organisation's digital tools. This entails:
Digital workflows.
Employee engagement with these tools.
Level of adoption to new technologies
Usability of digital tools.
Why use a digital employee experience software?
A digital employee experience software is a platform that enables organisations to take control of people's digital engagement throughout their life-cycle in the company.
The software makes the company's platforms more pleasant and attractive while maintaining its internal operations. It's a solid structure, but that has a functional, modern, user-friendly and optimised interface on any device.
Taking care of the customer experience with the help of the right technology enables companies to boost employee commitment, productivity and ultimately, profits.
Benefits of implementing a digital employee experience software
Using an employee experience management software brings a range of benefits as it improves workforce efficiency, fosters commitment and improves talent retention.
Let's look at each point in detail:
Improves workforce productivity
Demotivated and unhappy employees cost companies much more money because they are usually much less productive than the rest. An employee experience software increases employee satisfaction. As a result, they will be much more productive, have lower absenteeism rates and will usually stay in the company for longer.
Fosters greater engagement between the company and its employees
Greater employee engagement is one of the benefits of effective employee experience management. Most companies try to maintain and strengthen their bond with employees. The better this engagement is, the lower their internal rotation rate will be, and hiring costs will decrease as a result.
Boosts talent retention
This report by Culture Amp revealed that 10% of employees leave the company during the first six months. A good boarding experience can, for example, positively influence the employee's opinion of the company. This, in turn, will increase their productivity and reduce their interest in other job opportunities that may arise in the future.
Enhances talent attraction
Companies compete against each other when trying to attract the best talent, and good employee experience can make all the difference. These professionals do their research and often make decisions based on the company's reputation, among other factors.
Improves the company's results and profits
An analysis of over 250 international organisations carried out in 2017 revealed that companies who offer a better employee experience showed an average of four times more profit than the rest. This proves that it's worth investing in the employee experience and that it can even generate a higher return for your company.
Main features to look for in employee experience software
You'll find a wide range of HR software on the market. If you're looking for one to help you look after and perfect the employee experience, it's crucial to choose one with the following features:
Remember that the employee's experience with the company starts at the candidate selection phase, so it's vital to pay attention to all stages of the worker's life-cycle.
Recruitment and selection
An employee's experience with the company starts during the recruitment phase. When the company has HR software that supports this, the process will be much smoother for HR department, and it will also be much more pleasant for the others involved. For example, the software enables you to automate communications to inform candidates about the evolution of the process.
Onboarding
The next step is onboarding when the employee joins the company. This phase is crucial in making the new hire feel at home, and above all, find their place in the company. This software helps you design the process, coordinate with the other people involved and get everything ready to give them a warm welcome.
Employee portal
Company employees regularly engage with HR department on a daily basis. They may have queries about their payslip, their remaining holidays, or justify an absence. Having access to a portal centralises all this. It puts them in direct contact with the HR department, which will improve their experience in the company.
Timekeeping
Companies have the obligation of recording working hours, and employees must clock in and out daily to comply with this. It's essential to make this as easy as possible. Many companies do this through specialist software that enables employees to clock in and out effortlessly from different devices.
Absence and leave
Having to wait to find out if your holidays have been approved or can be a pain. Software facilitates the holiday request procedure as it centralises all requests and automates each one, sending them to the person responsible for their approval.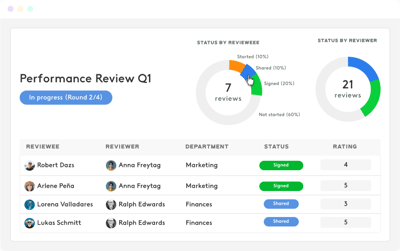 Kenjo Interface
Performance review
Performance reviews, where employees get positive feedback and can share their concerns and ambitions with the company, are vital for employee motivation. Well-executed processes handled by a specialist software can make a massive difference to the employee experience.
You can see more information in our performance management trends article.
Workplace surveys
You can only adapt and design the employee experience if you know how they feel, what concerns them and if you can gauge the general working atmosphere. The best way to do this is through regular workplace surveys. There's a range of software today that will help you send predesigned questionnaires. However, you can always customise them to suit your company.
So, in a nutshell, these are the basic functions you should look for when choosing an employee experience software. Any additional features will add more value to the employer-employee relationship.