In the last few years, more and more companies have started to embrace electronic document signatures. This innovation simplifies the process, giving the HR department a competitive advantage and helping them save time, be more efficient, and improve remote team management. Using this digital format they can, among other things, sign new employment contracts, save records to the cloud and streamline the on and off boarding processes.
However, are digital signatures legally binding? Can we guarantee document security? What about the identification of the people signing the documents?
If you are a human resources manager, and you're also wondering about these things, read on to find out what you need to know.
Are digitally signed employment contracts legal?
One of the most crucial aspects to consider in terms of this type of signature is the legal situation. On a European level, this is upheld by European Union Regulation No 910/2014 of 23 July 2014 on electronic identification and trust services for electronic transactions in the internal market. It is known as eIDAS and it repeals Directive 1999/93/EC.
This regulation explains that the different types of electronic signatures – simple, advanced (with digital or biometric certification) and qualified – are legally valid.
As well as determining the legal framework for electronic signatures in the European Union, it also regulates things called trust services, which include establishing seals and time stamps, electronic documents, certification services for website authentication, registered electronic delivery and certified email.
In the UK, the Electronic Communications Act made electronic signatures legal in 2000. However, this Act was superseded with the introduction of the eIDAS regulations and in 2020 the UK Government formally recognised that electronic signatures on contracts are already legally valid without the need for further legislation.
What legislation affects digital signatures in employment contracts?
Electronically signed employment contracts have the same legal value as any other document, both in the UK and the European Union. As such, as long as there are no other specific stipulations, that is, the legislator does not demand any other method to validate the contract, a digital signature is enough.
This applies not only to employment contracts but also to any other document used by the Human Resources department.
Why should you use electronic signatures in HR?
Human Resources managers can use digital signatures for several reasons, which include:
Streamlining processes by removing the need for postal correspondence.
Secure record storage in the cloud.
To manage the signing of employment contracts and other documents remotely.
Digital tracking of the signature status.
To simplify recruitment processes such as on and off boarding.
To save time and simplify tasks.


How do you sign an employment contract digitally on Kenjo's software?
With Kenjo you can sign employment contracts, the job offers you send to new candidates, and other documents.

You can choose between Intelligent Documents and Recruitment. In the first category you will find employment contracts and all records you may wish to send to your company's employees. In the recruitment section, you can send job offers to future employees.

All it takes is a few simple steps to start using both signature options:

1. Personalise the signature: this option allows you to adapt the signature to the company brand image and include the business logo.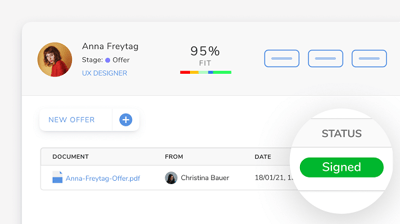 Kenjo Interface
2. Sender's email: in this section you can choose which domain to send the documents from and the name of the sender.
3. Document type selection: here you will choose between an Intelligent Document or Job Offer (Recruitment).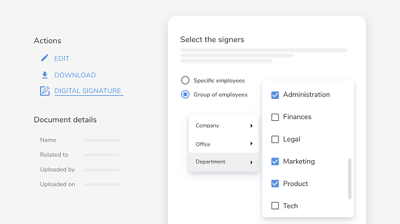 Kenjo Interface
4. Intelligent Document: if you have chosen this option, all you need to do is select the document you want signed and one or more employees to notify by email. Once it has been signed, the record will be automatically saved in the employee documents section in Kenjo.
5. Job offer: all that's required is to upload the job offer to Kenjo and send it to the candidate to sign. They will also receive an email notification.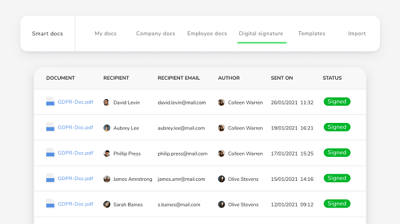 Kenjo Interface


No matter what type of document you choose, you will always be able to see the signature status and send reminders. You can also do this via the Kenjo mobile app (Android and iOS).
What types of digital signatures are there?
As we mentioned above, European Union Regulation 910/2014 recognises three types of signatures: simple signatures, advanced signatures (with digital or biometric certification) and qualified signatures. Here we will explain the differences between them.
Simple signature
The simple signature is one that is processed electronically but not considered advanced. For example, when you sign a document, scan it, and send it via email or using a password, we're talking about a simple signature. This is also the case when you accept a website's specific terms and conditions.
The main drawback of this method is that it is difficult to prove the identity of the person signing, which gives it a lower level of security.
Advanced signature with digital certification
According to Article 26 of eIDAS, the advanced signature should comply with the following technical and legal requirements:
It is uniquely linked to the signatory
It is capable of identifying the signatory
It is created using electronic signature creation data that the signatory can, with a high level of confidence, use under their sole control
It is linked to the data signed therewith in such a way that any subsequent change in the data is detectable.
In this way, the advanced signature offers a higher level of security. For this reason, it is the option most commonly used by businesses.
Advanced signature with biometrics
As well as the above, this type of advanced signature can also determine the identity of the signatory by capturing their biometric data. This could be their fingerprint, speech, iris or facial features, among others.
Qualified signature
The unique characteristic of the qualified signature is that, as well as being advanced, it must be generated by a qualified signature creation device (QSCD). This could be, for example, a smart card, such as an electronic ID card or USB token.
Qualified certifications for electronic signatures can only be approved by certain public and private providers that have been given the green light from the relevant national authority of each member state. Moreover, as it has the same legal value as a handwritten signature, it can be admitted as evidence in legal proceedings. As such, it has a very high level of security.
Can electronic signatures guarantee the security of records?
As we have seen, digitally signing work contracts and other documents enables records to be stored automatically in the cloud. They are therefore stored securely without the need to scan them or run the risk of losing them. In this way, the chance of unauthorised access to private and confidential documents is reduced.