Employee management software is gaining more and more popularity in HR. This technology has become a powerful ally in optimising the department's daily tasks and harnessing data to obtain valuable and strategic information for the company.
If you want to learn how workforce management software can transform the daily reality of your HR department, then read on.
Employee management software
Employee management software is designed to help you plan and carry out all your HR department's tasks as efficiently as possible. So, this concept has a far-reaching significance.
In general terms, management systems have been created to optimise internal HR processes and, at the same time, get information on how the department's strategy works within the company.
On a day-to-day basis, it helps you with tasks like timekeeping, holiday and absence management or, for example, regular performance reviews.
And the fact is, employees are the company's most valuable asset, so it pays to look after them and maximise their potential. It's quite a challenge for the people department, especially in larger companies. Having the best tools at your fingertips is therefore crucial so that you can put processes in place and reach business objectives.
Essential features to look for in this software
As we've already mentioned, a workforce management software encompasses many of the tasks an HR department does in one single platform. So choosing a system that covers everything you need to improve team efficiency is vital.
Absence and leave
Absence and leave management is one task that takes up a great of the HR department's precious time. Channelling requests through one single platform, which also enables team leaders to approve or reject requests, makes life easier for everyone involved.
Timekeeping
All companies have the obligation of recording working hours. There are many ways of doing this, although it's best to choose a software that's fit for purpose. Workers can clock in and out easily from any device, even when they're working from home. What's more, HR will have all the information stored in a digital format to ensure compliance with the law.
Performance reviews
Providing constant feedback is essential to keeping your workforce motivated. It also helps you get the best from your internal talent. Regular evaluations enhance this process, gather information from everyone involved, and filter the results. Keeping track of every employee's progress is so much easier this way, and it also helps them to maximise their own potential.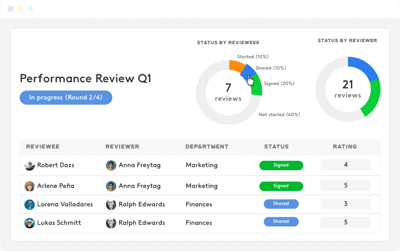 Kenjo Interface
Reporting and analysis
Data analysis and report generation is increasingly important for HR, a department that has a strategic influence in the organisation. Filtering information, spotting trends and making data-based decisions is critical.
Org Chart
There are numerous organisational models for companies, and they become more complex as businesses grow. To make them clear, and to ensure everyone knows who's who, an organisational chart is the way to go. Digital management software enables you to outline the structure easily and keep it up to date.
Recruitment and selection
Attracting new talent to your company and finding the right person for the job isn't easy. Recruitment software helps you design the recruitment process, filter CVs and create personal files for each candidate. You can even send them automatic communications to update them on how the process is going. The objective is to optimise resources and find the ideal candidate as quickly as possible.
Onboarding
A new recruit's onboarding experience will largely define their future in the company. An unpleasant experience could result in a new joiner leaving the company within the first six months. Kenjo HR software helps you successfully welcome new employees by facilitating process design, automating communication and getting the right people involved.
Workplace surveys
Employee satisfaction is directly related to their productivity, so a happy workforce is one of HR's main objectives. Technology can be a great help here, thanks to anonymous workplace surveys. These surveys are sent out regularly with questions relating to your employees' mood and concerns. This helps the HR department obtain valuable information for implementing measures that improve the general office environment.
Benefits of employee management software
The benefits of employee management software are becoming increasingly apparent to HR leaders. And it makes no difference whether you manage a team of 12 people or oversee hundreds across the world: traditional methods no longer make the grade. Most of these are subject to human error and don't comply with data protection regulations.
Instead, we now have workforce management systems that bring us a wide range of benefits:
Optimise internal processes
HR management software combines a range of features that cover most of the department's tasks. This means you won't need to use several tools and needlessly have to jump from one to the other. Having everything on the same platform improves team efficiency as you won't have duplicate information nor wasteful costs.
Ensures that HR complies with legal obligations
Complying with frequently changing or newly emerging legal regulations are among the main challenges that HR departments face. Just in the last few years, we've seen changes to data protection laws, regulations for recording working hours and even specific remote working regulations in some European countries. At this rate, complying with everything is getting pretty complicated.
Nonetheless, employee management systems ensure you keep up to date and make the HR department's job so much easier. On the other hand, they also provide you with documents relating to legal developments and also the subsequent communication for your workforce (if necessary).
Help you improve the work climate
Employee management software also helps you improve team motivation and productivity.
Using performance management features offers you a new way of monitoring, evaluating and, above all, providing your workers with feedback on their performance. Anonymous work climate surveys are also beneficial for getting valuable information for the department.
All organisations store confidential information about their employees: bank account details, ID, address, telephone numbers, etc. What happens if this information gets into the wrong hands? Cloud-based management software protects information and offers security and data encryption measures that few companies could match (or, at least, not without a huge investment).
Types of employee management software
You could say that the term "employee management software" is so broad that it encompasses different types of programmes that, while very similar, offer different services. These differences may be subtle, but Mark Maiorino gives an excellent explanation in this article.
Human resources information system (HRIS)
A Human resources information system is one which gathers all the tools that HR needs to carry out its activity with maximum efficiency. It primarily helps the department carry out its internal functions.
Human capital management software (HCM)
And lastly, human capital management software focuses on the acquisition, management and optimisation of your workforce. It therefore offers features related to recruitment, onboarding and employee performance reviews.
Human resources management system (HRMS)?
HRMS stands for human resources management system, platforms that are designed to manage, digitise and automate HR processes. So they enable you to fully track the activity of the organisation, its employees and people management team.
While these three systems seem similar by definition, the main difference is in the features they offer. Mark Maiorino illustrated this in the following table:

In a nutshell, we can deduce that a human resources management system is the most comprehensive of all. It offers a range of features and gathers all HR tasks under an all-in-one platform. So, this is the best system for achieving efficiency and excellence.