With the evolving nature of the business world, HR professionals have to keep abreast with innovations and technologies. In that sense, HR analytics software is an innovative business tool that assists the human resource team in keeping track of workforce analytics and assessing the impact of their operations and strategies on the overall business performance.
To assist you in better applying an HR analytics strategy, we have researched the best HR analytics software suitable for your business.
What is People Analytics?

People analytics is a vital aspect of the business management and analytics process. It involves tracking, collecting and analysing people data to expand internal workforce management solutions and improve organisational decision-making processes.

There are tools designed to offer human resources team real-time people insights to obtain a better understanding of what is driving or inhibiting performance among employees. Some of the metrics that can benefit from this strategy are employee engagement, skill gap, turnover rates, compensation, cost per hire and more.

People analytics is closely related to other analytics-focused areas of Human Resources management, such as Workforce analytics and Talent analytics. The key difference between people analytics and other forms of HR analytics is the scope. People analytics systems are focused on the individual level of employee-related factors, while other HR reporting and analytics systems are primarily concerned with company-wide or overall business and worker-related insights.
What are the advantages of using HR Analytics Software?
In recent years, HR analytics software has become extremely user-friendly, allowing HR managers to track and assess their data as needed. They assess personnel performance, potential risks and the impact of HR policies. Furthermore, they monitor workforce development, and achievements of the company and sets goals and objectives.

Some of the advantages of using performance management software include:

Better Employee Insights

HR analytics entails gathering data and key metrics about your workforce and organisation to generate maximum insights and better understand their efficiency. You can assess the return on investment of all employees using HR analytics and key performance indicators (KPIs). It assists you in identifying your top talent as well as those who are trying to cope. You can use this to identify their areas of improvement, gain a better understanding of what motivates employees, and increase their productivity. This will allow you to improve efficiency and help all employees perform better.
Monitor Human Resources Processes and Performance
HR analytics reports help organisations in streamlining productivity by analysing data that reflect business processes. It will assist HR professionals in trying to find solutions into business processes and operations, as well as shining a light on aspects that can be enhanced within HR. Through People analytics software data, HR can identify processes that do not assist the business in achieving required outcomes and modify the process to obtain a significant increase in an organisation's overall strength.
Improved Organisational Decision-making
In today's market, business firms and organisations can gain a competitive advantage by having the right tools and information. Organisations can gain an understanding of changes by tracking company data over time. This allows businesses to see what is functioning and what needs to be improved, and make changes that will benefit the business. HR analytics also allows businesses to stay ahead of the competition by predicting and preparing for future workforce needs.
What features should a good People Analytics Software offer?

In recent years, HR reporting software has evolved from what used to be an innovation or luxury for some companies to what many organisations can access and make use of. Many organisations are now leveraging People analytics tools to obtain data and make data-driven decisions that influence their businesses. Since there are a wide range of workforce analytics tools available, it is important to seek out the tools that offer ideal solutions for your HR team, hence certain features should be looked out for.
Choosing the right People Analytics software entails bearing in mind certain characteristics. Some of the major features that these software should offer include:

Real-time Data Streamlining and Reporting

Since the data within organisations are spread across different areas or departments, it might be difficult to obtain a full overview. One of the most important features of People Analytics software is its ability to organise data across sources to obtain a simplified report to increase efficiency. Furthermore, it should automatically update this information on a timely basis to gather changes to your organisation in real-time.

Actionable Human Resources Insights

People Analytics tools should generate insights that your team can use to create action plans to improve Human Resource systems. The tools should integrate business analytics with HR processes so that HR teams can easily transfer data between systems to combine and analyse data to take appropriate action. People's management team should be able to visualise workforce data using any good human resources software to see performance at a glance.
Usability and Data Security
Any People Analytics software you consider should safeguard employee information. As a result, it is critical to prioritise People Analytics software that includes access control and encryption. You also require a platform that can provide all-around support when required. Furthermore, it's critical to consider the usability of the software you choose, your HR team should be able to understand and utilise the basic and even complex functions of the tools after a brief onboarding process.
The best People Analytics Software in 2024
For choosing the right HR analytics software, we have made a compilation of the best software you can find in the market and analysed their most notable features.

Kenjo

Kenjo is an 'all in one' HR software offering a range of features to support the HR team to manage employee data and improve engagement. It is suitable for small and medium-sized businesses looking to automate their human resources processes with an intuitive and easy-to-use tool.
Kenjo operates in the cloud and allows users 14 days free trial to HR managers so they can gain access to features such as applicant tracking, employee database, attendance and absence management, internal HR, recruitment and onboarding process, among others.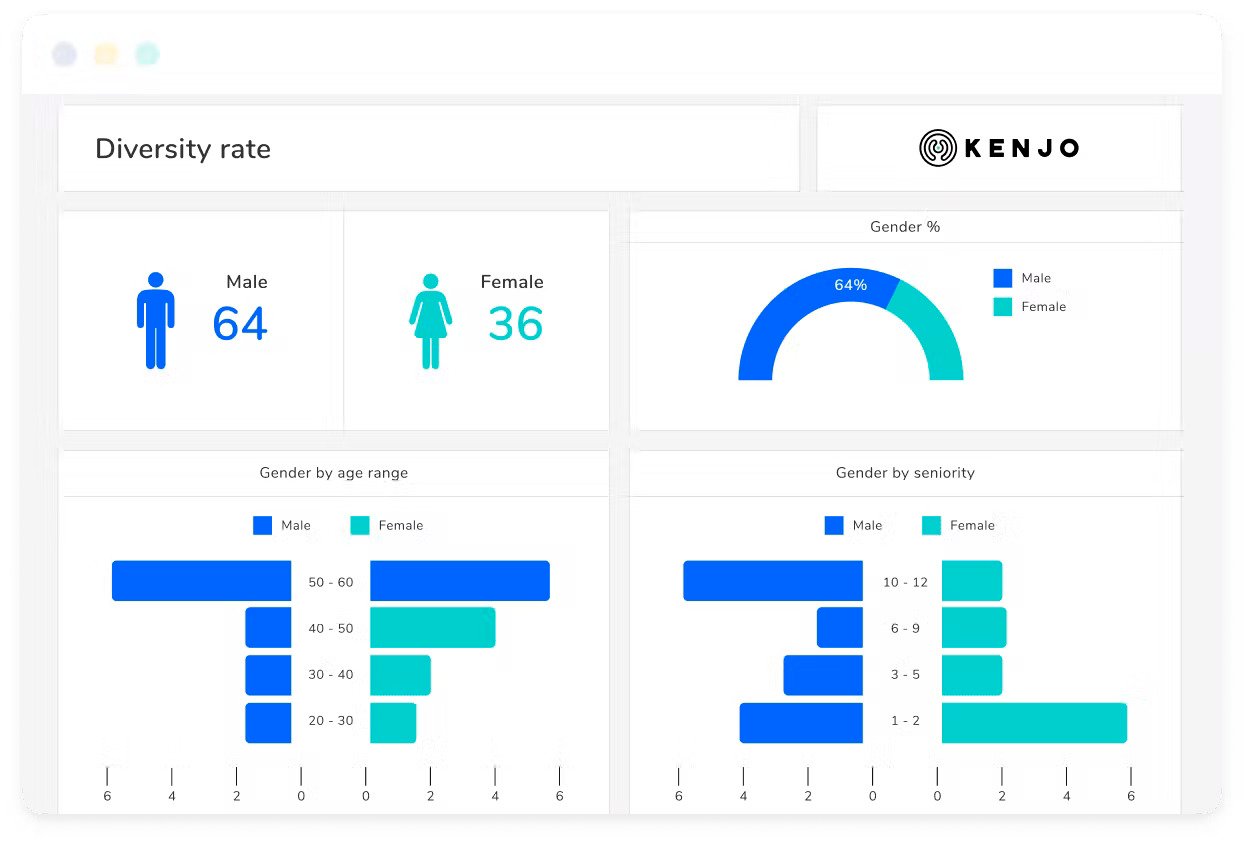 Specifically, the HR analytics software of Kenjo allows HR departments to set a full KPI strategy. By using it, HR managers can gain some of the following advantages:


Advanced KPIs analysis:

with Kenjo, HR Managers can have access to detailed data for some of the most relevant KPIs for the HR department. Some of these are the following:

Turnover rate
Length of on and off boardings
Hiring sources, average time of hiring and recruitment conversion rate
Average tenure at the company
Work absenteeism
Staff salary progression
Overtime
Diversity

Predefined dashboards: detailed dashboards with clear and visual information about the data extracted automatically.
Automated reports: the software automatically generates reports for the different KPIs mentioned. All reports include graphics, data and an explanation of the aspects analysed.
Data filtering: Kenjo allows HR managers to filter the data among employees, teams, offices and companies. It also allows setting a date range and customising these filters.
Data export: all the information, as well as the generated reports can be exported in CSV or Excel for further analysis.
Pay gap reporting: one of the highlights of Kenjo's HR analytics software is the possibility of analysing salaries for, among other aspects, ensuring salary equality in the workplace between men and women.

Tableau
Tableau, which was founded in 2003, is a powerful and interactive data visualisation tool that is used in the Business Intelligence Industry. It aids in the simplification of raw data and can be used for reporting and analysing large amounts of data. Through a variety of products, the platform provides resources for data management and visualisation.

Tableau tools include developer tools for creating dashboards, charts, and reports, as well as sharing tools for visualising and sharing reports created. Tableau Desktop, Tableau Cloud, Tableau Server, and Tableau Prep Builder are all part of the product suite.


splashBI

SplashBI is a business intelligence platform that combines data from multiple sources to improve data reporting. SplashBI is available in the cloud or on-premises, and it is readily available through the use of mobile devices.

The strong framework allows you to connect to multiple databases or applications through specialised connectors. Ad hoc tracking in multiple formats, including PDF, HTML, Excel Pivot Table, and CSV, is possible with SplashBI's self-service reporting which can be automated based on user-defined timelines.
Lattice
Lattice is a performance management platform that enables people leaders to build engaged and high-performing teams. Because it includes core functionalities such as performance review and goal management, businesses can tailor the solution to their specific needs.

Lattice does not have a free version, but users can get a free trial for a limited time to set custom questions for performance reviews. A mobile device can be used to access the tool remotely.
IBM Workforce Planning
IBM Workforce Planning is a collection of responsive HR solutions that assist users in developing more accurate workforce plans through an integrated planning and business intelligence solution.
The IBM Planning tool is available for free for 30 days, but users can upgrade to IBM Planning Analytics On Demand Plus to continue using the software as long as they register and subscribe.
HR Analytics Software 2024 Comparison
The following criteria can be used to make a comparison between the numerous Human Resources Analytics tools or products available to ascertain which one suits your needs:
Customizability: This entails how flexible a system can be used and how well it allows users to modify the features to accommodate their organisational objectives and processes. Compare platforms that allow you to tailor analytics to your specific organisational processes and one that grows with your company.
Business process integration: This covers how well the analytics technology integrates aspects of the businesses to provide real-time data that can be incorporated in understanding the state of the organisation.
Usability: How easy it is for users to use the functions of the software to perform the required tasks.
Solution quality and timeframe: The accuracy of the results and the time it takes to deliver the results to users.
Cost effectiveness: Some analytics software allow free versions while others can be used only when users subscribe to their packages. How cost efficient the packages are should be considered when choosing between different Human Resources Analytics solutions.


Software

Languages

Price per employee

Capterra Score

Free Trial

Kenjo

English

German

Spanish

5 € per employee/per month

4.3 / 5

Yes

Tableau

Over 10 Languages

Pricing available upon request

4.5 / 5

Yes

splashBI

Over 10 Languages

Pricing available upon request

4.6 / 5

Yes

Lattice

English

$8 per month

4.5 / 5

Yes

IBM Workforce Planning

Over 10 Languages

Pricing available upon request

-

Yes