Companies generate payslips every month, and this takes up a great deal of time and resources. Can we make this more efficient? Sure, if we have the right digital tools.
Below, we take a look at what a payroll management system is and how it can transform the dynamics of your HR department overnight.
Definition of a payroll system
The objective of payroll software is to help businesses calculate their employee's salary, deductions, taxes, in line with their contract and their attendance at the company. Also, it's often used as a file for storing employee data (such as name and address, bank account details), and documents (like authorisations or sick notes) and payslips generated over time.
So, what is a payroll management system? It is computer software that's usually stored in the cloud and can manage everything relating to payslips for a company's employees.
The main advantage is that it can generate payslips and all of the calculations this involves. It does this automatically and therefore reduces the manager's workload and the likelihood of mistakes.
How can a payroll management system help you?
As the definition suggests, a payroll system helps you simplify and automate a process which would otherwise take hours of your time.
Using a single platform, the HR team can:
Track all the hours an employee has worked to see if there should be extra payments included on their next payslip.
Look up each employee's salary and the possible variables they are entitled to by contract.
Withhold tax deductions.
Generates each employee's payslip without the need for making calculations.
Automatically send payslips directly to each employee.
Store documents and payslips in the cloud.
Store employee data such as name, Social Security number, bank account details, etc.
Benefits of payroll management system
Working with a payroll system brings a range of benefits to companies who take care of this themselves.
The most important ones are:
Reduces internal costs: payroll management requires time and resources. Nevertheless, the software will help you speed up processes, which means important savings for the company.
Increases employee motivation: one factor which influences employee satisfaction in a company is getting paid on time. It's crucial to have payroll software that enables you to make transfers correctly and on the agreed day. Late or incorrect payments could give your workforce the impression the company is financially unstable, which could affect the work climate and, therefore, the day-to-day performance.
Facilitates payment and management of variables, overtime: Payroll management systems help you closely monitor all the aspects that could affect the amount an employee receives in any given month. We're talking about variables, overtime, extra payments. It's essential to ensure calculations are correct to maintain employee satisfaction, and using an appropriate software makes it so much easier to control these aspects.
Helps you comply with the relevant legislation: both the company and the employee pay a series of taxes to the state in every payslip, although bonuses can reduce these. The software calculates everything automatically, therefore avoiding mistakes or problems with the Social Security or tax authorities.
Sends payslips automatically: all companies have the obligation of sending payslips to their employees or make them available through a platform. Payroll systems can distribute them for you and store them so that employees can always access them.
Difference between a payroll management system and a payroll adjustment software
Some companies manage payroll themselves while others prefer to outsource this to a third party. Whichever way you do it, there is a software that will adapt to your needs. For a complete guide to choosing human resources software click here.
In the case of companies that manage their own payroll, they will use software for preparing payslips, just like the ones we've been describing. It will help them simplify and automate the process, making it easier for them to perform this highly important task.
On the other hand, companies that outsource payroll management would be better off using payroll adjustment software. This tool enables you to enter, month-on-month, all the adjustments or changes that affect employees' payslips and send them to the company that generates them. Some examples include sick notes, extra pay, changes to contracts.
Changes to payslips happen all the time, and it's vital to take good note of the information to avoid mistakes. Some HR team still do this by hand or by memory, meaning that important information can slip through the net and cause problems later on. For this reason, a payroll adjustment software is a far more useful and efficient tool as it gathers all of the data in one place and sends it directly.
So, the main difference between one and the other is that payroll adjustment software only records changes that may happen, but they won't generate the payslips for you.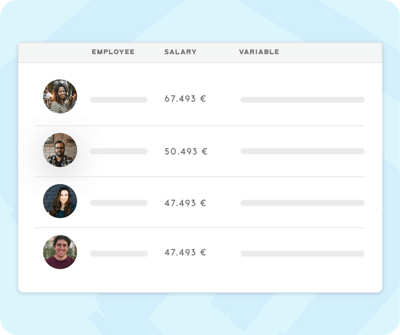 Kenjo Interface
Features to look for in a payroll management system
What should you look for in a system that generates payslips? There is a range of options on the market that offer different services. These are the basic features that we believe you should have to help you make a real impact on your HR department.
Employee data management and storage
Payroll software also serves as an internal CRM where you can store all employee data: full name, Social Security number, bank account details, etc. And all this with total cloud security.
Payroll calculation and generation
The main feature, of course, is that it calculates and generates payslips. You can usually adjust the settings so that it calculates the salary, the type of working day. Everything is calculated automatically, and it generates the official document.
Tax management
This kind of software can automatically calculate the taxes a company should pay. Some solutions allow you to integrate with tax authorities so that you can report all tax payments directly.
Notifications of important dates
These systems also enable you to set up alerts to receive notifications for important dates: new or expiring contracts, holidays, absences. This makes sure that the HR team is always up to date and that no important milestones are missed.
Bank transfers
Another feature that saves the payroll department a great deal of time is the automatic bank transfer function. The system takes care of paying employees correctly, and on the right day.
Automatic deductions
When calculating the final total payslip, deductions may apply due to a range of factors. The software applies them automatically and also keeps up to date with the latest developments or changes that affect them.
Severance pay management
When an employee leaves the company, their severance pay needs to be arranged. Payroll management systems automatically calculate the amount the employee should receive while taking into account the number of days worked or untaken annual leave.
Remote access
Last but not least, remote access is another basic feature that any payroll management system should offer. These days, it's essential to be able to access systems from wherever you are or from different devices. So it's important to choose a cloud-based system.
These are generic features, of course. Even so, every business has to choose the system that best suits their needs and better adapts to their method of payroll management.
And if you use a third party to do this task for you, then payroll adjustment software. This makes collaboration a whole lot easier so that payslips arrive correctly and on time, every month.