Managing the shifts employees in an organisation can be chaotic if you don't have the right process and tool.
One of the essential tasks for Human Resources or Area managers in the retail industry is to be able to coordinate the available resources within their organisation.

This involves being able to assign working hours or schedules to employees for efficient management and organisation, thus avoiding overlapping schedules or having empty shifts due to sick leave, holidays or absences.

For this reason, Kenjo has created this free Shift Planning excel template where you can manage employee hours and see statistics to help you identify the hours worked in a day, overtime and other details such as absences, holidays, sick leave and maternity or paternity leave.
Information about the Shift Planning excel template
With the Shift Planning excel template, you will have access to all the information you need to manage your employees' shifts:
Register your employees' data through a unique identifier and information such as name, surname, among other data.
Register the employees' shifts, a log of the history of hours worked, total hours worked as well as overtime hours.
View information on hours worked, holidays or absences, filtering by the information you need, for example by employee location.

How to use the excel to create shifts?
The Shift Planning template can be used by anyone who has Microsoft Excel with the option to use "macros" enabled.

If you are a Google Drive user, you can also access an online version through this application.
To do so, here is how to access the file and start using it.
1.- Download the template by clicking on this link: Kenjo Shift planning.
2.- You will receive an email in your inbox, if you don't receive it check your SPAM (junk mail) folder or the promotions folder if you have a Gmail account.
3.- Instructions: Once you access the rotating shifts template, you will see the first tab of the excel called "Instructions". Here you will find a brief summary of the information you will find in each tab. You will also be able to choose the Spanish, English, or German language in case there are several employees who speak different languages and need to update the rotating shifts.
4.- Dashboard: In this tab, all the information you need is laid out in a very visual manner. So, what can you see?
Type of shift
Location: Location of the employee
Day: You can select the period of time filtered by day, month, or year.
Accumulated Information: Total hours worked, total employees working, total overtime, total holiday hours, total absences.
Overtime vs absences vs holidays: Below you can see two graphs with hourly statistics.
Hours worked by location: In this graph, you can see the hours worked per location.
And you will also have a summary of hours per employee.
5.- Employee information: In this tab, you can update and customise the information according to your company's needs.
This includes the employee ID, as well as the information corresponding to each column. Here you can see an example: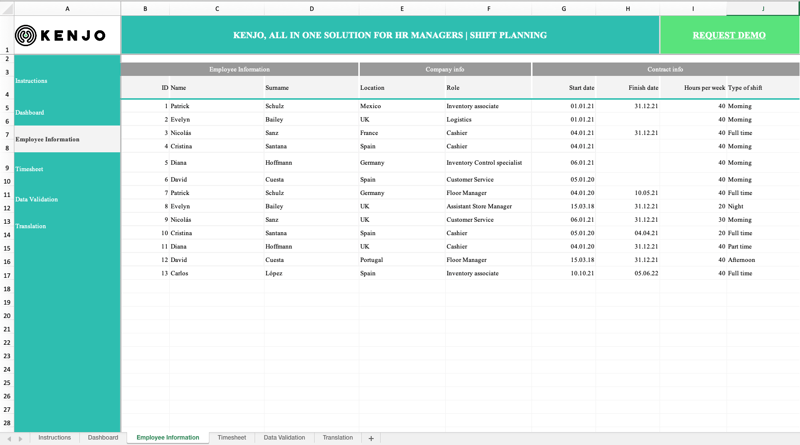 6.- Timesheet: In this tab you should update the hours corresponding to the rotating shifts. IMPORTANT! Modify only the cells belonging to the columns "Start", "End" and "Status".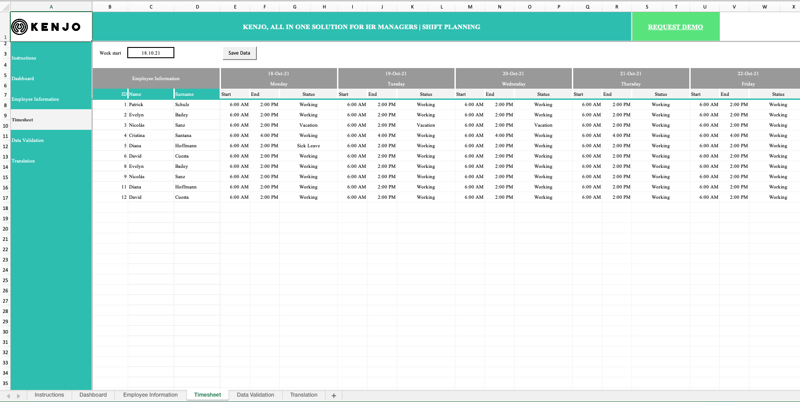 6.1.-Select the date corresponding to the start of each week located in box C3.
6.2.- The ID, Name, and Surname data should not be modified as they will appear automatically when added in the "Employee information" tab (see tab Employee information column G4:H4).
6.3.- Manually fill in the worker's start and end time.
6.4.-In the status column, you must fill in:
Working Hours: Select the employee's working hours and click on 'Working'.
Contract finished: In this case, it is not necessary to fill in anything if the contract of the employee has been terminated.
Vacation: Fill in the corresponding hours of holiday. In case of a full day of holiday, it should be 8 hours.
Sick Leave: In this case, fill in the hours the employee has been absent due to an illness or doctor's appointment.
Maternity/paternity: If your employee is on maternity/paternity leave, indicate this in this box.
IMPORTANT!
Once you have filled in the shift roster, you will need to save the information:
Version- Microsoft Excel: Click the "Save Data" button and then click on Data > Update all data. Clicking both is necessary to save the information.

Version- Google Drive: Click on the "Save Data" button to save the information.
7.- Data Validation: In this tab, you can customise and update all the data related to your company.
7.1 Job Title: Create the existing job titles in your company (Example: Plant Manager, Cashier, Stock Control...).
7.2 Location: Enter the location of the employees.
7.3 Shift Type: Add the type of shifts for employees.
7.4 Status: We do not recommend you to modify these statuses as it may affect the results displayed in the dashboard tab.
7.5 Time: Add new hours to be used in the "Rotational shifts" or "Timesheet" tab.
7.6 Start of the Week: You will be able to update the weeks in the year. To make it easier for you, we have created all the weeks for 2022.
8.- Translation: In this tab you can modify or edit the naming convention of the different tabs of the document.
Now you can start managing and planning your employees' shifts with this shift planning excel template.
Digitise your company's Shift Planning
Would you like to have a digital shift management and planning solution? Then to contact us so we can show you how you can manage and plan shifts in a simple way with the all-in-one KENJO solution.
Learn in-depth about the digital solution for shift planning and management with Kenjo.