Employee time off and holiday management is one of the most tedious tasks in a human resources department, especially if your company as a high number of employees. That's why it's essential to have a software tool to simplify this work. One possible option is to create an Excel employee time off template.

Not sure how to create your holiday and absences planner in Excel? See our step-by-step explanation below.

But first, ⬇️⬇️DOWNLOAD THIS EXCEL⬇️⬇️ to continue with the guide.
How to keep track of employee time off in Excel?
Excel is still the most widely used tool in human resources departments to calculate annual leave. Information on each employee's holidays, sick leave, maternity or paternity leave, etc. can be compiled in a simple spreadsheet.

Human resource managers have to communicate via email with every single employee to gather this information, and manually enter the exact dates. Not only must they pay extra attention not to make mistakes, but they'll also need an intermediate knowledge of Excel.

Once this has been done, they can calculate how many days of holiday each company employee has, track how many sick days they've had during the year and when they will return after taking paternity leave.

Excel is therefore the most widely used employee time off or absence tracking system. And using it offers certain advantages.
Advantages of using Excel for recording holiday allowances
The tool comes as part of the company's Microsoft Office suite and involves no
extra costs.
It is usually installed on all the company's computers, meaning that any employee can
use it without needing to download other platform.
It's a basic system that allows you to manage time off for a small team.
Disadvantages of an Excel employee time off tracker
Using an Excel time off tracker is a tedious task that wastes a considerable amount of a human resources manager's time. Entering the information manually considerably
slows down the process.
Adding information on every employee by hand could result in mistakes that can
negatively affect company employees.
Excel documents cannot be edited or shared by more than one person at a time,
making working as a team more difficult for the human resources department.
A certain level of IT knowledge is required to use spreadsheets, create formulas, etc.
Organising a holiday approval process between the employee and manager, or
human resources department is complicated.
A step-by-step guide to creating an employee absence Excel template
Do you still want to try tracking employee holidays with Excel? No problem, you can create your own template by following these steps:
Create a new Excel file and give it a name that enables you to easily identify it.
Let's start! Freezefour columns on the left-hand side to create your Excel holiday
planner template.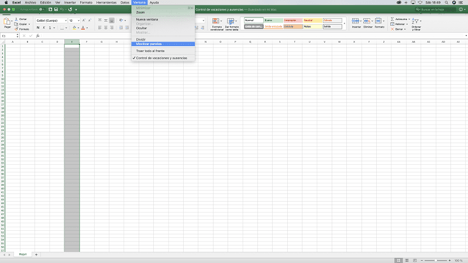 Then, create a calendar with the days and months of the year on the right-hand side.
Number the days in the third row to make it easier to mark each employee's holidays
when working.
Go back to the left-hand side and assign a column for employees' names, another for the department they belong to, the total number of holidays they are entitled to and the remaining days.

With these five steps you now have an Excel template to work with. Now mark the holidays requested by each employee and manually change the information in the "Remaining" column.

Your template should look something like this: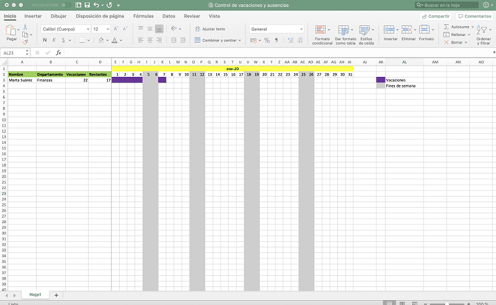 Depending on your level of Excel knowledge, you can also create formulas that automatically sum up the totals in the "Remaining" column. It's certainly more convenient and minimises the risk of errors.

Likewise, you can set up colour codes to highlight holidays, sick leave, etc. In the example, we've marked weekends (non-working days) in grey and holidays in purple.

Ultimately, having your own Excel template enables you to work in a simple document, but one that is adapted to your specific needs.
Download our 2020 Excel holiday tracker template
If you're not sure how to create formulas, you don't want to waste time creating this Excel from zero and it all seems too complicated, then download our free Excel employee holiday template clicking here.

This template, based on our HR management software will enable you to, simply and
effortlessly, comprehensively track each and every team member. All you have to do is
download it, enter each employee's information and start using it.
Digitalize the time off and holiday process with Kenjo
As we mentioned earlier, there is life after Excel when managing employee holidays and time off. Nowadays, there is a range of HR management software that have been specifically designed for this and that allow you to optimise and simplify processes. In our blog we have a specific article analyzing how to choose a vacation and absence software.

The Kenjo HR management software will enable you to create specific holiday policies for each person and give you an overview, at a glance, of team members who are working, those who are not, and why.

Likewise, Kenjo enables you to contact employees directly so that they can request their
annual leave through the software. Say goodbye to receiving hundreds of emails in your inbox, and you can also approve or decline them in just one click.

What's more, both you and the team can check that there are no overlapping dates, enabling you to better coordinate them and ensure that no area of the company is neglected or short- staffed.

Kenjo is visual, intuitive, simple and efficient. You only have to try it to realise that it no longer makes sense to manage time off and absences in Excel.
You may also be interested in our article about the best Excel templates for HR.