Lesson 4: The most effective tools and technology for remote work
18
MIN READ

Aneta Kosinska
Our list of ultimate SaaS technology tools help you switch your team to remote work mode in no time.
Key Learnings
✓ Collaborative tasks.
✓ Internal and global corporate communication and how to conduct online meetings.
✓ Absence management and time tracking.
✓ Secure file sharing and data security.
✓ Access and control your PC remotely.
✓ Performance management.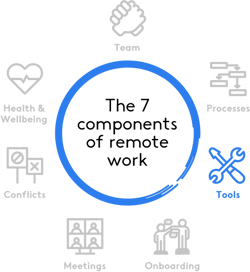 The power of technology
As long-time remote work campaigners, we know that remote working is empowered by a suite of SaaS technology tools that allow teams to effectively co-create, communicate, share documents, and manage processes. After all, we're fans of building high-performance teams, even if they're spread across different locations, and even turn this into a competitive advantage.
Our favourites
Office, Mail, Calendar, Web Meeting, Data Management: G Suite

Team Communication: Slack

Project Management: Asana
Collaborative tasks

Do you know which tools will be of equal benefit to your employees and the company while working from a home office? Task management tools enable you to organise projects, plan your working day and assign tasks to help you be as efficient as possible and meet deadlines. The best ones are:

💎💎 Trello, Atlassian Jira, Asana, Nozbe, Kanban Flow, Basecamp, Omnifocus, Microsoft Planner, monday.com


While all of them are generally awesome and come with a list of handy features, we are big fans of Asana as it enables collaborative project management and control of each employee's daily tasks.
We can see why it's named after a Sanskrit word describing the physical practice of yoga poses. It's well suited for brainstorming sessions and collecting ideas. Several employees can work on one task at the same time, and keep it clear and concise with different lists.
You can add images for illustration, add file attachments and easily create checklists. Its clean and easy-to-use interface provides a wonderful environment for projects with 30 tasks or more. In our humble opinion, the task list with subtasks and the possibility to reorganise and summarise them is genius, and is also intuitive to use.
Ideal for:
Self-employed.

Small businesses and startups.

Small and medium-sized enterprises.

Specialised departments in large companies.
Internal and global corporate communication

The number one reason why many companies are still reluctant to work remotely is the assumption that uncomplicated and fast communication between employees would be impossible. In fact, without the usual office grapevine that's common in many companies, many think vital information won't be passed on.

Even in 2020 with all the technology out there, many people think that informal exchange of information and decisions "through official channels" are dependent on personal contact. However, essential communication can also be carried out through technology. Online meetings are particularly suitable for communication. With the right software, even larger working groups can come together in sound and vision to work together on projects and access data.

💎💎

Google Hangouts,

Slack, Skype, Microsoft Teams, Flock, Mattermost, Sproof sign


We like to use a flexible, open-source messaging platform that enables secure team collaboration. This is exactly what Slack does for us. Group working is done through "channels" where you can , for example, work on a project or work for a customer. Those involved in the project are simply added to the channel. All project communication is therefore carried out in Slack - this ensures structured and clear communication.
Of course, the programme can also be used for real-time communication via audio or video call. We especially like the screen sharing feature to make sure all meeting members are on the same page. As a cool extra, Slack allows you to store or send even large files and to connect over 200 apps to the programme.
Slack is free of charge for small teams, and larger teams can get the standard version from about €6 per month.

Successfully conduct online meetings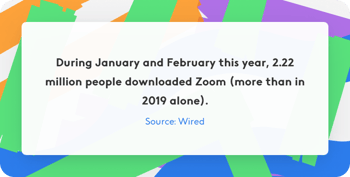 Hands up if you have sat through yet another webinar or online meeting, where the first ten minutes were spent setting up microphones and restarting software?
Switching to a functional cloud-based video conferencing software definitely makes a difference. And the numbers speak for themselves:

Google G Suite is an all-purpose weapon bundling a wide variety of applications that can be used via a cloud-based communication platform and create a virtual working environment. G Suite is a multifunctional collaboration software that is based in a cloud. The Google cloud allows teams to access data, digital calendars and project plans, as well as to coordinate tasks across spatial distances using an Internet connection and a browser. Sharing functions and real-time synchronisation enable joint document editing.
What has that got to do with meetings? Well, a lot actually! Google Calendar, for example, can allow you to schedule meetings with others in no time. It also shows you if the invitees are free or not, thanks to synced calendars across different platforms.
For us, in terms of conducting interactive webinars, Zoom came out on top, as we were looking for an all-in-one video conferencing tool that includes live webinar broadcasting.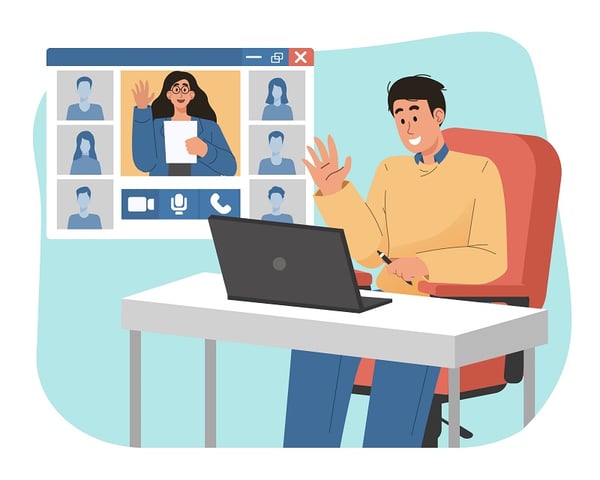 Absence management tools
Numerous companies now have half of their workforce based at home and the other half in the office. It's easy to lose track of who is supposed to do what and when, and who is on holiday or just not showing up for work. Working with an absence management software helps you avoid potential chaos.

With Kenjo you can:
Synchronise employee absences with Google and Microsoft calendars.

Synchronise Slack with employee absence statuses. If an employee is on holiday, their Slack will update automatically.

Generate advanced reports to analyse absence trends by individual or team.
Clocking-in and out from home
Logging clock-in and out times can be a chore for anyone who has to organise a rota for the weeks ahead, check employee availability or create an optimal personnel deployment plan:
Have they been accurately documented?

Are legally required rest periods being adhered to?

Are those rest periods misused?
If HR planning and time recording don't systematically go hand in hand, the answers to such questions can be difficult to find. Anyone who integrates such a system in their own company not only receives an exact overview of working hours, but overtime and minus hours too.

Digital time recording ultimately simplifies the entire HR planning process, from rota scheduling and holiday planning to payroll accounting.

💎💎

Toggl and

Kenjo HR software

with its own remote time-tracking system.




Secure file and data sharing

Cloud-based storage enables you to share files and information among teams, as they work like an online archive that everyone in the team can access to save, share or edit files.

💎💎

Google Drive,

Dropbox, One Drive, WeTransfer, Atlassian Confluence, MediaWiki, Microsoft SharePoint, Nuclino, XWiki, Amazon WorkDocs, box.com


Important note: It's important to note that these platforms guarantee the security of your data and include their own encryption systems. They also perform regular security backups as an extra guarantee.
Data security

Apart from providing employees with adequate protection for their computers, you can also use software that helps protect sensitive password information.

💎💎

LastPass,

1Password, Bitwarden





Access and control your PC remotely
Remote desktop software lets you access your computer and all its applications over the Internet using another device, essentially by streaming a feed of your desktop.
Anydesk

: makes remote PC maintenance from home possible.

You continue to work on the computer in your company and only the screen view is transferred to your home office computer.

Teamviewer

:

It's easy to use, completely free for non-commercial use, runs on almost everything, and doesn't require any port-forwarding or complex setup.

Remote Desktop:

Using Remote Desktop you can access your work computer directly, provided you can activate it on your PC (Activate) and know the internal IP address or computer name. However, access must be set up beforehand and secured accordingly (SSL VPN).

SSL VPN

: You connect to a VPN client and establish an encrypted connection to your corporate network and work on your home computer as usual (e.g. OpenVPN). For this, you usually need a firewall that allows external access. (e.g. PFsense, Secupoint etc. )
Measuring the quality of your employee's work
With remote working, it's even more important to track every employee's performance, detect issues or areas for improvement and implement any measures that may be needed to guarantee business as usual. Performance management tools enable you to gather all the information quickly and easily.

Kenjo offers one of the most advanced performance review modules on the market:
You can implement 90º,

180º

or

360º performance reviews

.

Combine reviews with other features such as OKRs and employee satisfaction.

Track feedback processes.

Export results and generate reports.
Once you have the appropriate technical requirements in place, setting up remote work routines is a piece of cake. Adios awkward silences in video conferences and other remote work problems.
Sounds good, right?

➡️➡️ Print out your Kenjo tools checklist here: Download checklist. ⬅️⬅️
Remote Work Tools
What's coming next?
Onboarding employees remotely can be a fantastic way to show off your company culture as well as bring about a high degree of trust from the get-go! In tomorrow's lesson we'll talk through the essentials of remote onboarding and provide some great tips to ensure your new joiners have a memorable first experience working with you
Download Kenjo's free Ultimate Remote Work eBook to learn about the superpower of how to manage remote teams.

What to learn next
Previous lesson
Employee Engagement Score
Next lesson
Successful Remote Onboarding