The 360-degree performance review is one of the most popular methods for evaluating employee performance through feedback from their colleagues, superiors, partners, clients, etc. In this article, we look more closely at what it involves.
What is a 360-degree performance appraisal?
The 360-degree performance review, also known as 360 feedback, is one where an employee's performance is based on the opinions of their colleagues, subordinates, line managers, external clients, partners, etc.

According to employment specialist Reed in the article 360 degree appraisal: what you need to know, "it involves gathering the anonymous views and opinions of colleagues, managers and direct reports, which are used to give well-rounded and constructive feedback about an employee. This type of appraisal may also take insights from clients, vendors, or consultants – providing they work regularly with the employee being reviewed."

In other words, this method takes several different points of view into account to get an overall picture of the employee's strengths and weaknesses

Similar to the 180-degree performance appraisal, this system breaks away from the idea that only the line manager's opinion counts when evaluating employee performance. However, both methods are different, and we will look at these later.
Advantages of this method
Today, 360-feedback is one of the most commonly used methods due to the advantages it offers. An article in The Balance Careers quotes expert Jack Zenger as having stated that over 85% of Fortune 500 companies use 360-degree feedback as a central part of leadership development programmes.

What benefits does it offer?
Provides a holistic picture of every professional by taking different points of view into account.
Increases reliability and objectivity as it receives information from a range of sources and the reviewer is easily able to detect biases, prejudices, etc.
Boosts communication and motivation by involving people from all over the organisation in evaluation processes.
Facilitates the creation of development plans in line with expectations of the company and its collaborators.
Asking for clients' opinions about employees they deal with directly improves customer service and the company's image.
Disadvantages of this method
There are always two sides to any story so we must also be aware of certain disadvantages this method presents.
A good deal of resources and organisation are needed to implicate so many people, get them to answer questionnaires, analyse the results and draw conclusions.
The feeling that one's own colleagues are judging you can sometimes create a negative atmosphere.
If reviewers' opinions are unstructured and conclusions are unclear, then it can be difficult to understand the feedback received.
Differences in comparison to 90, 180 and 270-degree reviews
The 360-degree considers more points of view, but there are other evaluation methods to choose from. We explain each one below and outline the differences:
90-degree feedback: in this method, the skills assessment is carried out by the direct line manager. Their opinion is the only one considered so the information is far more biased.
180-degree feedback: includes evaluation from superiors, teammates and clients, if applicable. While this method asks for opinions from several people, 360 feedback is more comprehensive.
270-degree feedback: in this method, the employee gives their opinion about their line manager. The aim is to help leaders to improve through anonymous feedback.
The main differences between one or another are therefore the roles and total number of reviewers involved. And as a result, the results obtained are entirely different from one case to another.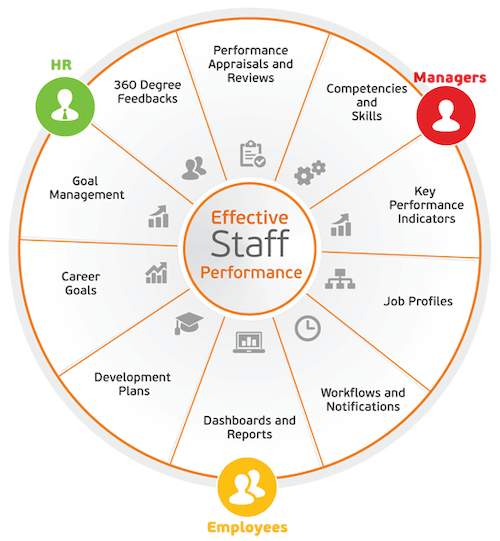 Steps for organising a 360-degree performance review
We will now discuss the steps needed to organize a 360-degree evaluation:
1. Check the company organisation chart

This visual representation will help you easily identify which people should be included in each employee's appraisal. Organisational chart software will make it so much easier to keep on top of this.
2. Communicate and raise staff awareness
Implement an internal communication campaign so that reviewers and those under review can better understand the process and the benefits it offers for the company. This will help alleviate pressure and avoid a negative atmosphere. It's important to emphasise that the aim is to improve the company's productivity and efficiency, and not to punish anyone.
3. Prepare the 360-feedback process
Before starting the process, you should give some preliminary thought to defining the job skills to be considered, the format of the evaluation, the calendar, etc.

Carrying out this process will be far simpler with the help of a performance review software. It enables you to:
Use follow-up templates.
Send questionnaires.
Monitor who has responded to the questionnaire.
Track feedback processes.
You can automate processes, speed up times and effortlessly carry out reviews for the entire workforce.
4. Organise a meeting with the employee under review

This is the moment the employee is made aware of the evaluation results, so arrange a meeting to go over and discuss them. Structuring the conversation to give feedback appropriately and create a positive impact is essential.


5. Next steps and development plan

At the end of every appraisal, it's important to mutually agree future steps with the employee under review: new objectives, qualifications, training programmes, etc. Both parties should decide how to improve the weaknesses that were detected during the meeting.

Ultimately, it's also important to establish a review calendar to track the results obtained over time. The process is usually repeated at six-month intervals.