Lesson 3: How to foster a higher employee engagement score
10
MIN READ

Aneta Kosinska
Learn about employee engagement and how to ensure your engagement scores are rising, and that your employees are excited to be working with you. Both performance review cycles and employee engagement are about creating ownership amongst employees and having an impact at your organisation.
Key Learnings
✓ Internal communication and collaboration
✓ Surveys
✓ Internal meetings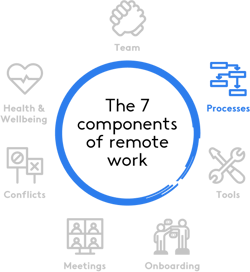 Essentials of Employee Engagement

What does having a high employee engagement score mean? Does it mean that employees are happy at work? Why would we ever need to measure something like that? Let's take a guess - these are the type of questions you receive when you mention the term employee engagement (EE) at work, right? If your answer is yes, then you are certainly not alone
The truth is, many people don't know that EE has nothing to do with happiness - that's job satisfaction (which we will talk more about below in the section on surveys).
No. Employee engagement is not about happiness, EE is all about how emotionally committed employees are to their organisation and its goals. Many people also don't know that a low EE score is detrimental to the bottom line. According to this study, 70% of employees report feeling disengaged in annual surveys, which costs employers up to 550 billion dollars a year!! 😳
Gallup describes engaged employees as individuals "involved in, enthusiastic about and committed to their work and workplace." Engaged employees are the people who show up to work daily and give their best effort to drive their company forward - AKA the best kind of people!
So don't worry about what others are saying, let's just get you to a place where you feel confident with remote working employee engagement formats and help you drive down those ridiculously high costs!
To ensure your company is filled with highly engaged employees as you transition to a remote working environment, up your game on the following processes:
Performance reviews X employee engagement

Internal communication and collaboration

Health and wellness

Surveys

Internal meeting habits
Performance reviews and employee engagement go hand in hand

👫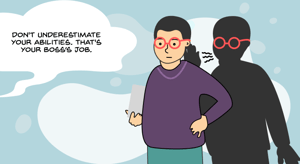 As you know from lesson #2, performance management ensures that employees are dedicated to company objectives and have a clear path ahead to achieving them. According to a HBR analytics study, employees believe that engagement at work is correlated to performance.
Results showed that people strongly believed that engaged employees perform better than their colleagues who are not engaged and almost 70% admitted that to improve performance, engagement must also improve.
And, leaders at those organisations also believe the two things go hand-in-hand; when HBR took an in-depth look at companies who reported "doing a 👍🏻 job at linking employee engagement and performance to business outcomes" they observed that other companies perform better on metrics that speak to the C-Suite such as: revenue growth, customer satisfaction, profitability and overall quality.
Both performance review cycles and employee engagement go hand-in-hand, and having the two integrated in one system is the most progressive way of managing the metrics your C-Suite is concerned about.
Internal communication and collaboration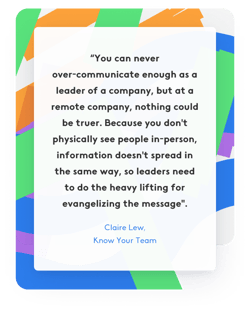 High performers take great ownership of their work and want to create a big impact at your organisation.
That is why they constantly want to be kept in the loop with the major decisions C-suite are making and value organisations that make open and honest communication/transparency a priority.
Give them the chance to bring you those big results by sharing with them and creating formats that they can share with others.
Here are some great tools to get you started:
With our Shout-out feature we make sure our amazing employees feel heard and valued and enhancing employee engagement at the same time. This is how we do it: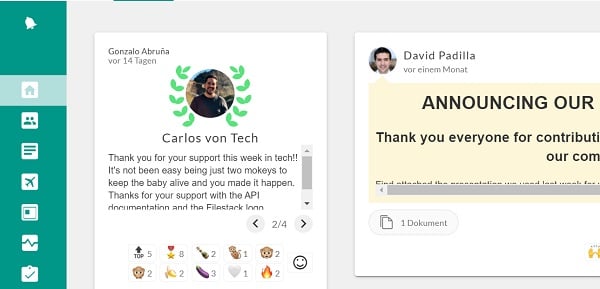 Kenjo Interface
If you would like to try for free our Shout-out feature along with all our other functions, try our HR software 14 days for free 👇👇👇
Health and wellness
Highly engaged employees consistently work hard to increase the chances that your organisation will achieve the goals set by C-suite, and they outperform the competition. These mental athletes know they must take care of their health and fitness, otherwise they won't be in shape to practice and win at work.
Providing employees with unique wellness packages shows them that you value their efforts and you want to help them take care of themselves. Here are a couple of ways to do so:
Encourage breaks and the

80/20 rule.

Subsidise their current at-home workout by 50%.

Organise an annual

wellness package

by partnering with wellness companies.

Offer a reimbursement programme, allowing them to claim for wellness treatments, for example movement, mindfulness, massages, treatments.
Surveys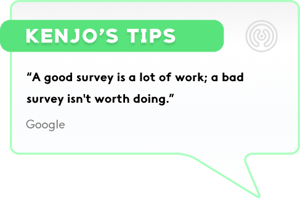 Surveys give employees the chance to voice their opinions on topics they feel are important. They also give leadership the chance to understand what high performers are looking for, what they are satisfied with and what is currently missing from the equation.
It's easy to assume that everyone at your organisation is extremely satisfied and are actively promoting it to their network. However, as with most things unless you measure it, you never really know.
Surveys are also a popular way to understand employee satisfaction - a rating used to discover how many employees enjoy working at your company. Here are some great questions you can ask employees to really understand their perspective.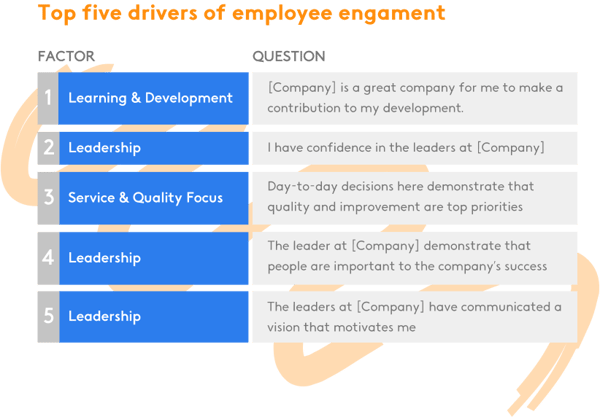 You can create some great surveys with these tools:

Kenjo's employee engagement software helps you to see satisfaction levels and how they impact success:
Measure and improve engagement and productivity.

Compare satisfaction levels against benchmarks.

Track satisfaction.

Identify employees with leadership potential.

Surveys are updated in line with scientific research.

Segment by office, location, age, tenure and more.

Surveys include a wide range of relevant issues.




Source: Kenjo eNPS
Internal meetings
Okay. Productive, happy, efficient meetings are difficult to run, and running remote meetings gets…. tricky.
However, a strong meeting culture is an essential component of an engaged workforce!
What's coming next?
We have dedicated an entire lesson to meeting culture because it is such a valuable and broad topic. It's coming up in our 6th lesson. Stay tuned until tomorrow for lesson 4 to learn more about effective tools and technology for remote work. We can't wait to share it 😎
If you want to learn more about how you can integrate performance review cycles and employee engagement, check out Kenjo services here.
What to learn next
Previous lesson
Performance Management
Next lesson
Effective Tools & Technologies