The way we've used performance management systems in the past has been repeatedly criticised in Human resources departments for several years now - stating that they have been too static, too selective and too focussed on the past.
1. Difference between performance review and performance appraisal
First, let's first take a closer look at the different terminology before we go into the performance management standards and tools:
In an employee and performance appraisal, HR departments evaluate the development of their employees according to defined criteria.
In contrast, a performance management programme covers a broader concept of performance,into which employee appraisal is integrated.
The aim of both measures is to manage the performance of teams and employees.
2. Why is a performance management system important for any organisation?
Performance can be described on the basis of mostly objective goals that are linked to the appraisal and from which HR pros calculate the degree of goal achievement or bonus. To do this, they often use a normal distribution, the bell curve, which leads many companies to a so-called forced distribution. Results are distorted and employees wrongly classified.
For this reason, more and more HR managers are demanding a separation of individual goals and variable compensation as a component of a company's performance management. Why?
Here, we have to look at several factors:
On one hand, these systems link performance (and therefore remuneration) to the employee's own development. In individual cases, this means ensuring effective employee appraisals in order to receive the highest possible bonus.
On the other hand, their potential must be identified in order to promote the employees' own development.
Therefore, two congruent goals whose validity may be doubted are interconnected. Another aspect that has changed significantly in recent years is the dynamics and volatility of the markets. Choosing a six-month cycle for employee performance reviews doesn't necessarily correspond to the reality of most companies. Markets are agile, while we continue to measure performance in a rigid system.
Continuous adaptation and ad hoc management are becoming increasingly important. The continuous exchange of information as well as regular, event-related employee feedback meetings are central components today.
However, the criticism of HR experts goes beyond this. Traditional HR performance management systems are often based on the elimination of weaknesses. Considering that focussing on reducing weaknesses takes more effort and certainly doesn't increase strengths, the employee potential can't be fully maximised. Therefore, it is often argued that it's better to focus on enhancing strengths.
An additional aspect that I would like to mention here is the fact that performance management systems are often seen by managers and employees as a necessary evil rather than an opportunity. The challenge behind this is to design a system that not only meets the requirements of the company, but also takes into account the needs and resources of the employees.
We sometimes hear an ongoing complaint from HR managers about internal systems being too rigid, process-related, time consuming and not reflecting the needs of the business. As a result, performance management systems often fall short of their real potential, even if they have been comprehensively designed and set up. Companies should always question themselves about whether their performance management system covers changing requirements, and whether they can therefore efficiently monitor employee performance.
Employee performance is controlled by clear roles and expectations. If an employee doesn't know what is expected of them, and isn't regularly reviewed, it's difficult to assess individual performance.
For this reason, a performance management system defines the requirements for each individual, therefore tapping into an organisation's full potential.
The results will enable you to control the overall performance, based largely on an objective model that is applied in the same way to all employees. In this way, performance management:
contributes to the internal identification of the so-called "high potentials" and "high performers"
enables the transparency of individual performance
creates a basis for a fair salary model
and can be used to define development prospects and career goals

3. Performance management objectives
I would first like to mention that there is no one-size-fits-all performance management system. A performance management system should always relate specifically to the requirements of the company and should therefore be defined for each individual case.
Nevertheless, there are different phases and aspects that should be taken into account, which we've outlined in this article. They can be used to help you implement your company's own performance management process.
Objectives and goals are among the most important performance management tools. They should be as specific as possible to ensure an objective review.
Objectives can:
Increase employee motivation, satisfaction and loyalty.
Standardise employee performance measurement and improvement methods for all or specific groups of employees.
Define career and development opportunities.
Identify service providers.
Create a transparent salary system.

4. Developing a performance management system
4.1. Determine the status quo
HR departments need to evaluate which tools and instruments are already available in the company and what restrictions they may be subject to.
Questions that HR professionals should ask themselves:
Do we already work with a system that can/should be used as a base?
Who is involved in this area? (HR, employees, managers)
How do top management and executives view the project?
What are their expectations?
What is their understanding of employee motivation, development, feedback, leadership etc.?
What resources are available (professional, time and budget)?
Who participates? How are the tasks defined and distributed in the human resources department?
What does performance mean for your company?
What is your company's culture/structure?
4.2. Create a project plan
Define the following points in a project plan and use it alongside a decision template or presentation for management:
Objectives
Content (final product)
Time frame
Costs and necessary resources
Responsibilities
Different steps for implementation
Any other points to be clarified
Get all relevant stakeholder groups on board, starting with top management and all the way to the relevant executives. Getting the stakeholders' buy-in is one of the most critical factors when introducing a HR performance management system in the implementation phase. This is because they will act as drivers and ambassadors during the implementation phase and are therefore not only key to its acceptance, but also to the successful implementation of the system.
When defining the framework, ask yourself which levels the performance management process should consider and encompass.
If you look at the definition of performance = ability + want + may, there are several levels on which performance management should be implemented within a company.
Limiting performance management exclusively to the level of "employee - manager" disregards other important control elements and sources of information. A system that's only based on annual employee performance reviews is no longer up to date.
The organisation itself, as well as management, executives and individual employees, are components of a comprehensive performance management system and assume different responsibilities. Feedback, results handling and the will to continuously improve, are essential. For this reason, we have to collect and evaluate feedback on different levels and at regular intervals.
One way of doing this is to consider the different levels that exist in a company and to integrate different tools into the performance management process.
5. Overview of performance management tools
| | |
| --- | --- |
| Levels | Tools |
| Employees - Management | Company-wide survey of the entire organisation, e.g. engagement surveys, eNPS as a regular pulse check |
| Employees - Manager | "Classic" appraisal interview, target setting interviews, regular 1:1 meetings, check-ins |
| Employees - Employees | Peer-to-peer review |

6. Develop performance reviews
Depending on the respective tools you have chosen, the next step is to define the objectives, individual contents, scope, measurement, implementation (e.g. tool-based), results processing and implement the different steps. This procedure is often introduced in a step-by-step manner. In other words, you start with the implementation of one tool and add others later.
6.1. Definition of objectives
Based on the objectives of your performance management system, define the goals for your performance reviews, e.g. these should serve as a basis for further HR-relevant questions such as salary, promotions etc. and help you to visualise the performance of each individual in the company. These must be defined according to your internal requirements.
6.2. Define a performance management cycle
Furthermore, define what's known as a performance management cycle:
How often do you want to conduct performance reviews for each employee?
What skills should be measured in a performance review?
Which groups should the performance review serve?
Will each employee be asked the same questions?
Are there any other instruments that are part of the performance management cycle?
This is what a performance management cycle looks like:
This is what a performance management cycle looks like: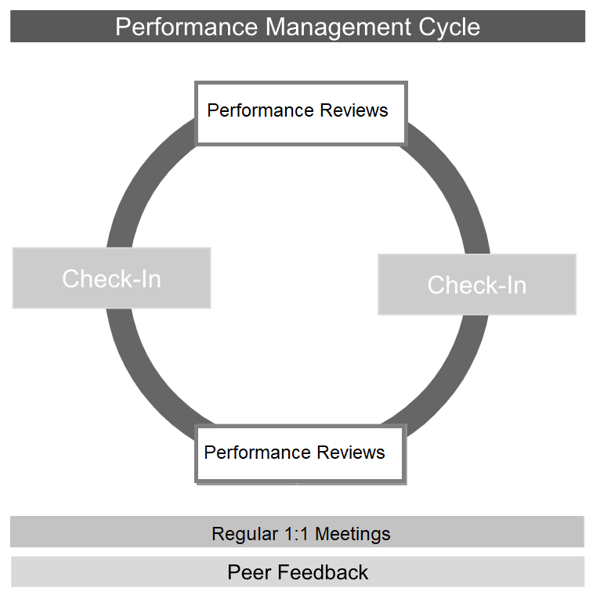 Graphic: Bea Pönisch
6.3. Performance review content
Here you describe how you would like to measure performance within your company. This can be based on competence measurement or defined by quantitative and qualitative goals.
In this article I will limit myself to competence-based measurement, since this approach maps "ability" as a component of performance definition. Furthermore, defining objectives for employee performance reviews is difficult.
The basis of performance measurement is formed by competence-based requirement profiles, which can be described for specific positions, functions or even groups of employees.
Important note: Don't forget to describe the requirements against which the performance is to be measured.
Ways of defining competence-based job profiles:
Analysis of historical data: Job descriptions, internal job descriptions, etc.
Stakeholders survey: based on a predefined list of questions or critical events method (What distinguishes a successful jobholder from a less successful jobholder?)
Definition of core competencies, based on the company values plus the corresponding professional competence required per position or role
In addition, the overall performance and potential of the individual should be assessed, and the performance of the respective manager should be queried. In addition, open questions about the employee's own successes, goals or need for support can be added to the appraisal interview.
6.4. Determining the scope
How many skills do you want to record? Is the number the same for all employee groups? We commonly see too many skills being described, or with descriptions that are not clear enough,, which leads to distorted results. Likewise, implementation is very time-consuming and can lead to problems with acceptance or quality losses.
6.5. Defining skills
In order to define skills in a performance review, we also need to define and describe the behavioral indicators. Behavioural indicators, or behavioural anchors, reflect behaviour in the context of the company that has been defined as successful and enable us to produce objective results.
6.6. Measuring skills
Different scales can be used to measure skills. A distinction is made in the number, is it even or odd. Both scale formats have different advantages and disadvantages.
Can they be applied in accordance with the objective
or do you prefer to work with a 3-, 4- or 5-point scale?
We will also find different definitions when working with performance appraisals. You can define the review based on expectations or describe it based on levels - depending on whether there is an underlying career path, or whether it's developing simultaneously. A scale that is commonly used in a business context is the work expectation scale (from 1 = dissatisfied, 3 = meets expectations, up to 5 = excellent).
The challenge in using such expectation scales is that many managers and employees often rate a scale of "meets expectations" as "good" being average, even though this corresponds to a 100% job satisfaction. As a result, there is a shift in practice, where "meets expectations" is not considered good enough. The "right-skewed" performance review means that it can be difficult to differentiate between employees' performance and to make a fair review.
Important note: If you work with expectation scales, define them in advance in order to increase the result's objectivity and to enable transparency.
6.7. Definition of reviewers
In order to ensure objectivity, many HR managers recommend adding a higher number of reviewers, especially for employees who have interface functions (e.g. managers or product managers). The appraisers can be supplemented by 180° or 270° methods, e.g. by interviewing colleagues and/or employees.
7. How to build a performance management process
7
.1. The appraisal
The performance review is based on pre-defined skills and usually consists of a self-evaluation and an external evaluation. Self-perception and external perception serves to improve the understanding of the employees being assessed and to uncover any blind spots. Self-evaluation is a valuable tool for employees to reflect on their own performance, their skill levels, and to detect areas for further development (based on the company's pre-defined performance components).
To conduct an appropriate assessment of skills and responsibilities, the evaluation should be carried out with specific examples from the work context.This can be done by comparing behaviour with established indicators:
Which aspects can be identified?
In which areas do they need help?
This procedure increases the objectivity and comparability of the evaluation and helps the employee to better reflect and develop their behaviour accordingly. For this reason, it's a good idea to document examples of behaviour over the entire appraisal period so that no information is lost. Colleagues or employees can also be involved at any time prior to the review to gather additional insights into the employee's performance and behavior, or to request support from the respective supervisor or HR department.
Important note: Feedback interviews should be given as soon as possible to give the employee the opportunity to continue working on their behaviour.
It's also worth briefly mentioning performance appraisal errors, which can also influence the appraisal result, as well as objectivity. They should therefore be communicated to the reviewers in advance of performance reviews, so they can be conscious of these errors and minimise them.i.
7.2. Development actions
In addition to the evaluation, employee performance reviews should involvea discussion of how the employee can improve in the future and achieve their development goals.
Questions that can help to define further development measures could include:
What are their tasks/goals for the year/next period?
What are the employee's expectations regarding their development?
What kind of experiences, coaching and/or learning does your employee need to fulfil his or her goals?
Which specific competences/skills need attention?
What are the employee's own development goals (specific, additional tasks or responsibilities)?
Important note: Development measures need to be linked to objectives or results (e.g. in relation to the objectives of the company/department, the requirements of the role or the employee's development goals).
→ Example: The goal is to improve the presentation skills of an employee. Suitable performance management measures could include, for example, attending a training programme,regular presentations within the company or regular feedback meetings.
To define suitable measures, the 70-20-10 rule has proven to be successful:
70 percent through difficult tasks and professional challenges (training on the job)
Up to 20 percent through the professional environment and, to a large extent, through the supervisor (learning through social interaction)
10 percent through traditional further education (attending external events, e.g. training)
7.3. Evaluating the results at company level
Since the results of performance reviews are usually linked to HR-related decisions, an evaluation needs to take place at company level.
Define the following in advance:
What are the objectives of the evaluation (for example, identification of low and high performers)?
Which criteria are necessary for the evaluation (e.g. the employee's overall performance)?
What decisions should be made? On what basis? Define rules for promotions, for example (clear communication of the rules within the company)
Who is involved in this decision-making process?
How are the results reported back to employees?
8. Communication - The rollout
Ensure that all employees and managers are sufficiently informed about the content and process in advance. Separate formats should be provided for employees and managers.
Suitable contents may include:
The purpose of interviews, embed in pre-existing systems.
Learning about and applying feedback methods.
Describe the process and contents of the interview.
Describe the evaluation process, including how evaluation errors will be addressed, providing best practices, etc.
Dealing with critical cases / employees ( for example, passive or aggressive behaviour).
9. Evaluating performance management systems
Do periodic checks on whether your performance management goals have been achieved, as well as applying new scientific findings. This can be done by means of standardised surveys or discussions with those involved. If necessary, adjust your tools according to the employee's feedback.
Based on the challenges described in the introduction, I am convinced that, when a system has been defined, it should never remain static. We should constantly question and adapt our systems to the needs of both the business and employees, as an integral part of working with any performance management system.
10. Computer-based HR software
Depending the size of your business,working with computer-based tools and HR software such as Kenjo is highly recommended. Be sure to consider existing compliance and privacy policies when making your choice. Create appropriate documentation using the system and guarantee sufficient acceptance within your company.
About guest author Bea Pönisch
After studying psychology, Bea Pönisch worked in various companies and functions in the field of HR. She has worked for CIMPA GmbH, a subsidiary of Airbus SAS and Volkswagen Coaching GmbH, among others. Bea now works as senior learning and development manager at finleap connect GmbH. Within the scope of her work, she is responsible for the development of the division and deals with all strategic issues related to learning and development. Additionally, she works as a lecturer for human resources management at the Euro FH.