More and more companies are relying on effective performance management to promote the personal development of their employees as well as developing the full potential of their business. That's why we've invited a very special guest to our Berlin office today.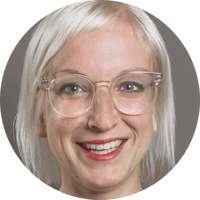 Bea Pönisch is Senior Learning & Development Manager at finleap connect GmbH, where she deals with all strategic issues related to learning and development. She also works as a lecturer for HR management at the Euro FH and has extensive HR experience in various companies such as Volkswagen Coaching GmbH.
We're always happy to gain interesting insights from HR experts and professionals in the relevant fields. Simply write an email to our marketing director Rubén Medina via rmedina@kenjo.io.
When did you implement the performance appraisal programme in your company?
Regular and high-quality feedback is one of the main instruments for increasing performance within an organisation. Creating a culture in which everyone receives ongoing constructive feedback and appreciation is important in order to continuously develop the entire organisation and reach maximum potential. To achieve this, standards and processes must be defined, and the right organisation and structures established, to ensure the goal of performance improvement is achieved. Some companies manage without predefined processes, but in my experience, this becomes more and more difficult as the number of employees increases.
Why is the implementation of a performance management system important?
Setting up an appropriate system is ideal to define any performance expectations that are placed on each individual. This ensures transparency, equal treatment, employee motivation and retention and forms a basis for further HR-related decisions. The company can then regulate performance in a targeted manner, identify development opportunities and obtain an overall view of the potential available in the entire organisation. In addition, a high-quality PMS enables us to efficiently achieve a performance goals and gives employees the basis to actively shape their own development.
How should you plan and organise the process and how did you approach this?
The responsibility for setting up and implementing a performance management system is usually done by HR managers. HR departments have the necessary experience and skills to develop appropriate systems for individual organisations. To ensure successful implementation, company representatives should be convinced of the benefits and act as drivers of the project. It is then the main function of a human resources department to define the objectives of the performance management system together with management.
Based on the target defined, HR departments create a project plan that involves individual steps for the necessary resources and responsibilities required. This has to be done in coordination withmanagement, so that HR managers are able to design the implementation almost independently. During the implementation phase, a so-called Sounding Board can be used (participants consists of management, executives and employee representatives) to provide regular updates throughout the project and receive appropriate feedback so that changes can be made if necessary.
How do you define a successful introduction of a performance management system?
Various key figures or sources of information can be used to determine the success of a PMS. These can be for example
Results from company-wide surveys (e.g. engagement survey)
Results from offboarding discussions
Analysis and comparison of the results of performance interviews
Staff turnover rate
Succession planning
Business-related HR KPI key figures
What are the biggest challenges of implementing the system? And how can you overcome them?
One of the biggest challenges for HR when developing and implementing a PMS is management. If management is not convinced of the benefits, it will not support the successful rollout during the implementation phase nor communicate the relevant statements to managers and employees. A high-quality system can only really work and fully develop if it's applied accordingly, experienced and is part of the corporate culture. This requires role models that are convincing and repeatedly transmit the benefits to the organisation and, in the context of a role model, actively drive and successfully implement the system.
In addition, opinions can often widely differ on content design, the question of what performance is and how it should be defined within a company. While some work with qualitative and quantitative targets, performance can also be based on essential skills. Defining these success-critical behavioral criteria and their scope can take time and requires a high degree of coordination. Of course, this is also influenced by the approach taken during the development of the system. If a company decides on a top-down approach, this can take less time compared to a bottom-up approach.
How many people should be involved in the creation of a performance review programme?
The number of people that should be considered in the development of a performance management system depends largely on the organisation and the corporate culture.
If a company follows a top-down approach, the management and the employees of the HR department are important participants.
If a company chooses the bottom-up approach, employees and managers are also involved during the development.
Workshop formats are used to determine the needs, components, and content of performance appraisals. Depending on the size of the company, the number of individual workshops must be determined as well as the consolidation of the results and their processing (e.g. additional workshops).
Both approaches have their own pros and cons and depend, as mentioned, on the respective corporate culture. If participation plays an important role, I usually tend to follow a bottom-up approach. As I mentioned previously, we can use a combination of both approaches, such as sounding boards to involve other people from the company in the development process and, at the same time, gain ambassadors for its implementation.
In my humble opinion, no matter which approach a company chooses, it's definitely important to define responsibilities and tasks at the beginning.
Which 5 do's and don'ts would you suggest to our readers when creating a performance review programme?
5 Do's
A clear definition of objectives, presentation of benefits and results processing
Processing objective(e.g. work with clear definitions of competences)
Implement further instruments in addition to the standardised performance reviews to enable regular and constructive feedback
Provide stakeholders with all relevant information about the application of the system and transparent presentation of the process (e.g. how connected HR-related decisions are made)
Regular evaluation of your own system and questioning the instruments in a meaningful way
5 Don'ts
Exclude management in the early stages, and perhaps involve other employee groups
Fail to set objectives and later review them based on progress
Drive the project purely from an HR perspective, without assessing the needs of the entire organisation
Evaluate the results based on the normal distribution and make all further decisions
Link performance reviews (as a basis for e.g. promotions) with development discussions
Which resources would you recommend for HR managers to help them create a performance management system in their companies?
Basically, I can't personally recommend any particular book that absolutely has to be read. I am convinced that people without the appropriate training and experience should involve other people. Quality and alignment with the company's development requirements is important in the success of a performance management system. If a system that doesn't meet the described aspects is introduced, not only does the quality suffer, but there will also be less acceptance. As a result, the outcome will probably not meet the desired objective and the employees will see the process as a necessary evil rather than an opportunity.
I recommend that experienced HR managers exchange ideas - with colleagues and within the relevant networks. There are specific HR networks that are organized e.g. via Slack such as Purple Squirrel Society or Secret HR Society. Alternatively, there are specific network events in different cities that are often organised via meetup groups. In addition, there are countless webinars, blog articles and podcasts on the net.
The Harvard Business Review is another helpful source of information about the latest trends and scientific findings. You can also read our article about how to plan and execute performance management systems.
Thank you, Bea, for this interesting conversation!