Employee Databases are essential tools for businesses to track and store employee information, allowing easy access and data analysis. But for many, the thought of creating and analysing staff databases is understandably intimidating, and figuring out where to begin is a challenge.
When made well, employee databases not only act as an accessible record of employee information, but can also provide useful insights into employee growth, retention, and other key analytics.
If you are considering using or updating an employee database in your company, keep reading to find out why these databases are so indispensable.
What is an Employee Database?
An Employee Database, also known as an HR Database, is a single, accessible log of past and current employees. It contains organised employee information to simplify tasks for HR professionals (or the person managing HR in smaller companies).
Initially kept in HR's paper filing cabinets, Employee Databases are now stored on a company server, hard drive, or in Cloud-Based database software. This doesn't just free up office space, it also makes employee information accessible from all company computers, or remotely, if the database is stored in Cloud-Based database software. Remote access is more important than ever with so many employees working from home, and has stressed the importance of easily finding information on individual employees.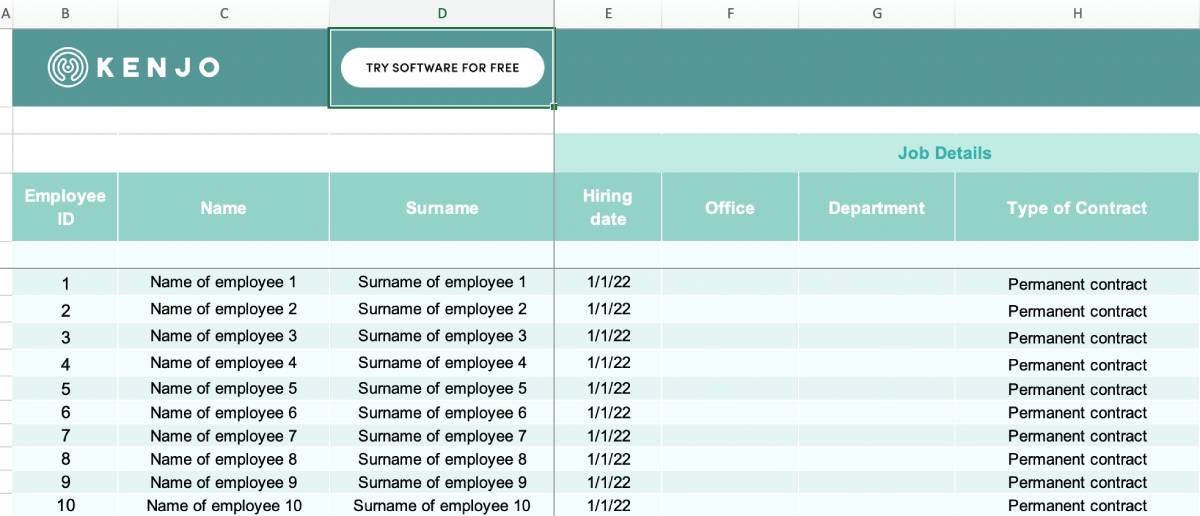 Employee Database Template in Excel
The simplest form of Human Resources Database is often a spreadsheet, hosted on spreadsheet software such as Excel, which when set up has a cost-effective and user-friendly interface. Frustratingly, many pre-made Excel Employee Database templates are delicate and difficult to use, and learning how to create and format a spreadsheet takes time and advanced Excel skills. Ideally, companies should use a free and simple pre-made Excel Spreadsheet, such as one offered by Kenjo.
Why is an Employee Database important?
Both big and small companies benefit from Employee Databases, which are much more than a simple log of employee information. They are important for many reasons, such as:
Tracking employee progress, identifying high-performing employees, and monitoring disciplinary actions.
Increasing accuracy and productivity in HR departments, as less time is needed to complete tasks. Using an HR Database to store and retrieve data also reduces the chance of simple human error.
Comparing staff performance in different departments, and providing clear data for use in meetings or further analysis.
Helping UK businesses follow General Data Protection Regulation (GDPR) guidelines.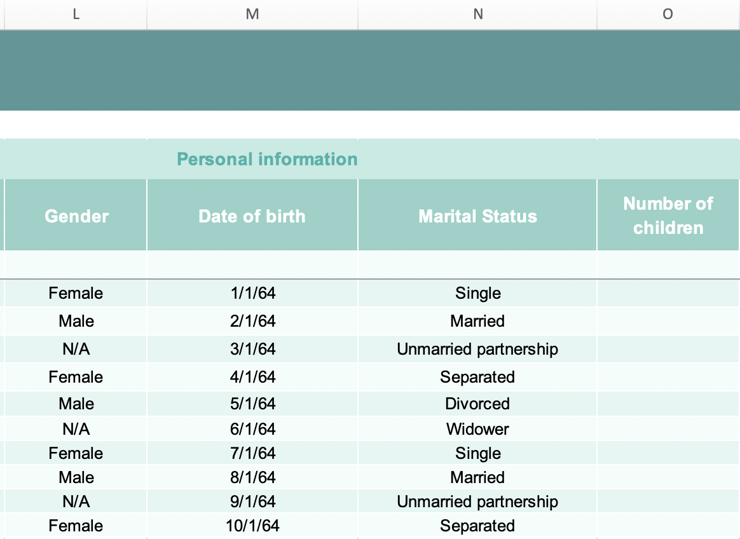 Employee Database Template in Excel
HR databases make finding information on any employee as easy as 'ctrl+F' and give companies the platform to begin in-house data analysis. The beauty of these tools is that there are countless other uses for staff databases, as they can be modified and analysed to create useful employee data on any field included in the spreadsheet.
What information do you need to include in an HR database?
Firstly, what is an HR Database? And how is this different from an Employee Database?
Well, it isn't. Both HR Databases and Employee Databases are the same thing, and they can even be called staff databases. The key detail is that the database should include all basic employee information.
This should include past and present employee names, positions, and salaries, as well as contact details, hiring information and more. The database can also contain more specialised information for tax purposes, like nationality or number of children. Having this information readily available in an excel spreadsheet makes it quick and easy for a manager or HR professional to access at any time.
Free employee database excel template
If the idea of setting up a Human Resources database in Excel is intimidating, you are not alone. To save time, Kenjo has designed a user-friendly, free Employee Database Excel Template for anyone to download and start inputting data.
How does Kenjo's Excel Employee Database Template work?
Kenjo's Excel Employee Database Template was designed to be easy to use for anyone with basic Excel knowledge. How basic? Well, if you can switch between tabs and type in Cells, you can use Kenjo's template.
This employee information database works as a collection of all essential staff information in one convenient document. The template works by clearly setting out information in easy-to-find columns, which allows users to compare multiple employees' hiring dates, salary details and more without complicated analysis software. Each staff member is assigned their row, in which managers or HR professionals can find all relevant information on that employee.
Kenjo's staff database also gives users the option to delete fields that they don't need or add fields that are specific to their company's needs, but this is not mandatory. The standard template is designed to work for companies in all industries.
You can use Kenjo's employee database Excel templaaet by following these steps:
After downloading the template from Kenjo's website and opening the file, the first thing users see is a step-by-step guide to inputting their data.
Users are then directed to the second tab, where they can type each employee's information into the cells on the spreadsheet.
When the user has finished inputting their employee data, you are finished, and the database is digitised and ready for use!
How to digitise and automate your employee database?
If you prefer to digitise and automate the creation of an employee database, you can use a digital HR management software. By using it, HR managers can save up to 60% of time on administrative tasks and automate a large number of processes.
To create an employee database, using an HR software will allow you to do the following:
Automatic creation of new employees: every time an employee joins the company you will be able to fill in the following information in the clooud:


Employee's personal information
Employee's work information
Employee's working hours
Employee's address
Employee's financial information
Emergency contact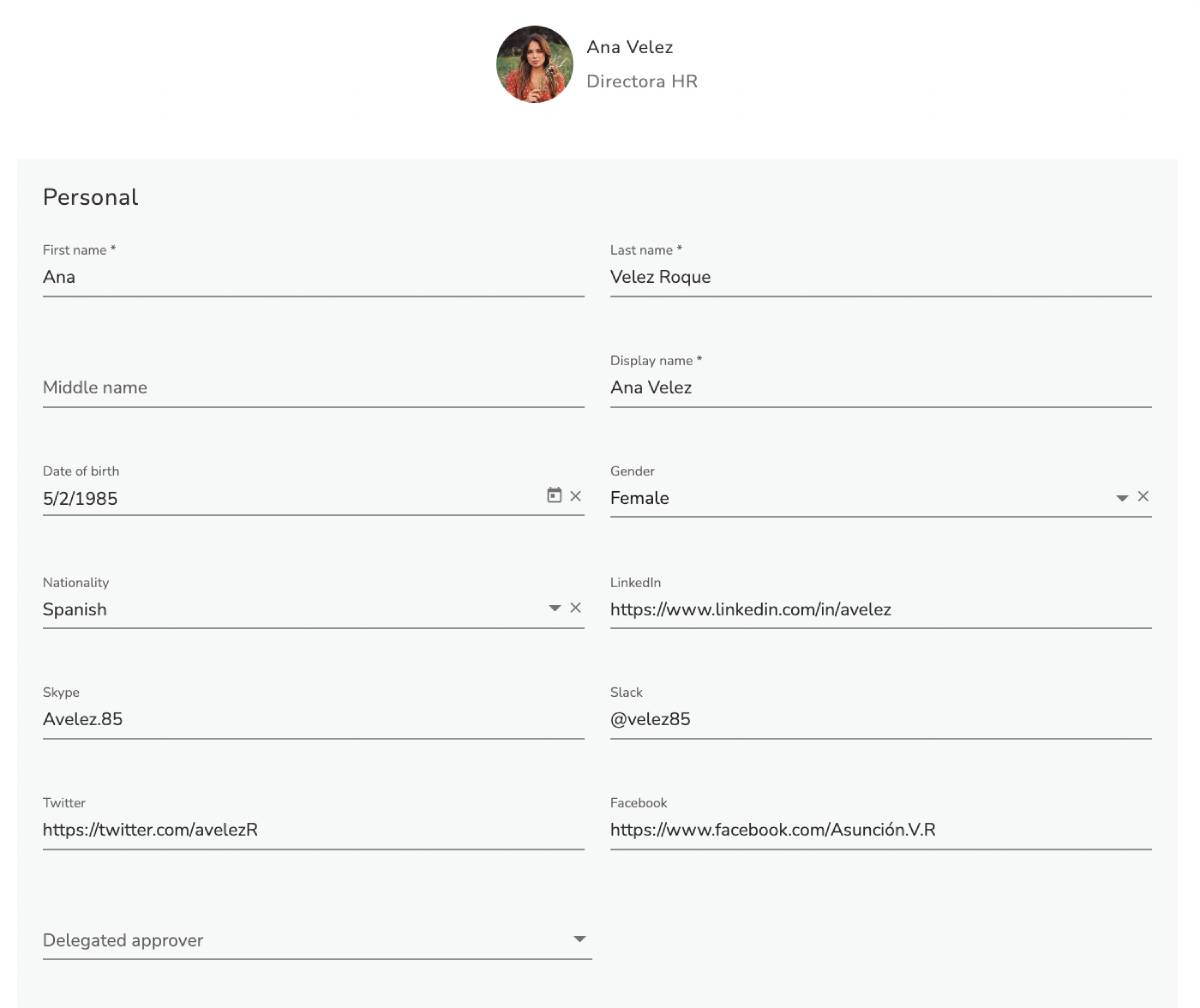 Kenjo's employee data base software
Customisation of the required fields: you can edit, add or delete the information you want.
Synchronisation with payslips: each employee's payslips will be associated with the database.
Real-time and automatic updates: the information entered will be saved automatically so it will not be necessary to update it periodically.
Management of employee documentation: employee documentation such as contracts or other relevant documents will be associated with each employee's profile and can be consulted instantly.
Database in the cloud: the company can easily create a database that will be registered in the cloud, preventing the information from being lost or misplaced.
Restricted access: HR managers or team leads can decide which editing and view they give to other members of the company.
Furthermore, by using an HR software such as Kenjo, companies can automate other processes such as time off, rotating shifts, organisation charts, performance evaluations, onboarding and offboarding, work climate surveys and recruitment, among others.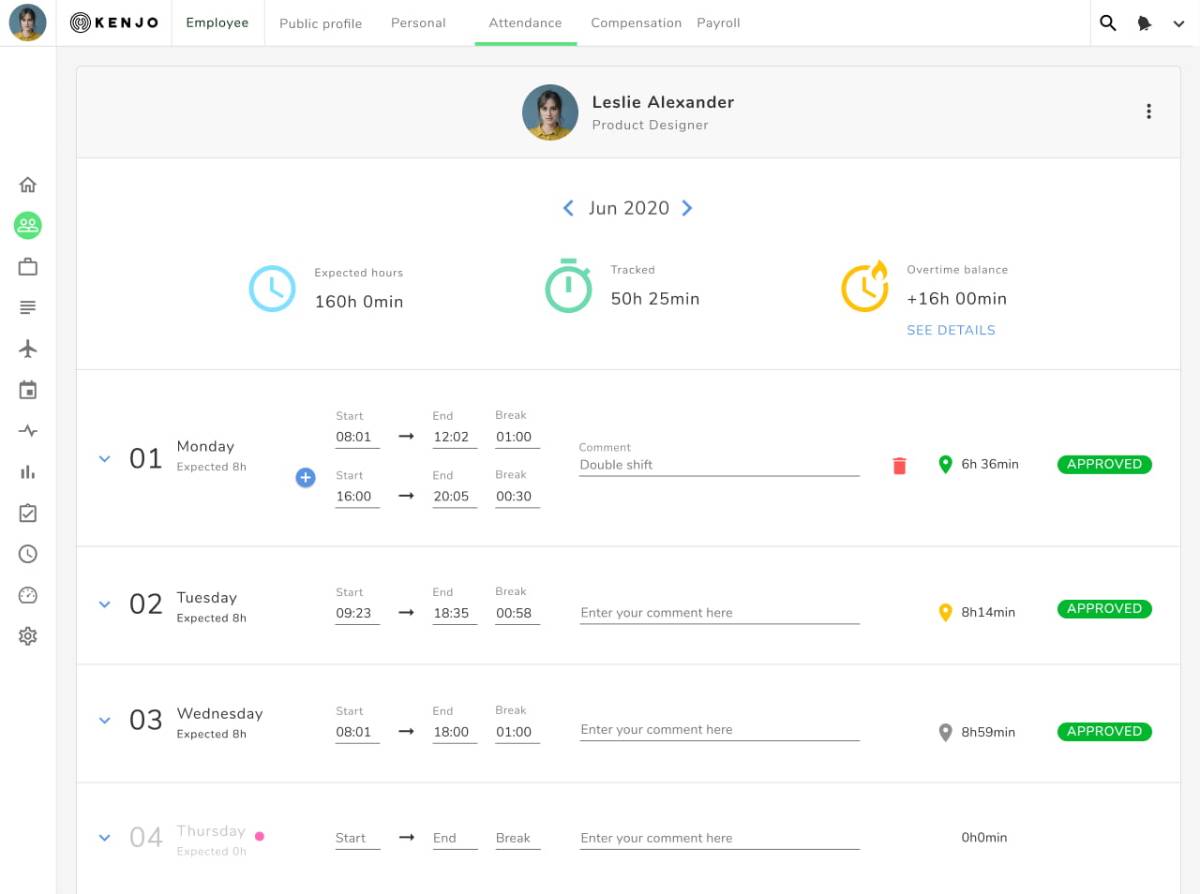 Kenjo's time attendance software
Discover all our resources and Excel templates specially created for our HR community. You can also try our software for free or book a demo with our HR experts who will guide you through our platform.