Starting up your own business is very much in vogue. But not all founder teams are equally prepared for the challenges they and their start-up will face.
It is estimated that more than half of all newly founded companies fail within just three years of their launch. One reason for this may be the lack of dedicated HR in the early stages. Many founders focus on other aspects of the company and only see the consequences of lack of employee management later on.
Sebastian Janus and his team from ScaleupLab are aware of this. They support founders by offering their expertise in funding and business scaling.
Who are you exactly and what is your vision?
Since 2018, ScaleupLab's vision has been to help founders take the next steps in their business development with practical, hands-on support. This could mean me and my colleagues stepping into an interim role, such as CFO, fundraising mentor, management or digital consultant. On the other hand, we may provide financial planning, accounting or business model analyses. With more than one hundred startups supported and already more than 60 million Euros in funding, the facts speak for themselves.
The goal is to make ScaleupLab the number one startup consultancy for innovative companies in Europe by 2025. And always following the motto "From founders for founders".
Do you have any tips for small and medium-sized companies on what to look for when choosing HR software?
In recent years, we have advised many customers in the e-commerce sector on how to optimise internal company structures and processes.
The main focus here should be on the specific needs of your company. If you know what you need for yourself and your team, no matter how high the headcount is, it is easier to decide on an HR solution.
Personally, I always recommend an application for recruiting or applicant tracking management, as well as centralised time off management with time recording. Having all HR data clearly, digitally and well visualised in one place is worth its weight in gold in a start-up.
If you are interested in tool comparisons and further information on HR tools for startups and smaller teams, you should follow me on LinkedIn and our ScaleupLab Company Page. There you will find comparisons, surveys, reviews, tech stacks and much more.
What feature should startups definitely not do without?
Digitising your own human resources is a must! Human resources management without being able to access dashboards and documents anytime and anywhere is simply out of date.
In addition, I personally wouldn't want to do without HR software integrations for project management tools such as asana or instant messaging services such as Slack.
What are the advantages of HR software for SMEs?
For one thing, a digital HR tool automates manual activities that previously cost a lot of time and stress. Even in teams with small numbers of employees, it is worthwhile digitising these tasks.
On the other hand, the relief in terms of workload is immediately noticeable, and improved organisation gives the start-up CEO faster access to official documents and employee data.
How much does HR software cost on average?
That depends. The market for HR applications is large and highly competitive. And the SaaS tool landscape in Germany is constantly changing.
In general, however, I would say that pricing depends very much - as already mentioned - on the needs of the company in question. Factors such as
Internationalisation,
sector of the start-up
and team size play an important role.
Depending on the requirements, personnel management can cost up to 150 Euros per employee per month.
However, I would recommend comparing quotes and setting up cheaper software at the beginning. It is better to start small and then increase in proportion to the company's growth.
Start-ups with rapid growth tend to forego expanding their HR team first for time and cost reasons. Why can't start-ups afford to do this?
Company growth is good and important. But it can also quickly become uncontrolled and trigger chaos and additional work. That is a fine line.
To prevent this, HR management should grow together with the start-up and adapt to it.
Professional HR management is also important from an investor's point of view. When the time comes for the due diligence review, it is evident during the financing round who has invested sustainably in their HR management and can now provide reliable data.
What is the best way to convince sceptical executives that it is time to invest in HR software?
As an interim CFO and "finance person", I would clearly argue with a view to the future and the prospect of additional funding.
Whether we're talking about angel investors, venture capital or crowdfunding, human resources management is part of a start-up's overall picture. And in the case of a potential investment, this is examined just as much as other indicators.
Have you noticed any positive effects on your employer branding since you started using HR software?
Our internal employer branding especially has changed for us since all ScaleupLab employees have become familiar with HR management. My goal was to create a working atmosphere of appreciation and fairness, and that is very easy with good HR management software.
It also proves particularly helpful for onboarding new team members. From the word go, everyone knows what needs to be done to make the initial phase as smooth as possible.
In addition, we at ScaleupLab use the Employer Feedback Tool, Officevibe, which facilitates a live feedback culture. With this tool, employees can anonymously give their opinion, ask questions and express criticism or praise. This has a particularly positive effect on the relationship of trust and the atmosphere in the team.
Since the Coronavirus pandemic, many employees have been sent to the home office. To what extent has HR software helped you here?
Since we have always worked very digitally, the change to 100% home office work was not a particularly big adjustment for the ScaleupLab team.
In any case, we could say that the digitalised attendance recording also gives structure to the daily work routine at home. Regulated break times and weekly check-in meetings as a collective are also possible thanks to automated time recording and absence management.
Thank you Sebastian for these interesting insights into HR management for small and medium-sized enterprises.
More tips for startups and SMEs in our blog posts:
About Sebastian Janus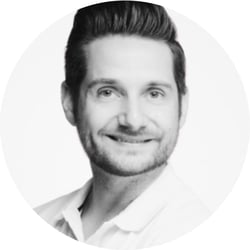 As CEO and founder of ScaleupLab, Sebastian Janus has always had a passion for digital businesses. Early on, he founded his first startup, Tredex GmbH, and passed it onto Foot Locker in 2017. This was followed by several years as CFO of Foot Locker Europe's e-commerce business.
But the passion for startups never quite left him and so Sebastian founded ScaleupLab, a consultancy for startups, in 2018. Whether pitch deck creation or business plan design, the startup consultancy from Bochum supports German entrepreneurs in aspects of financing, accounting and planning their business to strengthen the startup scene. By founders for founders.