Lesson 5: How to manage employee onboarding remotely
14
MIN READ

Aneta Kosinska
Onboarding employees remotely can be a fantastic way to show off your company culture as well as building a high degree of trust from the get-go! In our lesson today, we will talk through the essentials of remote onboarding and provide some great tips to ensure your new joiners have a memorable first experience working with you.
Key Learnings
✓ Setting up smooth onboarding processes.
✓ OTL's: objectives setting, training and learning.
✓ Tools.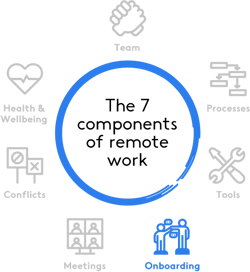 Remote onboarding
Joining a new organisation and learning the ropes takes a lot out of you, and is never an easy task! According to Michael Watkins, a C-level executive coach, almost ninety per cent of all senior HR leaders believe that starting a new job is one of the most challenging moments of a professional's life. What's more, almost three-quarters of those leaders believed that success or failure in the first three months is a reliable indicator of whether that individual will be successful in that job in the long term😕.
The stakes are high in the first few months of a role, and all eyes are seemingly on a new recruit's performance. So, it's in your best interest to extend a helpful onboarding hand and help your new hire to start on the right foot. We believe that the best way to do this is to introduce them with an organised, structured and engaging onboarding experience. That's why, in this lesson, you'll get the ultimate low down of all things remote onboarding.
Are you ready to get started?? Let's do this!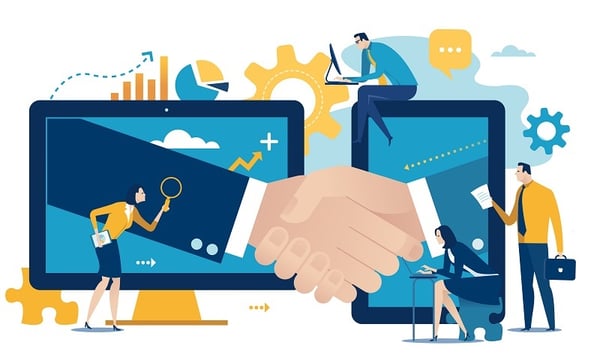 Let's start with t

ech, tools, signatures
Tech, tools and signatures should always be your first thought, because your new hire needs to be able to start working on the job that they have just been hired for, ASAP 🚀
Step one

Provide your new hire with all the necessary paperwork to formally begin their employment contract. Allocate one HR member to each new hire to answer any of their questions about the content of the contract. Since you're doing this remotely, consider getting them to sign their contract, privacy agreements, salary statements, NDA's and more using

docusign

.

With Kenjo, you can navigate the dashboard and collect all documents online in one place:
Personal document folders can be accessed on all devices.
New documents and doctor's notes can be uploaded.
Bulk import of payslips.
Kenjo's Onboarding feature allows you to send a personalised welcome email and set up a welcome screen.
Org charts help them visualise their position in the company.
Automatic onboarding reminders for relevant departments.
Step two
Work with your IT department to ensure that the relevant technology and infrastructure has been sorted and is on their way to your new hire's home. Making sure that your new hire has the necessary tools to actually begin working on their first day is crucial. Have they been sent the following?

Laptop
Monitors
Keyboards
Step three
Step three is ensuring your IT team is ready to assist them with any questions they may have, either as the questions roll in or through pre-scheduled, one-hour daily drop-in meetings. Here are a few topics to consider:
Setting up their company emails, chat tools, phones/voice messaging.
Learning about security and safety precautions.
Storing passwords safely to protect company information.

Setting up file-sharing tools that your company uses to collaborate.




The start of any new role looks something like this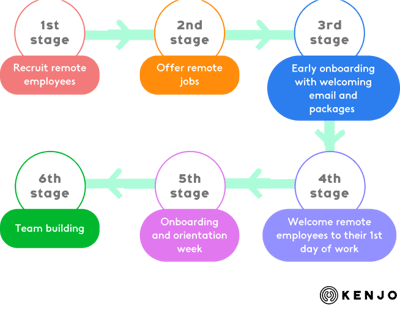 Let's move on to t

eammates and friendly faces
Teammates and friendly faces are next, because your new hire needs to know who they're working with, who they're working for and how they can successfully manage these relationships from the very beginning.
Step one
Step one is to work with your people operations manager and your new hire's line manager to organise pre-scheduled video meetings with selected members. These video meetings should happen within the first three to five days of a new hire joining and ideally maintain a monthly and quarterly check-in frequency.
Teammates.

Cross-functional members they will be in close collaboration with.

Line managers and coaches.

Founders (if it's a small organisation).



You could consider asking each member to prepare a few conversation starters to bring to the meeting, for example:
What hobbies they have that help to maintain their work-life balance -

read more here.

What their strengths are, what skills they bring to the table, which skill sets they are currently working on improving.

Their favourite recollection from working at your company!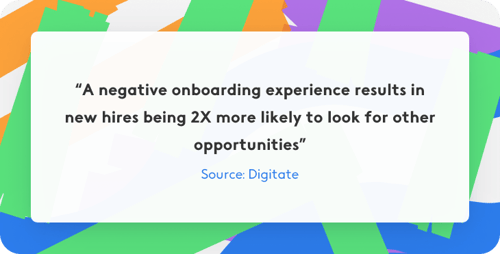 After Covid-19 is over, you may want to consider setting up in-person meetings so everyone can get a sense for each other's personal energy. Some great formats for in-person meetings are:
Invite them to an upcoming quarterly

company weekend retreat

- yes, there's a whole

Pinterest

board about it with ideas if you're thinking about it 😌.

In-person group dinners at restaurants or

running dinner

events!

Impromptu and location-based get-togethers at industry meetups. coworking spaces, coffee shops, or your office - if you still have one of those 😸.





It's time for

OTL's: objectives setting, training and learning
OTL's are the third step, because you must now begin focusing your new hire on the tasks they have been hired to perform. They need to establish their main goals, if they need any training and how much skills development they need to meet your expectations.
Step one
Make sure your new hires understand their specific objectives and the goals they must attain in the first three months of their role to be considered successful. If they know this immediately, they will know what they should be aiming for rather than wandering around searching. You can read more about this in the performance review process lesson here.
In the meantime here are some tips:
Use a project management tool, like

Trello,

to clearly outline the big milestones.

Explain short-term goals, and be prepared to answer questions such as "How does this fit into the overall long-term perspective of this company."
Step two
Be prepared to give your new hires on-the-job training by investing your time, energy and tools. Training is a bit tricky in the remote landscape because you cannot sit side by side with someone and show them the ropes. However, by including some of these formats you will be starting off on the right foot:
Invest in gamifying your onboarding process, as

Yapi Kredi

did, and reap big rewards.

Use interactive games, like

Kahoot

, to test your employees' knowledge along the way.
Step three
Depending on your new hires' levels of expertise, you may need to support them with learning and development opportunities. You can explore various learning tools, but the best in today's market, in our opinion, are as follows: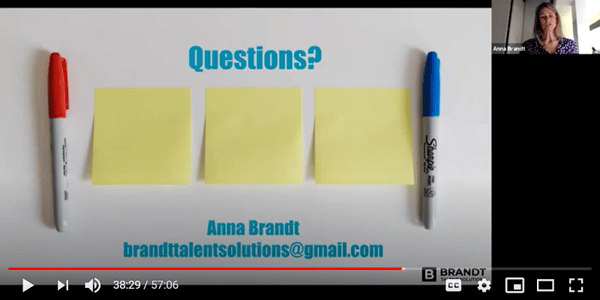 Btw, have you watched our recent Youtube video about Onboarding? You should... 😊


As soon as your new hires sign their contracts, message them ASAP. This is when they will be most excited. Try using Linkedin, Text, Emails 😊.

Find out what millennials are looking for in their remote onboarding experience here.

Send them that transparent onboarding sheet so they can very easily track what they have completed and what's still left to be done.

Organise a personal welcome email from the founding team/ executive team to show off your flat hierarchy.

Send them a welcome package: trinkets, a branded hat, or even a pen can go a long way.

Make sure they have the right tech to start work right away!

Get on video with them and establish a positive first connection.

Stay in touch in the first 3-5 days of onboarding to ensure they feel like insiders.

Use our HR software tool for the ultimate onboarding experience 😎.
➡️➡️ Print out your Kenjo tools checklist here to tick off what's most important: Download checklist. ⬅️⬅️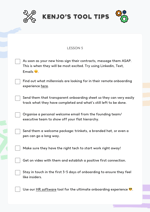 Have you got your hands on our remote work eBook yet? Well, what are you waiting for? It's totally free and it has tons of knowledge goodies inside. To access it click, here.
👀 What's next??
We're glad you asked 😊. Next you'll learn all about setting up the right meeting structure. Poor sound, unnecessary comments or unpleasant insights into private chaos: online meetings can sometimes turn out to be more difficult than expected. In our next lesson, you'll learn how to master your next digital meeting with flying colours.
What to learn next
Previous lesson
Effective Tools & Technologies
Next lesson
Thriving Meeting Culture