Lesson 8: Establish a healthy work-life balance among your teammates
17
MIN READ

Aneta Kosinska
Want to grasp how to encourage your employees to maintain a work-life balance while working remotely and avoid burnout? Then this lesson is for you. It's all about how to best establish a work-life balance for yourself and for your coworkers while working remotely. It's loaded with best practices and awesome formats that you definitely won't want to miss out on.
Key Learnings
✓ Encourage work-life separation
✓ Unmanageable workloads
✓ Importance of job security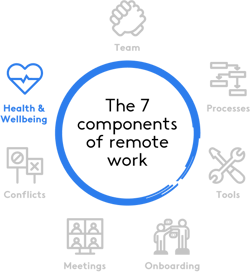 Work-life balance while working remotely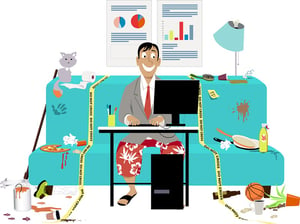 Remote work brings managers and employees many benefits, such as an increase in productivity, profitability and workplace engagement. On the other hand, it can also take a mean toll on an individual's work-life balance if no strict personal and professional boundaries are set from the beginning.
Academics have been studying the work-life balance phenomenon for decades and it has never lost its buzz in social media land. Yet more recently, due to COVID-19, the work-life balance conversation has amplified with more and more people openly speaking about being at a crossroads. Blind, for example, has found that the number of people suffering from burnout out has risen by 12% this year alone.
And, burnout is no joke! Burnout costs up to one hundred and ninety billion dollars annually in health care costs, companies lose around thirty-four percent of an individual's salary due to employee disengagement and people lose years of their life in burnout recovery.
According to the World Health Organisation: "Burnout is a syndrome resulting from chronic workplace stress that has not been successfully managed. It is characterized by:
feelings of energy depletion/ exhaustion

feelings of negativism/ cynicism to one's job

reduced professional efficacy"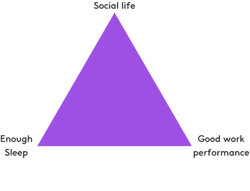 Very clearly, this topic is a massive undertaking to cover in detail. Nevertheless, we want to give you the absolute essentials in helping you and your teammates create the healthiest organisation, with an optimal level of work-life balance and avoid anyone burning out while working remotely.
Blind has found that the top reasons people are experiencing burnout are as follows, and those three reasons are what we will tackle in today's article:
There is no separation between work and life (27%)

There are unmanageable workloads (21%)

People are concerned about their job security (19%).
Ready? Let's do this!
Separation: encourage work-life separation
When employees work from the office, they usually have a transition moment that I think we used to call "commuting." 😋 Back in the day, "commute time" would give people the ability to mentally separate their personal life (at home) from their working life (at the office) which helped make the work-life boundary very distinct.
This is certainly not the case during times of Covid-19. Work and life happen within the same four walls of the house. And because of that, people are finding it very difficult to make a distinct mental separation. As a manager, we suggest that you create formats to facilitate this separation and make this work-life balance possible. Here are some great formats for you to try out!
Encourage morning rituals
Run a

5-min meditation

at the beginning of your daily standup to bring awareness of the transition that needs to take place from personal life to work life.

Run a dress-up

Friday all-hands

meeting to encourage people to get dressed up for the day. Dressing up once a week may encourage people to adopt this behaviour in their everyday life. They will quickly see how much of a difference it makes to their overall mood and personal boundaries, by using clothing as a way of

mental separation.
Encourage evening rituals
Send out a simple slack message in the evening, either a

funny meme

or a waving hand emoji 👋🏻 that communicates that you're logging off. When people see their manager logging off, they will be more likely to follow suit and not burn the midnight oil.

Chat about your after-work plans, during those water cooler meetings we spoke about in lesson 6. People will either be inspired to share something they are looking forward to or even better, it will encourage them to make after-work plans they can tell you about. This fosters a culture of having a life outside of work 👍🏻

Encourage Hard Stop Times, where everyone on your team stops working at a particular time or at least has a designated time where they try to log off for the evening.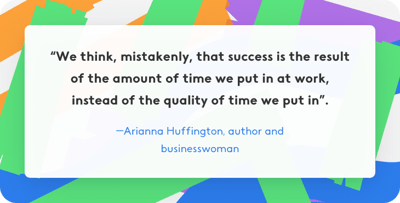 Support them in healthy habit building
You can also consider giving discount codes for specific gym memberships. You will likely receive a company promotion code for group signup, if you simply ask for one😊

Sports are a great way to build in moments of work-life balance and also keep people healthy, happy, motivated and see the world in a more positive way. Why not join a sports team together or encourage each other to join workout classes together (virtually or in person)? Here you can find a list of

movement

activities that you can send them or participate in together.
Focus on time
World Time buddy

enables teammates who work internationally, to effortlessly choose meetings at "healthy" times of the day. You can also enforce rules such as no meetings before 7 am and after 10 pm.

Kenjo enables employees to accurately and effortlessly record their time, attendance, and the number of hours that they've worked on a weekly basis. This way, you can make sure your employees are all working similar hours, and that one person isn't consistently doing the heavy lifting.
This is how it looks with us at Kenjo.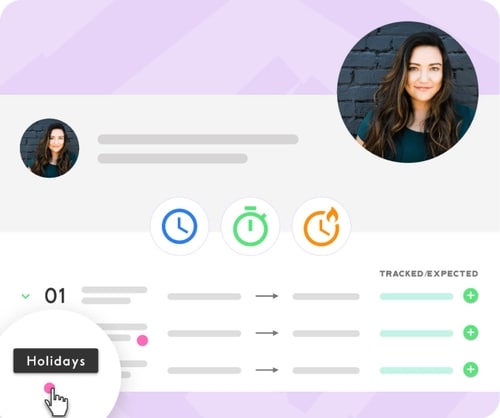 Kenjo Interface
Unmanageable workloads: ensure your teammates are aware of each other's workloads
In unhealthy teams, one person carries most of the workload consistently and for an extended period of time. In healthy teams, teammates share equal responsibility and work on tasks that are specific to their talents. You can ensure everyone has an equal workload through various formats
Assess the annual objectives and assess if each teammate can realistically obtain the results, given the current market conditions. You can do this during the formal

performance review

cycles

. Adjust accordingly.

Distribute work evenly through a project management tool such as:

Asana

,

Trello

,

Monday.com

,

Smartsheet

and give all your teammates access to it.

Encourage informal conversation to discuss what each other is working on and any progress that is being made/ can be celebrated. Having a sense of community during difficult project sprints makes employees feel they're not alone

in the trenches.
We also have an entire lesson dedicated to how professionals can create moments of connection to foster a better team environment. A strong team dynamic can promote a more equal distribution of responsibility as coworkers would be less willing to leave it all up to one person.
Job Security: Be supportive! Show empathy!
The job market is pretty gloomy these days, so we really should feel grateful to have a job or be working on a project! However, that doesn't eliminate the stress that comes with potentially losing your job in the coming months. As a manager, it's impossible to give a 100% guarantee that your employees jobs are safe, but you can have a sincere and empathetic conversation with them about this topic - especially during Covid-19.
Once you've aligned with your leadership team, you can communicate as follows:
What will be done

before

Example: how much notice would employees get, should their contract be terminated due to COVID.

What will be done

during

Example: The measures that will be taken before anyone is let go, for example, reducing salaries by 20% before terminating contracts.
Example: under what circumstances would people be let go.

What will be done

after

Those leaving will receive 14 weeks base pay after their contract ends.

Those leaving will be offered company equity, no matter how long they have been working at AirBnb.

All employees will receive career support and assistance in finding another job as quickly as possible.

In the event that people lose their jobs due to COVID, how can you/ the company support them?

Here is a great example of how Airbnb Co-Founder and CEO Brian Chesky supported the employees he had to let go of due to Covid-19. Some great ones we'd like to call out are:
Those leaving will receive 14 weeks base pay after their contract ends.
Those leaving will be offered company equity, no matter how long they have been working at AirBnb.
All employees will receive career support and assistance in finding another job as quickly as possible.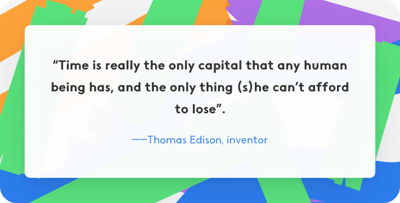 It's commonly known that ambiguous environments are highly stressful. So if you can help minimise ambiguity as much as possible, this will help lower your teammates' stress levels and contribute to a stronger work-life balance.


Time management is essential - know how much you and your teammates are working and at what point it becomes unhealthy!


Try a change of scenery - nature is very good for the mind😊

You're not alone - your teammates will support you with Kenjo Shoutouts if you simply communicate what you're working on.

Get daily exercise 💪🏼 it helps you think .

Get some fresh air, don't sit at home all day!

Work-life balance tips from Elon Musk.

Use Kenjo's time tracking software to report on the amount of time spent at work 🔑
It's not a goodbye, it's a see you later
It was so great having you with us over the past eight days with our Survival Guide to "Working remotely in SMEs: processes, responsibilities and technology." We'll miss chatting to you every day and we are very proud of the Remote Work Warrior you have become 👏🏼💪🏼 Give yourself a big pat on the back for sticking with this course and gaining new knowledge.
If you have any questions about the content of these lessons, or our remote working tool, please don't hesitate to reach out to us at: rmedina@kenjo.io. As you've probably realised this past week, we're more than happy to answer any remote working questions you may have.
And, if you ever want to return or reference what you learned with us this week, our articles are always available for you.
And now, the moment we've all been waiting for…
Click here to get your certificate.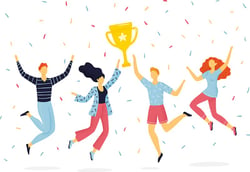 In this short quiz, you'll be able to prove your expertise on the topic of remote work. It'll only take you 5 minutes, and you'll earn your bragging rights as a Kenjo Remote Work Survivor, as well as invaluable knowledge for years and years to come.
So come on, what are you waiting for? Now is the time to find out: Are you, or are you not, A KENJO REMOTE WORK WARRIOR?
Thanks for hanging out with us all week, we will sincerely miss having you around.
Best regards,
Your Kenjo team, Alumni, Remote Work Survival Course
What to learn next
Previous lesson
Manage Conflict in Remote Teams
Next lesson
Kenjo Remote Work Survivor Quiz