Inefficient processes plus inadequate tech equals a permanent headache when it comes to recruitment and staff selection. Luckily, these days there is a cure for all the challenges we face when hiring employees – we just need to know how to pick the right remedy.
In this article we will review why effective recruitment is so important and the main issues we may come across, together with their solutions.
The importance of effective recruitment
Recruitment impacts on every single aspect of the company. Hiring and nurturing talent is fundamental to growth, positive results, and ultimately business success.
If we take a step back and analyse the reasons why companies achieve their goals, most of the time it comes down to people and hard work. Recruitment and selection processes are an integral element of attracting future leaders, analysing the organisation's requirements, and achieving better performance.
Effective recruitment, therefore, goes deeper than hiring the right person to do a job. Without a qualified and trained team of employees, companies will find it impossible to build a brand and develop a product or service. Hiring too quickly or too late can have a negative impact.
The data also supports the argument that recruitment plays a significant role within companies.
70% of the global workforce is composed of passive candidates who are not actively looking for work, meaning we need to attract them using different techniques. Only 50% are actively looking for opportunities. (Linkedin).
A US study found that 74% of companies lost an average of $14,900 for each bad hire (Career Builder).
In 80% of cases when an employee decides to leave the company it is due to a bad hiring decision

(

LinkedIn

).
10% of companies say that hiring the wrong employee caused a drop in sales and 37% said it affected the company atmosphere (LinkedIn).
The most common challenges in hiring employees
Nobody ever said that attracting and engaging talent would be easy. In fact, recruitment and staff selection difficulties are quite common.
Here we have gathered some of the main ones, while also trying to find accessible solutions that can be easily implemented.
1. A lack of qualified candidates
A shortage of candidates that match the company's needs or criteria is a routine problem in recruitment. Many human resources teams find that the available options are simply unsuitable.
So, what's the solution? In the short term, multiply your chances of reaching a greater number of professionals by advertising your vacancies on different types of job platforms.
If you want to save time by being more efficient, with Kenjo's software you can advertise your job vacancies on several platforms at the same time. With a single click they will appear on LinkedIn and the main portals. In this way you are maximising your chances of attracting candidates.
2. Identify passive candidates
The perfect employee for your company may be out there, but what if they are not looking for work right now? In fact, 70% of the workforce is estimated to be made up of passive candidates. However, the good news is that 90% of these professionals are open to offers.
Given these candidates are not going to be looking at job portals, you must connect with them directly. The best way of doing this is via LinkedIn where most of them have a professional profile.
By using LinkedIn as a recruitment tool you will be able to review the CVs of 645 million users and preselect those you want to contact later.
Kenjo's Chrome extension allows you to automatically save and sync profiles in your CRM as you view them on LinkedIn without even leaving the screen. So, once you have finished, you will have them all stored on the platform to review the information and decide which ones are of interest.
3. Ensure a positive candidate experience
Professionals' experience of your company, whether as a candidate or employee, shapes the external face of your employer brand. And as you know, there is nothing quite like positive comments from professionals in your sector to improve your reputation. This will also mean more people will want to work with you. It is therefore important to pay attention to these details during the recruitment process, so applicants feel valued and praise you (even if you don't end up hiring them).
However, the data on difficulties during recruitment and staff selection suggest that these processes are often not being handled well. The reality is that 60% of professionals have had a bad experience during selection processes (according to CareerArc) and 27% of these decided to actively discourage other colleagues from applying to the company in question (data from LinkedIn).
To solve this, and deliver a positive candidate experience, the best option is to automate communications during the selection process. In this way, there is no additional effort required on the part of human resources and all applicants will be promptly informed about any developments.
With Kenjo you can configure automatic emails so applicants know the process status and receive updates as it progresses. Moreover, by integrating candidate contact via the platform you will find it much easier to track and ensure no one's questions or queries are ignored.
4. Eliminate bias in the selection process
Bias places the recruiter in favour of or against a candidate, either consciously or unconsciously. Prejudices, beliefs, and intuition are all factors that should not influence candidate selection. However, HR professionals recognise that it is difficult to leave them to one side and guarantee an entirely objective process.
To avoid these failures in the selection process, we recommend using recruitment software that includes an evaluation. You can create and personalise the required skills, set the KPIs and easily take into consideration the candidate's expertise. In this way you will be able to design a system based on objective assessment criteria, free of bias, to select your candidates.
In addition, Kenjo provides a general rating for each candidate which considers their skills and any comments the recruiters have noted on their record. In this way, it will be much easier to compare the different applicants in your selection process and choose the one who is demonstrably better than the rest.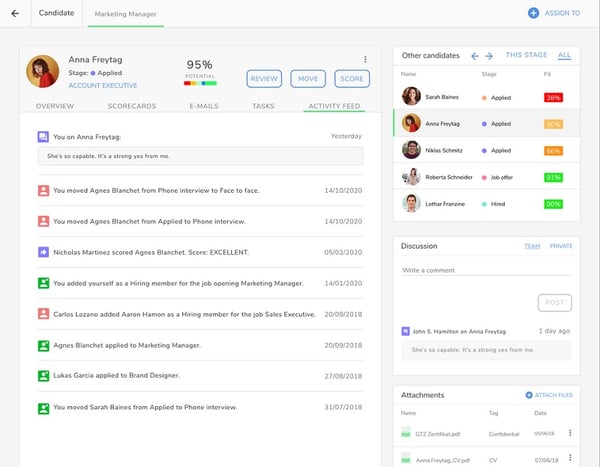 Kenjo Interface
5. Enable and guarantee team collaboration
Another common challenge in hiring employees is coordination between the team members involved in the process. Collaborative models in which different company members contribute their opinions on the choice of candidate are increasingly popular. While this is often enlightening, there is no doubt it complicates the logistics.
The human resources team is in charge of choosing and inviting people to participate, coordinating their schedule with candidate interviews, collating and analysing their feedback and keeping everyone up to date with progress. Not an easy task!
With Kenjo you can easily manage the team by distributing and assigning tasks. In this way everyone knows what to do and when to do it. These are displayed in list format and highlighted in green when completed to make it easy to track.
Also, to involve the rest of the organisation and promote a culture of transparency, you can set a notification for whenever a new colleague joins the company.
Kenjo, the solution to all your recruitment problems
As we have seen throughout this article, technology can solve many of the problems that arise during the recruitment and selection processes. An applicant tracking system (ATS) like Kenjo's will help you to attract and hire talent much more quickly, efficiently, and successfully.
What's more, Kenjo's software is a complete solution, meaning you have a tool that supports all the other areas of human resources: managing time off, attendance, performance reviews, etc. The efficiency and results you need for talent management in a single platform.