Are you having trouble deciding where to post your job adverts? No wonder. The internet is awash with job boards, from vast, generalised platforms, to those specialising in a specific field or type of role. Choosing the right site is key to achieving the visibility you need to attract quality candidates.
We've put together for you a list of the best job posting sites in the UK and some tips on how they work to bring your recruitment and selection processes up to date.
UK job posting sites
Job sites allow companies to advertise their vacancies and reach hundreds or even thousands of candidates on the lookout for employment opportunities. Almost all of them work in the same way: with search functions and filters including region, experience level, etc. However, it is becoming more common to find sites that specialise in a specific sector or candidate profile.
Let's take a look at some of the most popular job sites for UK employers:
1. LinkedIn
Recruiting on LinkedIn has become the norm and we shouldn't be surprised. As the most important professional network in the world, it boasts 645 million users.
LinkedIn was one of the first social networks devoted to work and today continues to be one of the key job posting sites and a staple source of opportunities for jobseekers. It launched its premium paid version, LinkedIn Recruiter, a few years ago, with additional functions for identifying and attracting candidates on the platform.
2. Totaljobs

No list of job positing sites would be complete without a reference to Totaljobs. Describing itself as the UK's largest hiring platform, the Totaljobs group claims to record over 4 million applications from qualified jobseekers every month.
Companies wishing to advertise on the site need to pay a fee. However, the results achieved usually justify the investment, as a page with such an extensive reach and respected name is usually a good source of candidates.
3. Reed
Reed.co.uk started out as a recruitment agency and was the first to launch a UK recruitment website in 1995. Since then, it has grown into a recruiting powerhouse, with 7 million jobseekers turning to the site every month. With its complementary training courses and career advice sections, Reed is a respected jobs site which promotes career development and is used by companies across industries.
For employers, Reed offers job advertising with full applicant management, CV search, a platform for specifically hiring temporary staff, branding, display advertising and email services.
4. Guardian Jobs
The online employment section from The Guardian newspaper, Guardian Jobs tends towards senior roles from public and private sector companies, as well as charitable organisations. The focus is firmly on values-driven, high-calibre recruitment. There is even a 'Green Job' package to promote sustainable or low-carbon jobs.
Aside from the standard job advertisement, recruiters have access to addition products such as employer branding advice and paid-for options to increase the reach to active and passive candidates via Guardian readers.
5. Indeed
Indeed has become one of the most popular job sites in the US since its launch in 2004. After it ventured across the pond to the UK it has grown significantly. Popular for its ease of use, notification management and mobile-optimised system, Indeed has 250 millions monthly visitors to its site.
Job adverts can be posted for free, but there is also a sponsored option to appear higher in the rankings of listed vacancies and stand out in this competitive market.
6. Google for jobs
Google has of course created its own employment platform. Just like the search engine, it rewards quality content, so recruiters who take time to craft a good job ad will be seen as more relevant and achieve a better ranking. Google for Jobs also allows you to add your logo and provide a company overview to give the user a complete picture of the opportunity.
7. CW jobs
If you are looking for IT and tech experts, CW Jobs is a good place to start. Part of the Totaljobs group, CW jobs is a specialist tech recruitment website for both permanent and contract positions. The company claims that every month 40% of the UK's tech professionals visit the site, which generates over 366,000 job applications to the UK's top tech employers.
It is a paid-for service and offers additional targeted options for urgent or hard-to-fill vacancies, for example. You can also choose to restrict your advertisement to a single region or open it up nationwide for broader recruitment drives.
8. CIM Marketing Jobs
Professional bodies can be an excellent source of high-quality candidates for specialist roles. CIM Marketing Jobs, for example, is the official job board curated by the Chartered Institute of Marketing, making it an ideal place to find an SEO expert, top social media analyst or digital highflyer.
While it is by no means a free or cheap option, targeting professionals associated with an organisation like this means you are accessing a quality talent pool and reaching jobseekers who are invested in their career development.
9. Find a job
This national website is run by the UK government to match employers with jobseekers across all industries and pay grades. Replacing the previous 'Universal Jobmatch' website, Find a job is a free service, where recruiting companies can post individual jobs or advertisements in bulk to find suitable candidates in the UK.
Employers simply need to set up an account, complete the sections with the relevant information and the advert is usually approved and posted within one working day.
10. Zoek
Zoek offers a modern take on the job board, styling itself as UK's Intelligent Job Matching Site/App. Using AI technology to filter out irrelevant roles, Zoek is a match-making service for recruitment, and its success is reflected in its recent growth.
Jobseekers can set up profiles, link their social media accounts or quickly use the search with CV feature to find the roles best matched to their keywords and skills. Employers can post a job for free or sign up to one of several hiring packages, with options such as pay-per-job or pay-per-click.
11. Monster
Monster's attractive design and useability make it a firm favourite among employers and jobseekers alike. The features it offers companies in particular are very interesting. The SearchMonster function, for example, ranks and scores candidates based on your specific criteria, so you can view the top matches first to assess their suitability for the role. Monster offers a 7-day free trial during which you can post jobs to judge its effectiveness before signing up.
12. If you could
If you could is an example of a specialised job posting site – in this case for the creative industry. Built by creatives for creatives, the site is the perfect place to search for graphic designers, campaign managers, brand strategists, etc.
Companies can opt for individual or bundle options, and due to its relationship with the online creative publication 'It's nice that', the platform has a large, international, targeted audience among professionals in the creative industries.
13. Glassdoor
Glassdoor combines its job listings with employer reviews, so jobseekers can search for jobs and find out what it is like to work for the company at the same time. For businesses that place importance on company culture and employee satisfaction, it is a great place to build your employer brand and showcase – hopefully positive – employee feedback.
This direct insight into a company's values should mean that candidates have a better idea of what a job or role will entail when they apply, which in turn will make the selection process easier for the recruiter.
14. Milkround
This platform is directed at young talent, in other words, students or recent graduates. Milkround is perfect for offering placements, internships, graduate schemes, and graduate jobs for candidates with little work experience.
Companies have a range of pricing plans to choose from depending on their recruitment needs.
15. Caterer.com
Finally, we're highlighting this page for companies recruiting in the hospitality and catering industry. Caterer.com helps companies find hospitality professionals from front of house staff to events management and kitchen assistants.
The site states it achieves an average of 82 applications per job ad from relevant, experienced candidates.
Go digital with your job openings with Kenjo
During the hiring process, recruitment is one of the most important stages, as it needs to deliver enough quality candidates for us to choose from. At this stage, therefore, it is critical to:
Choose the right platform in terms of the vacancy we are going to advertise.
Achieve sufficient applications.
The best way to achieve these objectives is to digitalise the advertising process using software like Kenjo. How? Let us explain.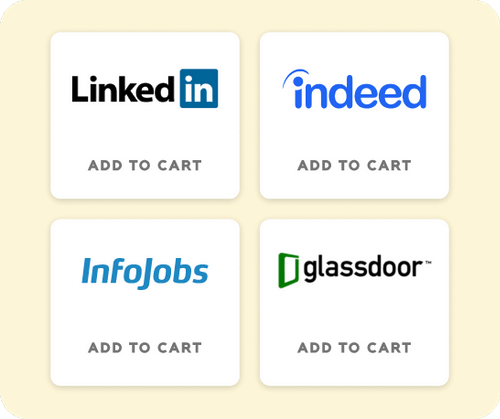 Kenjo Interface
Automatic vacancy distribution
If you want to achieve visibility so your job ad is seen by the largest number of professionals possible, you usually need to advertise your opening on several job sites. Doing this manually involves a significant time investment, which is why Kenjo connects to hundreds of portals to advertise your job at the same time. Maximum visibility with mimimum effort.
To make the subsequent CV screening process even easier, you will receive all applications via our platform. As such, you can review them at leisure, apply your filters and start the process to find the best employee.
Creating a career site
You can also create and manage your own career site with Kenjo. This can be published on your website, but all admin is done from your software, which will help you simplify the processes and easily keep it up to date.
Candidates often prefer to apply for jobs directly from the company website, so we highly recommend offering this option.