Companies are increasingly using LinkedIn for recruiting. Not just to advertise their vacancies, but to contact passive candidates that match the job profiles they are looking to fill.
With hundreds of millions of professionals connected on a single platform, it offers companies a fast, simple means of searching and filtering through potential candidates.
Here we explain how to use LinkedIn to find and attract talent.
How important is LinkedIn for recruitment?
LinkedIn is the most important professional social network in the world, with 645 million users globally. Its mission, according to the official site, is to "connect the world's professionals to make them more productive and successful."
Thanks to its scale, it has become a valuable addition to the human resources toolbox for engagement and recruitment campaigns. In response, the company created LinkedIn Recruiter: a paid option that allows you to search, invite, and select candidates through the platform. It provides access to the complete database and enables you to automatically carry out huge recruitment drives.
The most interesting data on this tool's functionality comes from the company itself:
More than 30,000 professionals worldwide use LinkedIn Recruiter.
75% of recruitment experts say they get better results with Recruiter.
It provides access to 500 million professional profiles.
How to use LinkedIn to recruit talent
LinkedIn has become a major staff recruitment tool for human resources professionals and can even play an important role in the larger talent acquisition strategy. We have put together some tips to help you get the most out of it:
1. Create your company profile
Companies should create their own dedicated LinkedIn profile, keep details up to date, share information, link to their blog, feature employee testimonials and highlight professional opportunities.
Pay specific attention to sections like the company description, which you can leverage to communicate your vision, mission, values, and products and services to users. Try to adopt a natural tone and use keywords, to ensure the text ranks on Google.
It is important to create a relevant, attractive page, with articles that interest users. So, you need quality content, but you will also need to work on the images and page aesthetics. Bear in mind that articles with photos or videos perform better.
2. Use your company page to promote the brand
With 3 million companies and 500 million professionals on board, 27% of which check LinkedIn daily, there is no doubt that the top professional network is a good place to promote your brand. Both among professionals and potential customers.
So, how do you make your company stand out from the crowd? You want professionals to recognise your brand as the number one, in-demand employer in your sector. To achieve this, you will need a tailored LinkedIn communication and content strategy and to convert your employees into ambassadors.
3. Advertise job vacancies
When you advertise jobs on LinkedIn they are seen immediately by the most qualified talent, making it easier for you to build your candidate pool. What's more, users can apply speedily and simply, directly from LinkedIn.
4. Search for candidates and use keywords
LinkedIn has a very advanced search function, especially on Recruiter, making it an extremely valuable tool for the hiring process. Human resources teams can search for candidates using criteria like job title, past or current employers, years of experience, company size, location, references, etc. It is also possible to limit the search to people whose qualifications meet the job requirements.
At the same time, pay attention to your LinkedIn page's SEO so candidates can find you. We recommend adding up to three hashtags to the profile to make it easier to search for you. Choose the most popular ones in your industry that best describe your business.
5. Connect with passive candidates
LinkedIn is particularly useful for finding passive candidates, by enabling recruiters to connect with the best talent. Many LinkedIn users are not actively looking for work but may not be able to resist new opportunities if they come knocking at their door.
Human resources managers can make this active search easier with Kenjo, by using a Chrome extension which saves candidate profiles directly in the CRM. In this way, you will be populating an integrated database for you to work with and filter later.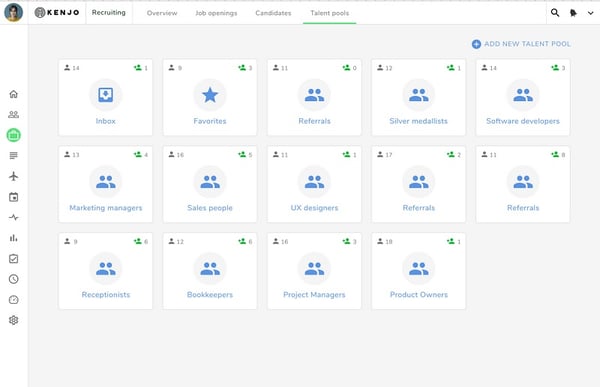 Kenjo Interface
6. Use your employees' connections network
Ask your employees to state on their professional profiles that they work for the company. They will then be automatically connected to your LinkedIn page and you can notify them each time you post a new article.
In the same way, you can encourage employees to share or recommend these articles to their own connections. If you can successfully convert them into ambassadors on LinkedIn, it will not only multiply your organic reach, but will also convey more credibility which will strengthen your employer brand.
7. Measure the results
Companies can measure the success of their recruitment campaigns via LinkedIn thanks to the reporting and monitoring functions. These provide data on the effectiveness of this recruitment resource and assess its value going forward.
In addition, you should also take note of the results your communication strategy is getting on the platform. LinkedIn analytics allow you to track the main metrics and identify, for example, which content users have interacted with most, which type of users are following you, etc.
Integrate Linkedin with Kenjo's ATS
It is possible to integrate your LinkedIn recruitment efforts to your ATS (Applicant Tracking System), helping you conveniently manage your recruitment campaign. Kenjo also offers this service, which allows you to:
Save candidate profiles on the CRM once you've captured the information on LinkedIn via a simple Chrome extension.
Promote job opportunities from the platform directly on LinkedIn and different job portals at the same time.
Receive candidate CVs directly onto the platform.
This system streamlines and automates the processes, allowing you to cut the HR workload, save time and improve your employer branding.