We are proud to announce that Kenjo was placed on Capterras Performance Management System Shortlist Software Report in 2022. Capterra, a free online marketplace vendor serving as an intermediary between buyers and technology vendors, analyzed all 440 products in their performance management system software directory and eliminated products that didn't meet Capterras requirements for functionality and reviews. Finally they took the highest-rated and most popular products and plotted them in this matrix. Kenjo made it to the 2022 Capterra Shortlist: Performance Management System Software.
Capterra empowers businesses to accelerate their growth by helping them find the right software. They select and rank products based on an objective methodology developed by their research team. Capterra Shortlist is an independent assessment that evaluates user reviews and online search activity to generate a list of market leaders.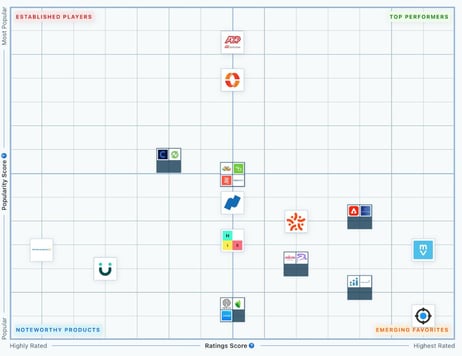 Image of the 2022 shortlist by Capterra
Kenjo was described by Capterra as best for high-growth SMBs who seek to improve their employee experience by digitizing their HR processes. In Capterras words "Kenjo is a complete and customisable Human Resources platform, designed to help HR departments on a daily basis. Kenjo allows users to manage documents, manage vacations and absences, carry out performance reviews, and select new talents. It also offers payroll reports. Kenjo is perfect for small and medium-sized businesses looking into automating all their HR processes with one easy-to-use tool. Because humans are more than resources." Capterra rated Kenjo with a ratings score of 47 out of 50 Points.
Next Award for Kenjo - The success story continues
After Kenjo won two Great Place to Work awards in Germany and Spain in 2021 and three

other awards for Best Employer in 2022, the placement on Capterras Performance Management System Shortlist is the next indicator for us that we are moving in the right direction.
With our All-In-One HR-Solution we enable clients to to achieve their HR goals. We simplify HR processes, optimize time management, and stay legally compliant. If you want to join us on our journey to excellence then book a demo with our expert team now or try Kenjo free for 14 days.