Successful recruitment's harder than ever, for all the reasons you've seen everywhere. Fast-evolving skills needs, changing candidate expectations, increased competition – etc, etc, etc.
To stand a chance of competing, yesterday's 'here's an open role, now source it' reactive recruitment isn't good enough.
More about recruitment and selection here.
Talent pooling is a better way. One that unlocks the value hidden in your current database, slashes your cost-per-hire and helps insure the business against fluctuations in talent availability.
Why your current candidate database is probably useless
Your candidate database should be an invaluable asset. It's a private record of every candidate your organisation's ever come into contact with. Ever.
So in theory, every employee you hire for the next decade – even two decades – could already be there. At your fingertips, without needing to spend money on advertising or with agencies.
But that scale is the exact problem.
Depending on your industry and location, you could be handling hundreds of applications for each open role. (For example, Glassdoor says corporate job openings attract 250+ CVs). Then there's the impact of COVID, which has often driven up applications to crazy levels.
Extrapolate that over every role you've ever posted and you probably have hundreds of thousands – millions, even – of candidate profiles. And that's before you add candidates that recruiters have added manually.
The point is, your candidate database is one BIG haystack.
That's why 64% of employers say they don't know how many qualified candidates are on their database.
And depending on your recruitment tech, you probably have extremely limited search functionality. Most legacy applicant tracking systems (ATS) are notoriously urgh on the search front. (That's one reason we often hear recruitment teams love Kenjo's recruitment software )
The upshot is, most businesses are sitting on a goldmine that could dramatically speed-up time-to-hire and slash cost-per-hire. But it's not.
And that's where talent pooling comes in.
What are talent pools – and why are they a better recruitment tactic?
Talent pools are groups of candidates organised around your important skills needs. They're essentially a segmented version of your candidate database. If we're sticking with the haystack metaphor, it turns your one big haystack into lots of little piles of needles.
For instance, you might have a talent pool for freelance creatives, a talent pool for entry-level engineers and a talent pool for senior salespeople.
Talent pools transform your candidate database from a vast, useless black hole into an actionable tool. In other words, it unlocks hidden value from a huge resource you already have.
Here are the biggest benefits of building talent pools:
1. Overcome skills shortages
PwC's Talent Trends 2020 report found that 74% of global CEOs are concerned about unavailability of key skills. And 32% are extremely concerned.
Finding – or not finding – the right people impacts the ability to innovate; the ability to grow; the ability to deliver against key strategic initiatives and seize new market opportunities. But finding the right people is continually getting harder.
Building talent pools are an antidote, empowering recruiters to be proactive rather than reactive – to build pre-emptive pools of those hard-to-find skills.
2. Accelerate time-to-hire
Hiring faster is a universal challenge for recruiters. For three main reasons:
The slower you hire, the longer the role stays empty. So either the work doesn't get done or your current team are shouldering the extra load.
The slower you hire, the more competing offers your candidates might receive. Lowering your chances of having your offer accepted.
The slower you hire, the worse for your candidate experience. So you don't just risk losing one candidate – you risk earning a reputation that loses lots.
Talent pooling helps because it creates a ready-to-go bank of talent, so you're much faster out of the blocks.
3. Increase offer acceptance rate
It's become the norm for top candidates to have multiple offers – especially if they're actively job-seeking. That instantly decimates your chances of a positive recruitment result. And it's massively demoralising to spend weeks finding someone you love, only for them to decline your offer.
Talent pooling makes that much less likely, by giving you more likelihood of exclusive access. Candidates in your talent pool might not even be actively on the market, so they're not talking to anyone else at all.
4. Slash cost-per-hire
Cost-per-hire is closely tied to availability of talent. The EDGE Skills Shortages Bulletin found 64% of employers have seen recruitment costs increase thanks to skills shortages, for example.
Those costs come in various forms. Like, 56% had to increase salary to compete for candidates. And 47% had to hire temp cover. Then there's the additional spend with agencies and advertising, the longer a role stays open.
Talent pools are an in-house resource that reduce your need for agencies and job board advertising, reduce the need for temporary cover and decrease the need to pay salary premiums.
5. Free time for strategic value-add tasks
At Kenjo, we're all about introducing recruitment efficiencies – not just for their own sake, but to create extra time so you can have more invaluable strategic input.
When recruitment teams are stuck being reactive, you have little time for anything else.
Talent pooling starts to take you away from that model, creating time for the strategic bigger-picture stuff. Like spending time optimising the candidate experience. Or getting strategic visibility into performance and identifying improvements. Or building relationships with passive candidates.
Getting started: how to build talent pools
Hopefully you're convinced about the why – so here's the how. Building talent pools is actually pretty simple. It's got two parts:
1. Collecting
Proactively sourcing profiles (often passive) that meet your skills needs. From multiple sources.
2. Collating
Organising those profiles into easily searchable groups. Typically via recruitment software with talent pooling functionality.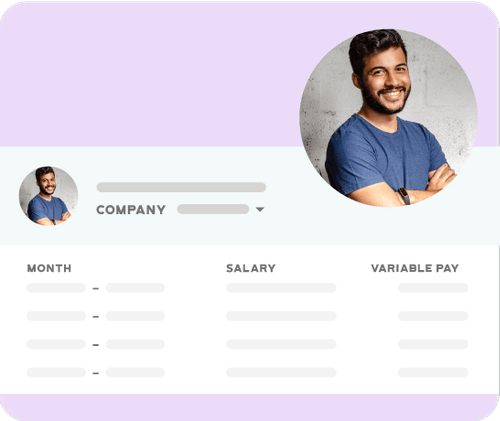 Kenjo Interface
If you're new to talent pooling, you'll typically find it starts slowly – because right now, you probably don't have much time to start proactively sourcing, especially not speculatively. But the more you do, the more extra time you'll create when active roles do come up – and the benefits will snowball.
But you're not done yet. Building talent pools is the first step but not the last. Unless you want those talent pools to turn into barren wastelands of inactive profiles – just like the database that isn't serving you.
3. Candidate nurturing
The final piece of the talent pool puzzle is candidate nurturing. Maintaining warm relationships, in other words.
That means not only contacting people in your talent pool when you need something. It's not about spamming them with live vacancies, for example, or a me-me-me newsletter.
Rather, it's about finding ways to add value. Sharing content they might enjoy. Taking a genuine interest in their career development. The odd phone call now and then. Staying on their radar in a non-pushy way.
When you do those things, that's when your talent pools start becoming truly valuable. Because when you have a live role, you don't have 100K undifferentiated candidates to sift through. You have five who you reckon would be the perfect fit.
We're Kenjo. We help businesses improve delivery against their most important people – and business – outcomes. Learn more about our recruitment software.