Hiring is a complex process: we need to be good communicators, take care of deadlines, master our scheduling skills and make a lot of decisions. In order to help small businesses manage the whole process smoothly and effectively, a recruiting software is what every HR department needs to win the best candidates and build a strong and standardised hiring process. Before we present you with the comparison of some of the best recruitment softwares on the market, let's dive into how these softwares work and which advantages they can bring to your business.


How does a recruiting software work?
Recruiting software is a software that optimises the hiring process, from posting the job opening on different platforms at once to screening resumes, sending out offer and rejection letters and exchanging ideas with other departments.

Automating tedious tasks and tracking the flow of information of the whole hiring process, recruiting softwares allows HR departments to focus on more important tasks while keeping the whole recruiting experience efficient and organised.
What are the advantages of using Recruitment Software?
As explained previously, recruiting software can really be a game changer for your business, allowing you to manage all the steps of the hiring process in a more accurate and effective way. Concretely, there are many advantages in investing in recruitment software. Let's have a look at the more significant ones together:
You can save time
Recruiting software enables you to have an overview of recruiting efforts all in one place: candidates information, scheduled interviews, data about how your job opening is performing on different platforms… all of this is safely stored and easy to access with your recruitment software. Just ask yourself - how much time it normally takes to keep all these operations and information in order. With recruiting software you can drastically reduce that and concentrate on strategic and performance goals.

You can make your hiring process more transparent

According to a recent survey conducted by PwC, 56% of job seekers say that they would not recommend a company following a bad experience during the recruitment process and 49% said that they have even declined a job offer following a bad experience.

It's a fact - you can't afford to lose valuable candidates who are excited to join your company. Relying on recruiting software makes the recruitment process more transparent for the applicants and makes the whole process smoother for you.

When handling big amounts of applications, you can also automate specific emails so that all candidates receive a timely response and do not feel overlooked or ignored. This feature will also ensure that there are no mistakes – candidates do not receive emails that were not meant for them!

You can make your company more attractive on search engines

The better the recruiting experience for your candidates, the better they will think of your company and the more likely they will be to recommend your company to others. After all, word of mouth is still one of the most powerful marketing tools!

When candidates say good things about your company and your recruiting process, you will increase your chances of getting better reviews on Glassdoor and other job portals, which will lead to more, and better, candidates applying for jobs at your company.


What features should a good recruiting software have?

Now that we have explored all the benefits that a recruiting software can bring to your HR department, let's take a look at some of the features that it needs to have to really make a difference in your hiring process.

A central dashboard where you can see and manage all job openings

Whether you are a small, medium or large sized company, you might have different vacancies to manage at the same time.

A good recruiting software will have a central dashboard on which you will be able to track the status of different job openings, get an overview of the different candidates for each position and collect comments from your colleagues in relevant departments.

Being able to have everything under control in one dashboard, which is interactive, well-organised and collaborative, is a must have for all the best recruiting software products.


Integrations with LinkedIn and other job portals

When looking for the best candidates out there, you might want to have your job opening published on many different platforms at the same time. A good recruiting software will support integrations with other job portals such as LinkedIn, Indeed and Ladders so that you can post your job ads on multiple platforms and thus attract much more and better candidates.

Automated communications

With different job openings and so many candidates to take care of, it is essential to automate some streams of communication.

This feature will help you to reach all of your candidates to relay messages about which stage of the recruiting process they've reached and when they can expect to hear from you again. What's more, timely communication shows your commitment to making the hiring process as transparent and comfortable as possible for both sides, which is always appreciated by candidates.

Plus, this will free up your time so that you can take on other important tasks such as following up with candidates you want to hire!
The best recruiting software 2024

Here's a quick comparison of the best recruiting software in 2024. Let's find out which solution can make your HR department thrive and help you fulfil your company's goals!

Kenjo

Kenjo is the perfect pick if you are looking for a top-class recruiting software. Two of the main features that distinguish Kenjo from other options are that it is an all-in-one solution and it is "human-centric". Let's look at both of these benefits in detail!

With Kenjo, you can see everything at a glance and manage all the different parts of the hiring process with one software. In addition, you can review candidates that have applied for each opening and check their status. In order to organise all the openings, you can sort them by department, location, etc. and you can also see how many candidates applied for each position. Reviewing CVs has never been so fast!


On the collaborative side, it's easy to comment and start conversations about the suitability of candidates directly on Kenjo. There, you can also manage your daily recruitment tasks with ease.

If your company has specific needs, Kenjo is the perfect software for you as it is highly customisable and versatile. For example, with Kenjo it is possible to automate customised communication and workflows, such as:
creating and following up on tasks
assigning or modifying who is responsible for each task
and once recruitment phase is over, you can create the best possible onboarding experience
Kenjo integrates with LinkedIn and other job portals, so your job ads will be present all over the Internet. If you install Kenjo's Chrome extension, you can sync candidate info with LinkedIn and can post the same job ad on multiple channels such as Indeed, GlassDoor, adzuna, jobrapido and jooble. It can also grant third party access if you need!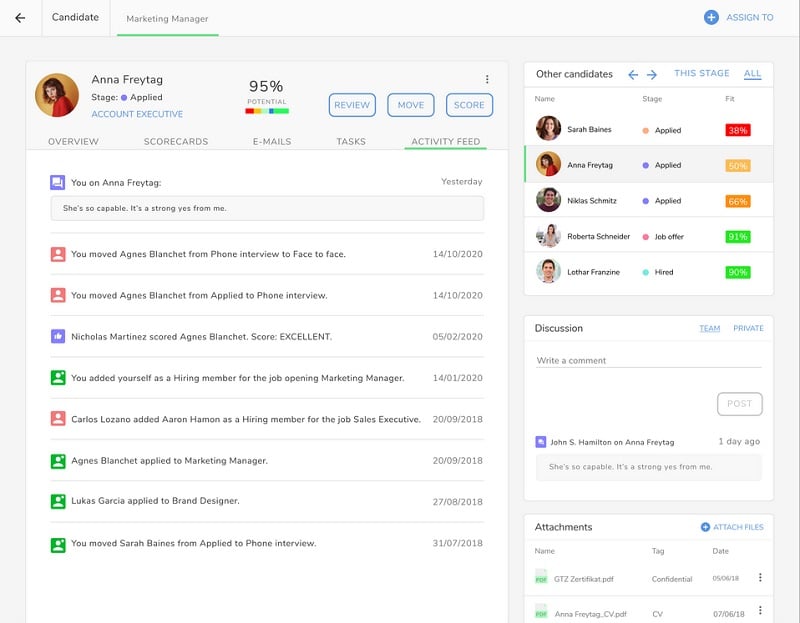 When we say that Kenjo is a human-centric recruiting software, it means that, among others, it includes features such as 'Shift Planning', 'employee surveys' or 'performance reviews', focused on improving employee engagement and satisfaction. After all, before, during and after the hiring process, there is always one essential element: people. Kenjo helps companies optimise recruitment yet keep it people-centred. On top of this, Kenjo's all-in-one nature aims to reduce the number of administrative tasks to take care of so the whole HR department can be more efficient, meet their goals and focus on their employees' needs.

Workday

With Workday, you can bring all of your data — finance, HR, planning, payroll, operations, and more — into the same system, having everything under control.
In addition, you can apply a skills-based lens to optimise talent so your employees are equipped to meet evolving business demands. But how does that work?
Machine learning helps you understand your people's skills today and build talent around the skills you'll need tomorrow.

Finally, Workday delivers curated recommendations, suggested learning, and personalised career guidance to every employee—and at scale.

SAP Success Factors

The SAP SuccessFactors Suite lets you take control of all your HR processes to get the most out of your employees from the minute a vacant role arises to nurturing top talent. It provides powerful, cloud-based solutions for core HR and payroll, talent management, employee experience management and people analytics.

With SAP SuccessFactors Employee Central you get a revolutionary HR management system (HRMS) that enables you to unify all your employee data and manage your workforce in one place.

Finally, with the SAP Suite you are able to measure the success of your recruitment process by having access to the analytics you need to make sure you are reaching and selecting the best candidates out there.


Breezy HR

With a single click, Breezy will advertise your open positions on 50+ top job sites, so expect a lot of applications! To avoid overloading, Breezy automates tedious tasks such as pre-screening candidates, sending emails, scheduling interviews and collecting feedback from your team so that you can concentrate on more strategic tasks. For a more complete experience, Breezy's offer on management and HRIS integrations make it simple to turn applicants into employees.

As with the SAP Suite, with Breezy you can track your hiring process with real-time recruiting analytics.

Manatal

Manatal offers a complete ATS (Applicant Tracking System) solution to make recruiting easier. With Manatal, you can optimise your hiring process by using pipelines, AI-driven recommendations, job portal integration, and many other recruitment tools!

To make sure your job ads reach all your potential applicants, you can post your jobs on thousands of free and premium channels globally such as Indeed, Monster, Linkedin, Facebook, Google for Jobs and more. In addition, Manatal offers a mobile app so you can track recruitment processes on the move, too.
Comparison table of the recruiting software
To make it even easier for you to find the best recruiting software, we've added a table for you to compare all costs and ratings for each listed recruiting software at a glance.
Software

Languages

Price per employee

Capterra Score

Free Trial

Kenjo

English

German

Spanish

5 € per employee/per month

4.3 / 5

Yes

Workday

8 languages

Pricing available upon request

4.4 / 5

No

SAP Success Factors

Over 10 Languages

Starting from $84.53 per year

4 / 5

Yes

Breezy HR

English

$143 per month

4.5 / 5

Yes

Manatal

English

$15 per employee/per month

4.7 / 5

Yes