The 9-box grid model is a commonly used method to better understand performance and potential in the context of talent management and workforce planning. In this blog article, we at Kenjo explain how the 9 Box Grid can be used effectively to support these processes and what advantages and disadvantages it has. In addition, we provide you with a free template!
What is a 9 box grid?
The 9 Box Grid, sometimes called the 9 box talent grid, is a talent management tool that divides your employees into nine groups based on their performance and potential. When assessing employee performance, as an employer, you should be careful to find out the following two things. First, how valuable is my employee today, and second, how valuable can he be in the future.The 9 box grid helps you work out the growth potential of your employees.
For example, hard-working employees who are good at their role but have little growth potential are just as important to your team as high-performing employees with great growth potential. Underperforming employees with little potential require a lot of attention from you as a manager and are unlikely to improve much. They require a different approach. The 9-box grid provides a framework to help manage all employees in an organization. In the next sections, we at Kenjo will explain to you how the performance and potential of your employees can be assessed. Enjoy reading!
What do you use a 9 Box Performance Grid for?
The 9 Box Grid is essential for entrepreneurs to gain a comprehensive view of talent within and across businesses and to identify critical gaps that need to be addressed. These gaps are mainly about knowledge and skills gaps that tell you that certain topics and work areas in your company are not sufficiently covered.
The 9 Box Grid helps you to determine the potential of your employees. Such a file will help you identify strategies for developing, retaining and collaborating with your current team and enable cross-organizational discussions about current employee performance. As soon as a team member leaves the company, the 9 Box Grid can also be used to identify a potential successor, helping you to promote internal recruitment opportunities when managerial positions become vacant.


What are the advantages of using a 9 Box Grid?
The advantages of a 9 box grid are both transparency and better planning in human resources. Employees have a better understanding of how they have been assessed and employers simplify workforce planning by getting a better overview of their team's strengths and weaknesses.


What are the disadvantages of using a 9 Box Grid?
Of course, a transparent evaluation often fuels competition among colleagues. You automatically compare yourself with the higher rated colleague and envy can arise. Such an assessment can often cause a lack of understanding, since many employees certainly feel that they have been misjudged and are then dissatisfied. In the worst case, this will increase fluctuation in your company.


What do you need to include when creating a 9 Box Grid?
The 9-box grid is an employee appraisal tool that categorizes and represents employees based on nine factors. It is a grid-based system that can be used to assess employee performance levels and growth potential to place them into each of these nine segments.
One axis represents the performance level and the second axis represents the potential. If you sum this up with the three evaluation levels low, medium and high, nine fields for the evaluation are created. The employees must then be assigned to these fields.


How to use a 9 box grid?
At Kenjo we have been working on making the Excel 9 Box Grid Talent Matrix template as easy to use as possible. To do this, we have prepared this video tutorial that explains how to use the template:
Templates for the 9 box grid model tend to be very similar. We have created a small guide for you as an entrepreneur to use our template to get an overview of the performance reviews of your employees. Below is a description of the tabs.
In the "Instructions" tab, we explain how the Excel template works.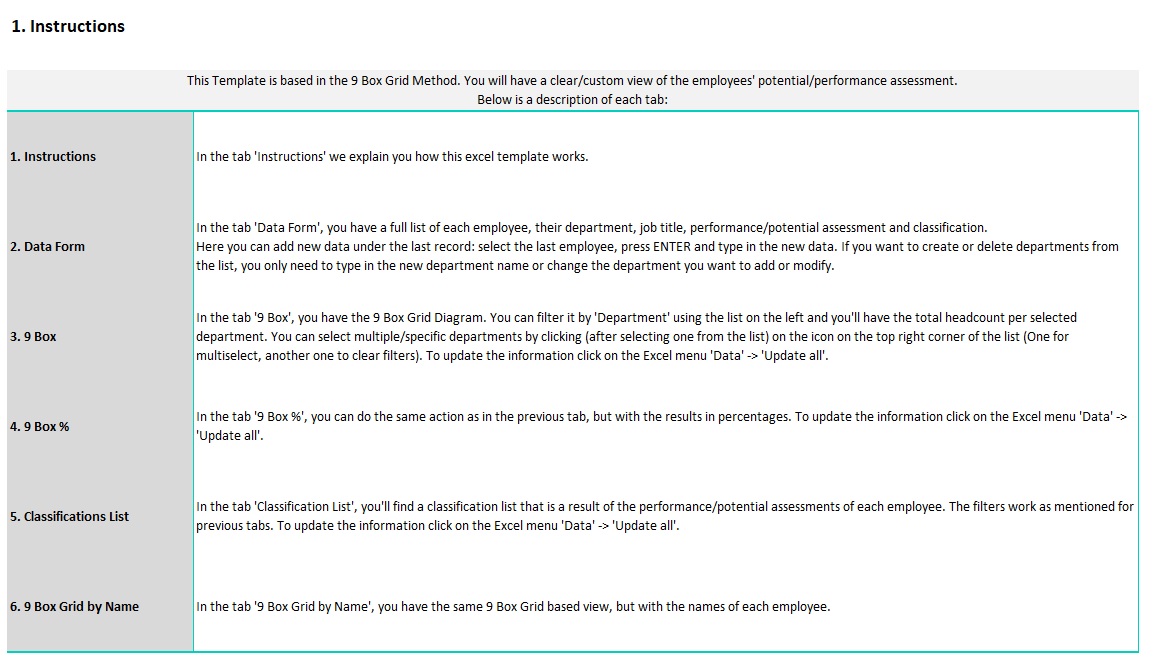 In the "Data Form" tab you will find a complete list of all employees, their departments, job titles, performance reviews and classifications. In this tab you can add new data under the last record. To do this, select the last employee, press ENTER and enter your new data. If you want to create or delete departments in the list, you just have to enter the new department name or change the department you want to add or change.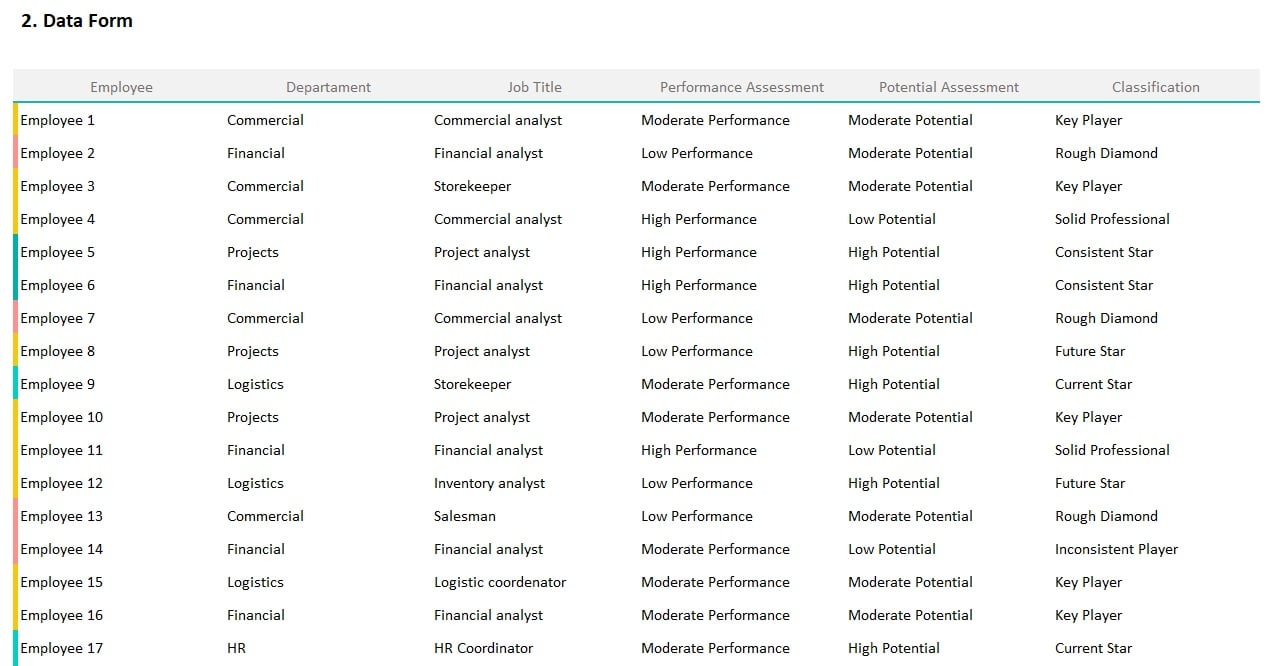 In the "9 Box" tab you will find the 9 box grid model. You can filter the model by "Departments" from the list on the left and get the total number of employees per selected department. You can select multiple departments by (after selecting a department from the list) clicking on the icon in the top right corner of the list (one for multiple selection, another to clear the filters). To update the information, click on the Excel menu "Data" -> "Update All".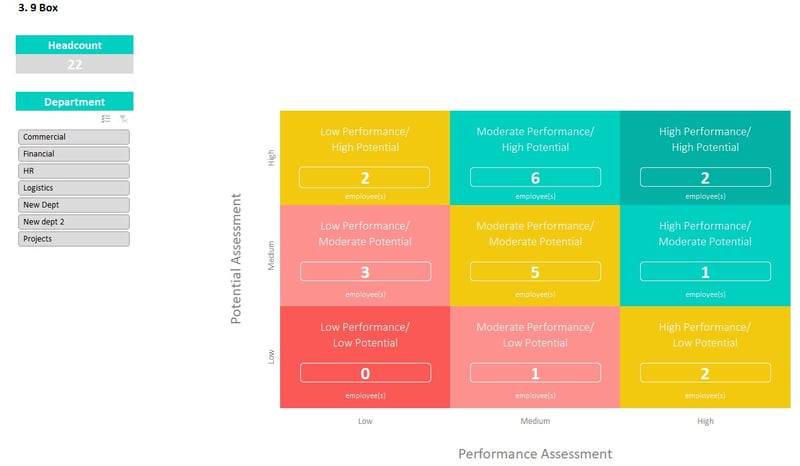 In the "9 Box %" tab you can perform the same action as in the previous tab, but with the results in percentage. To update the information, click on the Excel menu "Data" -> "Update All".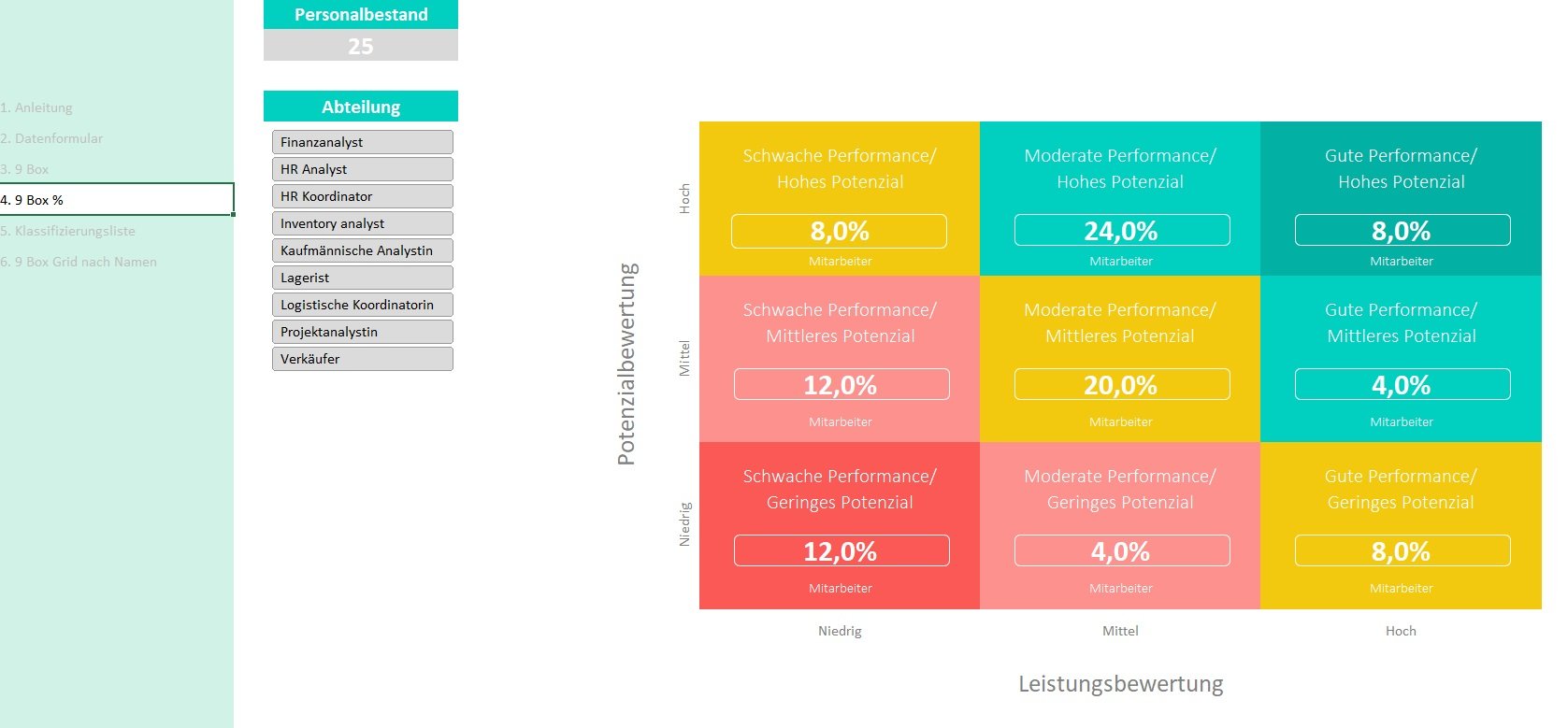 In the "Classifications list" tab you will find a classification list that is the result of the performance reviews of the individual employees. The filters work like the previous tabs. To update the information, click on the Excel menu "Data" -> "Update All".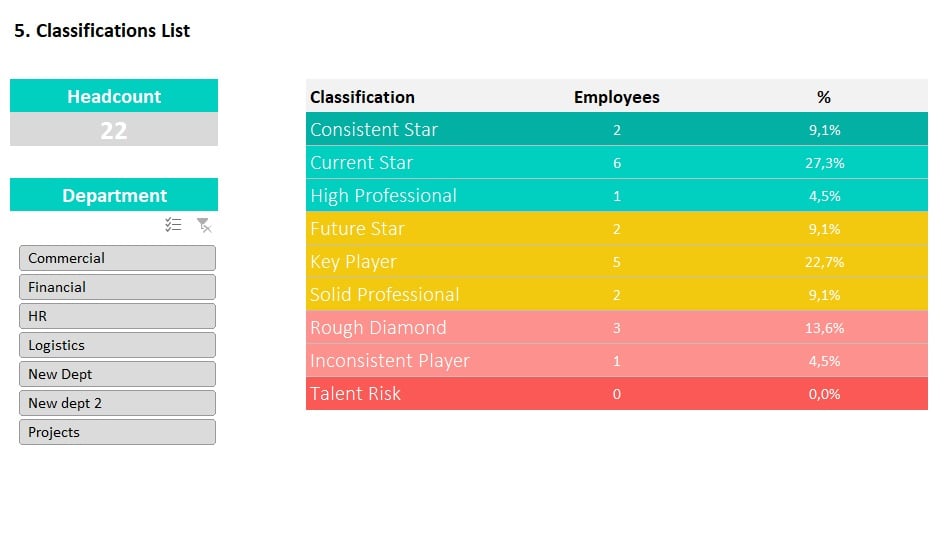 In the "9 Box Grid by Name" tab, you have the same view, but with the names of each employee.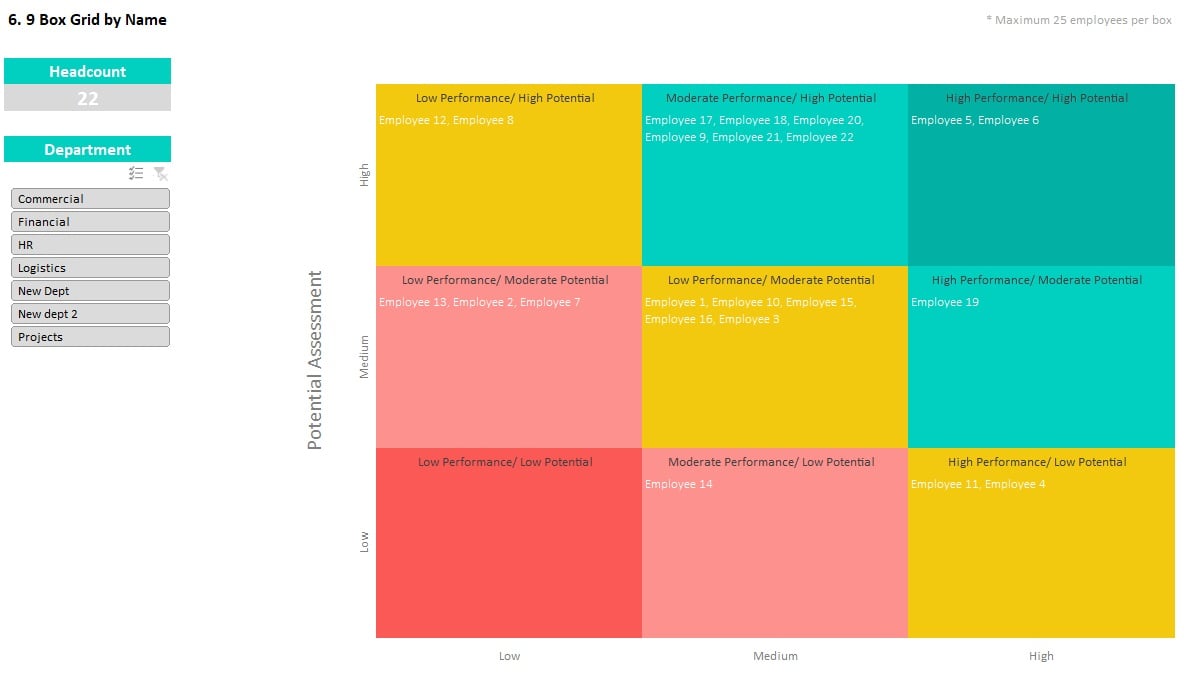 How to create a 9 Box Grid in Excel
If you don't want to use our free 9 box grid template, it takes three steps to create a 9 box grid. We have listed these steps for you here:


Evaluation of employee performance
In the first step, each employee's performance is rated as low, medium or high. Performance can be measured in a number of ways, and organizations often use existing infrastructure and systems to assess the performance of their employees. The exact criteria for each performance category may vary based on the needs of the organization, but it is important that each employee is placed into one of these three groups.
Assessing Employee Potential
Next, each employee's potential is rated as either low, medium, or high. Potential is defined by the employee's expected development, willingness to learn and ability to apply knowledge at work. Although many companies are familiar with evaluating the performance of their employees, employee potential is often a new concept. The two categories can be distinguished by considering performance as past behavior and potential as expected future behavior.
Combining Performance and Potential in the 9 Box Grid
Now, as employees have been rated as low, medium or high in terms of both their performance and potential, they are placed into one of the nine categories in the 9 box grid.
Free 9 Box Grid Excel Template
If your company doesn't have a 9 Box Grid template yet because the company is fairly new or has never created a 9 Box Grid, creating a template is time consuming. If you don't have the information or time to create a template, Kenjo is able to help!
Our 9 box grid template contains all the important information that you can use as a guide. The data can be adjusted and adapted to your specific needs. Download our free 9 Box Grid template today.
Let Kenjo help you with your performance management
Let Kenjo help you with your performance management with our software that enables your employees to develop to their full potential. Manage executive roles and responsibilities to make promotion decisions easier with objective appraisal systems. Recognize who needs more support to achieve the company goals and enable the effective structuring of your feedback rounds with our questionnaire.


Personalize your appraisal interviews with different question formats today and receive regular feedback on employee performance. Book a demo with our team of experts now or test Kenjo free for 14 days.