Remote work statistics have rocketed as a result of the Covid-19 crisis. According to a report by an Economic Bulletin by Banco de España in May 2020, the only 8.3% of Spanish workers adopted this way of working in 2019, but also that 30% of job in Spain could be carried out remotely. In other words, the number of Spanish remote workers could increase from the previous 1.64 million to a significant 6 million.

These unique circumstances have prompted many companies to take a leap and test this formula overnight. So, we'd like to look closer at the main statistics to understand this new work context.
Remote working in Spain today
In the last few months, remote working has spread almost as much the virus itself. Many
companies who had never even considered the possibility of allowing their employees to work from home now are now operating with a fully remote team. And at the eleventh hour, they've had to introduce their own guide to remote working.
As we observed earlier, only 8.3% of Spanish professionals worked remotely in 2019.
According to the Banco de España, this total – which represents 1.64 million workers could rise to a respectable six million.
It's worth remembering that this figure may also vary across different professions. For example: 49.8% of technicians and scientific professionals could work remotely along with 20% of accountants, administrative employees and other office workers.
However, in comparison to other European countries, the growth of remote work in Spain has been more limited over the last ten years, with a mere 7%, against a European average of 14.1%.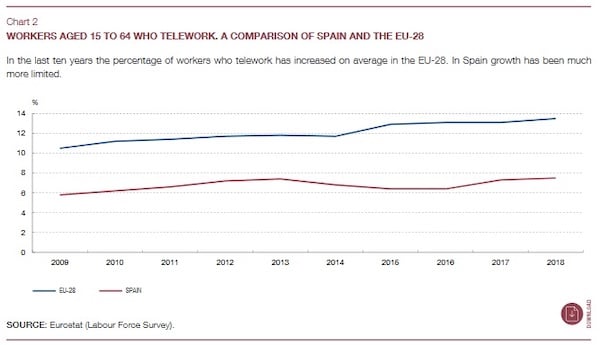 Remote work: a UK perspective
A study by Opinium in May 2020 found that 69% of adults were working from home, up from just 9% before the pandemic.
A majority of 73% of UK workers believe that flexible working will continue after COVID-19 with 29% believing it will become the norm.
A survey by UK startup forum Founders Forum found that a realistic post-pandemic work scenario could involve 3 to 5 days of remote work per week, with a couple of in-office days.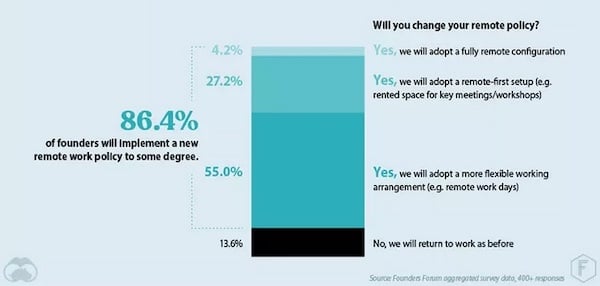 Remote work statistics in Europe
The evolution of teleworking hasn't been the same across all European countries and some were better prepared than others when the coronavirus arrived.
According to Merchant Savvy, Sweden, Iceland, Holland and Luxembourg were amond the European countries that has the most remote workers prior to the pandemic.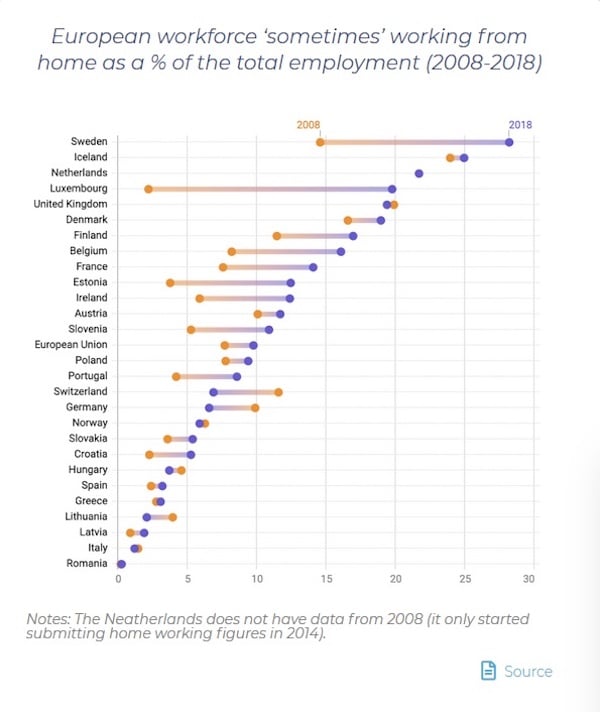 56% of German employees could potentially work from home, according to a study by the IAZ Institute of Labor Economics, part of the Deutsche Post Foundation. This potential has more than doubled since before the pandemic.

As Merchant Savvy also mentions, a report by the IWG Global Workforce Survey found that that if people who had the option of working from home did so at least half of the time, the following savings would benefit the environment enormously.
A global view of remote working
In Latin America,

Uruguay

leads the ranking of the proportion of workers who could
potentially work from home, with 27.28%).

Chile

is close behind with 25.74% and

Brazil

is in third with 22.7%, according to this article by LABS.
Luxembourg is the world leader as the country with the greatest potential for remote work, with 53.4% of occupations. Mozambique is the last on the ranking, with a potential of only 5.24%.
A Gallup poll discovered that three in five US workers who have been working remotely during the pandemic say they want to continue doing so afterwards. In contrast 41% would prefer to return to their workplace or office, as they did before the crisis.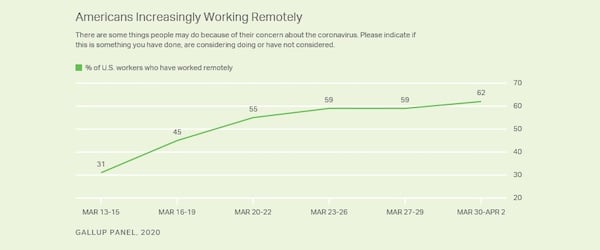 Remote work and productivity
Some companies are still concerned that productivity will fall as a result of remote working. Many are unsure about how to evaluate remote employees. Even so, remote working statistics prove that teams can work just as well, or even better, from their own homes.
Globally, 58% of remote workers felt that their productivity was the same or better than before COVID-19. A total of 64% of them attributed this to less time spent commuting, followed by 55% who were able to focus better, according to Bain & Company.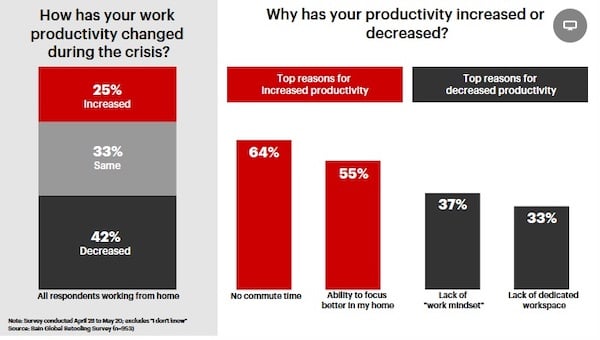 In 2019, Zapier found that Baby Boomers (52%) were more productive when working from home compared to 38% of Millienials.
Some 53% of remote workers take less breaks than when they are in the office, according to CoSo Could (2015).
PR Newswire stated that 85% of businesses reported increased productivity after allowing their employees more flexibility.
Remote workers and hiring talent
Another way that remote working benefits companies is that they have the option to hire talented professionals based anywhere in the world.
Flexible working policies are also highly effective when it comes to attracting talent, so it's also a good strategy for strengthening company culture and branding.
A total of 72% of HR professionals believe that flexible working (which includes the
option of remote working) will be a key factor in their sector and in recruitment. (LinkedIn, 2019).
A study by OWLLabs found that 81% of those interviewed who were given the chance to work remotely would recommend their company to others.
And 74% intervew in the same OWLLabs survey felt that having the option of remote working would make them less likely to leave their company.
Remuneration and remote workers
Generally speaking, most studies find that employees who work remotely are better paid than their office-based colleagues. The 2019 OWLLabs study revealed that:
There are 2.2 times more employees earning over 100,000 dollars working remotely, than there are in offices.
Some 64% of remote workers interviewed earn less than 100,000 dollars, compared to 92% of office-based workers.
A total of 26% of those working from home earn over 100,000 dollars, as opposed to just 8% who are office based.
A respectable 34% of all employees would accept a 5% pay cut in exchange for being able to work remotely.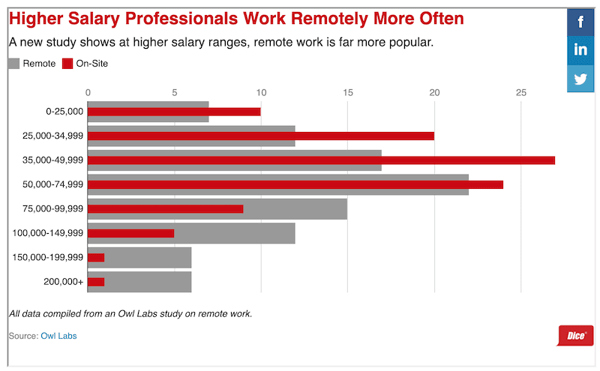 How remote working affects happiness and well-being
The 2019 OWLLabs study also produced interesting data about employee well-being and motivation when they have the option to work remotely:
Working remotely would make 82% of employees happier.
Some 82% agree that they would feel that their employees trusted them and their work.
A resounding 80% believe that teleworking would reduce their stress levels.
The main reasons people want to work remotely are: to save money (48%), to be location independent (47%) and to spend more time with family (44%). (Zapier 2019).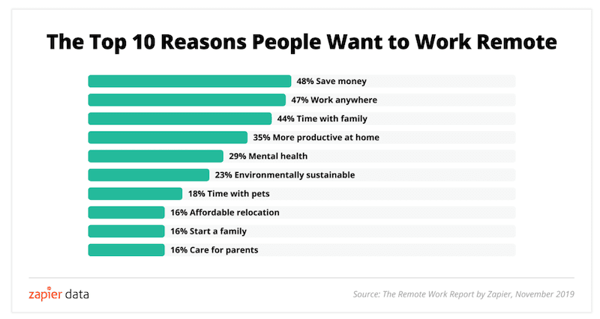 These remote work statistics give us an overview of the current situation and that it is a
modality that's here to stay. Not only do employees benefit, but business too: increased
productivity, higher employee satisfaction, cost savings, etc. It looks like many companies will continue with this way of working in the future, even when it's safe to
return to the office.