Teleworking has prompted many companies to look for systems to watch over their remote staff. Employee monitoring software is just one of the systems available, and it has sparked some controversy.
Let's take a look into what employee attendance software is, its legal use in the UK and Europe, as well as some of the alternatives. Check out our HR Resources for a complete guide to choosing HR software.
Definition of employee monitoring software
An employee monitoring software is a program that provides managers with information about their team uses their computers during working hours. The software does this by gathering data about their use of the internet, social media, when they are active, etc., so that the company can measure their employees' productivity and efficiency.
So, the objective of the system is to monitor employees' computer activity so that the company can evaluate the way each team member works and how they spend their time.
It answers the following kinds of question:
Are employees active or inactive during the working day?
How long do they spend on the internet?
Are they on Facebook or watching YouTube videos?
Which apps do they use and how long do they spend on them?
Are they using their work computer for its intended purpose?
How does employee monitoring software work?
Employee monitoring software has features that capture and record information about how they are using their computer. For example, it:
Records when the user logged into their computer.
Captures the applications used.
Saves the URLs visited.
Stores all the data captured.
So, for example, when the user launches a software app, the system activates and register its name, and the time it was opened and closed. This gives the company information about exactly what the user has been doing.
All of this information is usually stored in the cloud to avoid using the company's servers and the complications this causes. Managers can quickly access the program and check each employee's activity.
Silent mode vs. transparent mode
There are two ways a company can choose to implement employee monitoring software. They can do so without their employees' knowledge (silent mode), or by being completely honest and informing employees aware that they are being monitored (transparent mode).
It's worth highlighting that European companies have the right to monitor and control the use of computers they have supplied to their employees. Even so, employers must ensure that their monitoring practices comply with the General Data Protection Regulation (GDPR), as this article in Law Gazette UK points out:
Legitimate interest: employers must do a legitimate interest or data protection impact assessment before implementing employee monitoring.
Transparency: provide a clear and transparent notice explaining to employees why monitoring is taking place, the legitimate interest behind this and the nature and extent of the monitoring.
Onboarding: all new hires must receive a written policy during the onboarding process.
Least excessive method: taking into account the reasonable privacy expectations of employees. Companies should also be careful to avoid monitoring employees personal and non-professional data, as well as their out-of-hours activity.
European Data Protection laws protect employees and oblige companies to clearly communicate their monitoring processes to employees.
And we'd also like to point out that, where employees use their personal equipment for work purposes, they could refuse the company's request to install a monitoring system as this would be violating their right to privacy.
Lack of transparency or abuse of employee monitoring systems has come to the public's attention in the past, as well as creating mistrust between employees and employers. One case study revealed that HGV lorry drivers suffered from added stress due to being constantly monitored by cameras in their cabins. Some were even sacked for accessing sports and adult websites from their mobile phones during the working day.
The same article in the BBC advises employers to make sure they understand the system they are installing. One Norfolk employer asked staff to install what he thought was time management software on staff computers. He was horrified to discover later that it was actually taking screenshots of them every few minutes and was so shocked that he uninstalled it.
Do you have to install this type of software in your company?
The coronavirus crisis, and the rise of remote work, have led many companies to consider installing some kind of employee monitoring software to see what their employees are doing at home.
This is perfectly legal if done correctly, as we mentioned earlier. But it's crucial to take the emotional and ethical considerations into account. And this may well make workers feel they're being spied on and the mistrusted by the company. These uneasy feelings often have negative consequences on the work climate and, ultimately, a higher staff turnover.
There is also a very fine line between monitoring an employee's professional and private life. When the employer has all an employee's information, they will inevitably come across personal information at some point: bank accounts, medical records or private emails.
So, today, the best advice when looking into systems for monitoring employee activity is to choose one that won't make them feel uncomfortable or spied on.
Alternatives to employee monitoring software
Is't possible to monitor remote employee performance without using monitoring software? The answer is yes. We can apply other, less "invasive" methodologies but which, at the same time, provide us with all the information we need.
1. Employee performance review software
Instead of controlling what your employees do on their computer every day, why not carry out a comprehensive performance review? This will provide you with truly valuable information about the quality of each person's work without making them feel uncomfortable.
Using a performance review software makes the whole process run smoothly and efficiently. You can design questionnaires, send them to your colleagues to get their feedback and conclusions, and all from the same tool.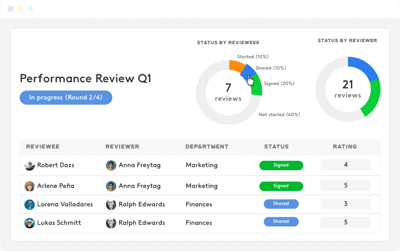 Kenjo Interface
And what's more, cloud-based software will make remote appraisals a breeze. You can access all the information from anywhere and discuss it with the employee via a simple video call.
This is a much more efficient and, above all, constructive way of measuring employee performance. The end goal is to help them reinforce their strengths and work on their weaknesses.
2. Task manager
The task manager is an excellent solution for managing your day-to-day jobs and get an overview of what each team member is working on. These are usually based on the Kanban Method, which consists of a three-column table: tasks to do, in progress and completed.
Each task is represented by a card which can be assigned to the person responsible and given a deadline. The card moves across the board depending on its status, giving the team leader an overview of how the task is progressing.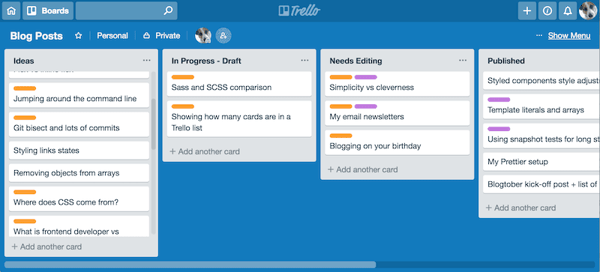 Trello Interface
For example, imagine that someone is stuck on one task in the "in progress" column for several days. On seeing this, you can approach them to see what the problem is and ask if they need any help, etc.
This type of software helps you work in a much more organised and efficient way and, above all, stay connected with the rest of your team.
3. Use of OKRs
OKR stands for Objectives and Key Results. Google coined this term to refer to the goal-setting methodology they created for themselves.
OKRs are a list of objectives that are usually aligned with the company's mission and vision. Each one must consist of measurable results so that you can evaluate whether they have been achieved objectively. Here you can see a video explaining this methodology in detail.
So:
An objective is a future goal that will have a positive impact on your organisation.
And the key result is a metric that represents a target value.
For example:
Objective 1: increase sales.
KR 1: double monthly sales.
KR 2: reduce our sales cycle by 10%.
How can we use this to monitor your employees' activity? By overseeing that they meet the objectives agreed by both parties. This gives the employee more freedom when doing their work and the company benefits by getting the results they expect.
We feel it's important to point out that these three systems can be used independently or coexist in harmony. For example, one section of the performance review could also be an OKR review.
It's up to each company to decide which methodologies they implement. Still, it's vital to choose well and communicate your decisions with transparency.