Even with the best plans, businesses fail. Business failure is not always a result of the lack of a visionary plan. There is a bridge between setting a goal and achieving it. This bridge is called "process," and many businesses get lost. Many startups fail because they get carried away with the process.
It is not enough to make great plans and set lofty goals. There is a need to ensure that the team is equipped with the right (human resource) tools to achieve these goals. These tools help you to keep track of your long-term goals.
This article will give an in-depth analysis of one of such tools; OKR Software.
We will help you understand;
the history of the OKR and what they are
features of good OKR tools
advantages of using the OKR methodology, amongst other things.
What are OKRs?
"OKR" is an acronym for "Objectives and Key Results." It is a goal-setting and tracking methodology that empowers individuals or teams to achieve collaborative goals.
OKRs help in setting challenging goals and tracking progress with each step. With OKRs, companies can translate high-level vision into specific objectives for various teams within the organization. Teams can also use the OKR tracking software to create measurable results that guide the company in achieving its vision.
OKR tracking software help teams focus on what is most important to the organization. It can be used in all kinds of organizations; law firms, schools, startups, non-profits, etc.
What are the advantages of using OKR software?
With companies like Netflix, Linkedin, Google, and Adobe all using OKRs, it is a great option with vast advantages. These companies have all attested to astounding success after implementing OKRs.
Improves FOCUS
OKRs help in setting priorities straight. With OKRs, teams break down objectives into carefully chosen priorities. This means narrowing down goals into 3-5 objectives and, at most, a few results for each objective. Due to this inherent necessity, teams tend to weigh the options and focus on the most important choices.
Ensures ALIGNMENT
Goals are easily attainable when everyone in the organization understands their roles and aligns them with the organization's ultimate purpose. With OKRs software, organizations can set their vision and have various teams align with that singular vision. Summarily, OKRs make it easy to align the vision on paper to the daily realities.
Inspires COMMITMENT
OKRs help to keep tabs on all agreed schedules and resources to be deployed to ensure delivery. With these things set in stone, it is easier for individuals on the team to stay committed.
It takes a high level of commitment to stick to agreed-upon priorities collectively. OKR management software demands this level of commitment from everyone on the team.
Eases TRACKING
One way to ensure progress is to keep track, and OKRs allow teams to track their progress towards a goal. With this framework, management can track metrics from output to outcome with one software.
Ensures STRETCHING
With OKRs, team members can inspire and empower themselves to stretch beyond the status quo.
According to John Doerr, " Larry Page of Google is the High priest of 10X-ing everything, stretching further. He'll say, I'd rather have the objective to go to Mars, and if we fall short, we'll get to the moon. This is how you make moonshots."
What features should a good OKR tool offer?
Good OKRs software Foster Collaboration
When opting for an OKR, look for tools that offer simplified communication features. This is crucial to ensure a smooth workflow and help everyone align to the collective goal.
It should have a great user interface and user experience
The overall outlook of the tool determines how people interact with it. This is why it is crucial to opt for an OKRs software with a clear and intuitive interface. Setting and reaching goals is easier when the tool makes the process exciting and interactive.
Should provide clarity
Objectives and Results need to be communicated. Hence, the need to properly define and display goals through visualization features. This can range from charts to graphs and other pictorial representations of ideas. Tools that provide a great visual representation are easier to adopt.
Should provide flexibility
Different types of organizations can use OKR tools. Therefore, it helps to go for a highly customizable platform. You can truly align your team with an OKR software that feels like their own. By doing this, you improve your chances of success.
The best OKR software of 2024
There is a lot of great OKR software in today's market. Therefore, your biggest problem may be choosing which one works best for your startup. No worries, we sifted through and came up with a short list of some of the top OKRs software.
These are some of the best OKR software for startups in 2024:
Kenjo
Kenjo is an all-in-one customizable cloud-based Human resource management solution. It enables administrators to manage a centralized system.
It is especially great for small and medium-sized businesses to automate all HR processes.
Kenjo enables supervisors to create tasks, organize daily schedules, evaluate employee progress, collect feedback, etc.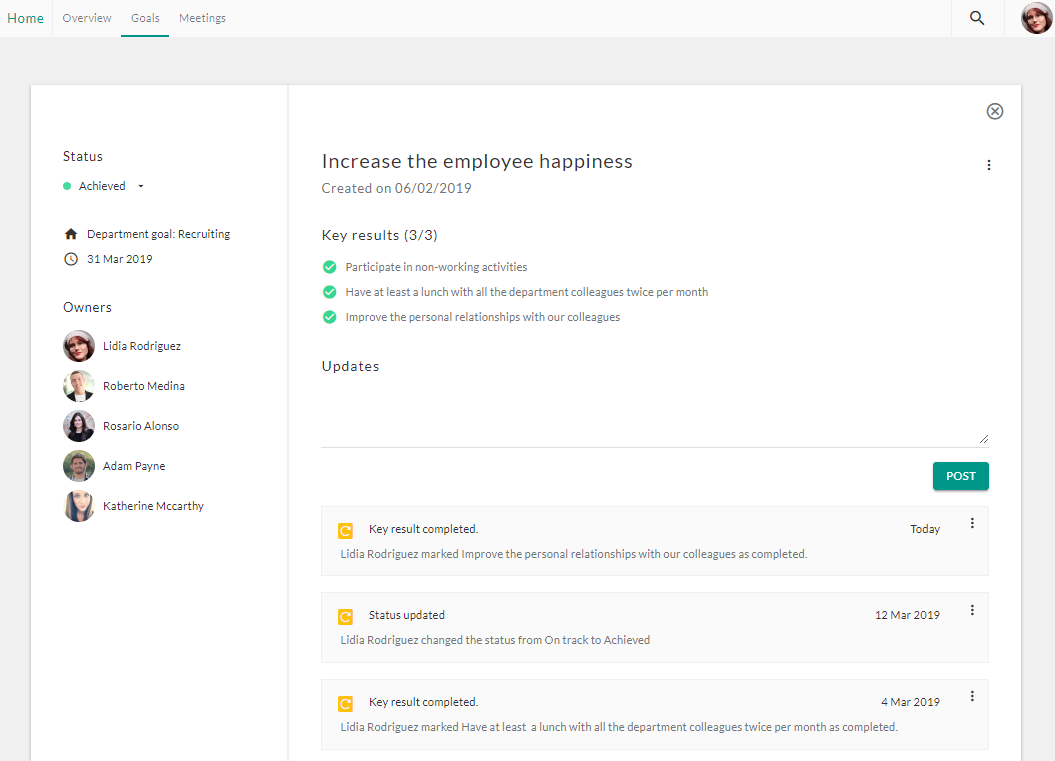 It Helps recruiters to advertise job openings across various portals. It also enables employees to track their goals and give and receive feedback.
Pros
Offers all new customers a tailored onboarding session to make setting up easier.
Easy to set up and use
It has a lot of automation features
Great customer support
Kenjo Pricing:
Kenjo offers three packages;
Starter plan (€5 per employee/month)
Growth Plan (€8per employee/month)
Connect Plan (Price available upon request)
Monday.com
Monday.com is a comprehensive productivity suite that simplifies project management. It includes all the features needed to collaborate with your team and monitor progress. Upon setting up your account, you gain access to project templates that you can edit based on personal preferences.
With monday.com, it is easy to assign tasks to individuals and access the timeline as progress is being made. Also, the tool provides advanced collaboration tools for sharing messages, files, and comments on work progress.
Pros
Attractive and easy-to-use interface
Provides useful visualization tools
Supports integration with other platforms such as Mailchimp and Shopify.
Has a great mobile platform for IOS and android.
Allows for detailed customization of templates
Cons
It is relatively expensive for large teams.
Monday.com's task tracking features aren't as advanced as some competitors.
Monday.com Pricing:
There are different levels of Monday.com membership:
Free plan: It is free forever for up to 2 people.
The basic plan costs $8 per seat/month; the Standard plan costs $10; the Pro plan costs $16, while the price for the enterprise plan is not stated.
Simple OKR
Simple OKR is a tool that helps businesses to clarify business priorities. It is designed to help teams focus on important and align the team. This way, managers can ensure employee engagement and accountability.
By replacing complex spreadsheets with easy-to-use tools, Simple OKR simplifies the OKR process. This way, employees can easily get familiar with the tool.
Want to keep track of OKR owners and constantly monitor the status of your OKR with an easy to understand software?
Pros
Its pricing model is reasonable.
It makes the OKR process as simple and basic as it can be.


Cons
Limited features.
Not a great option for large or fast-growing companies
Simple OKR Pricing:
Simple OKR tracking software offers a simple and effective pricing model. With one price plan at a flat rate of $49.99/month, users can get access to all the OKR tools needed for individuals and teams.


Github
It is an online repository that anyone can sign up for. It is a free, easy-to-use open-source software that works with the "git" technology. With the "git," it is possible to keep track of project revisions and see who made what changes.
Github has many collaboration features for effective task management. This tool makes it easy to add multiple contributors to a project. Although it is more popular amongst programmers, GitHub offers a wide range of uses for other types of teams.
Pros
Fosters seamless, real-time collaboration
It offers users information about practically any topic
A great option to back up data online.
Cons
Security concerns
Pricing may be a concern for larger or fast growth teams.
Github Pricing:
Github offers
a free version that is free forever
Team for $44 per user/year
Enterprise $231 per user/year


Asana
Asana is a task management app with project planning features. It provides teams with a clear picture of the relationship between goals and daily operations.
With Asana, you can organize tasks and assign them to your team members. It also provides automation features for repetitive tasks.
Lastly, you can monitor your team's OKR progress with the' portfolios' feature.
Pros
Allows users to create custom feeds to add data to already assigned tasks
Provides great templates in line with goals.
Cons
The free plan is limited.
Asana Pricing:
Has a free plan.
However, paid plans begin at $13.49/user per month.
The
Best OKR Software

Comparison
Software

Languages

Price

Capterra Score

Free Trial

Kenjo

English


Spanish

German

€5 per Employee/per month

4.3 / 5

Yes

Monday.com

Over 10 languages

Starting at $8 per Employee/per month

4.6 / 5

Yes

Simple OKR

English

$49.99 per month

-

Yes

Github

English

Teams pay $44 per user/per year

4.8 / 5

Yes

Asana

Over 10 languages

Paid plans start at $13.49 per Employee/per month

4.5 / 5

Yes