Leave management and Paid Time Off (PTO) tracking software are becoming indispensable tools for businesses, as they have a big impact on productivity and resource utilisation. They allow business leaders to track leave requests in real time, ensuring every minute of leave is accounted for and that it aligns with business objectives.
Understanding what these terms mean can help you decide whether you want to implement the technology in your business. In this article, we explore what leave management and PTO tracking software is, discuss their benefits and look at how to select the right software for your business.
What is leave management software?
Leave management software, PTO tracking software or vacation tracking software are different terms that describe a piece of software that streamlines leave requests. It acts as a central database that business leaders can use to track, manage, approve or deny leave requests. Traditionally, HR staff would manually process requests and use physical documents to record information.
Using leave management software is the modern approach, as it ensures businesses can account for all leave requests and address them appropriately. Staff and managers can access the time off management software from their devices to send and manage leave requests in real time.
What are the
advantages of a v
acation tracking software?
There are multiple advantages to implementing this kind of system, many of which can save time and money. Here are just a few advantages of using vacation tracking software:
Cuts down on paperwork
One obvious advantage of using a digital leave management system is that it does away with paper filing systems. This enables businesses to save money on supplies, positively impacting both the environment and their bottom line. With everything stored on a cloud, businesses can keep track of all leave requests without worrying about losing physical documents. It also saves staff having to process requests manually, which saves time and eliminates errors.
Improves organisation and productivity
Having a centralised cloud-based database means businesses can organise themselves more effectively. Staff can send leave requests in real time and business leaders can manage them quickly according to immediate business needs. This helps with avoiding over-staffing and understaffing, as the software can show who's taking leave and when. This helps businesses maximise productivity and adjust schedules in line with staff availability.
Eliminates time-consuming tasks
By automating various repetitive and time-consuming processes, businesses can save time and money. Manually requesting leave and manually processing the requests can be an arduous job, so streamlining these processes can free up the valuable time of HR staff. It's also possible to automatically approve or deny requests based on predetermined criteria, meaning staff can get an instant response.
What features should a good PTO tracking software have?
There's a lot of variation in the capabilities of PTO tracking software, and understanding what makes a good software package can help you make the right decision for your business. Here are some of the most important features to look out for:
Easily request holidays: Staff should be able to send leave requests with a few simple clicks.
View remaining leave balances: To ensure staff manage their leave properly, it's important for them to be able to view their leave balance.
Accounts for regional holidays: So people don't lose leave due to national/regional holidays, the PTO system should account for them.
Syncs holidays with personal calendars: By automatically adding leave dates to personal calendars, the software can help keep staff organised.
Remote working can be synced with Slack: To maintain organisation amongst remote workforces, the software should sync with a collaboration tool like Slack.
Easily view holiday overlaps: Businesses can avoid over-staffing and staff shortages by viewing where leave overlaps.
Mobile access: This feature gives staff a convenient way to manage their leave requests and balances.
Shows an overview of who's sick or absent: Managers can offer support to those who need it by viewing who's absent.
Self-management capabilities: HR staff can save time and resources if the software provides proper self-management capabilities.
Shows sick leave overview: Managers can use this feature to keep track of how much sick leave staff take.
The best leave management software
To help you better understand the available options in terms of leave management software, here are some popular examples along with their pros and cons:
Kenjo is a popular option with business leaders looking to implement leave management software, as it comes with a host of useful features. It allows staff to submit leave requests at the click of a button, easily manage their leave balance and access the software via their mobile devices.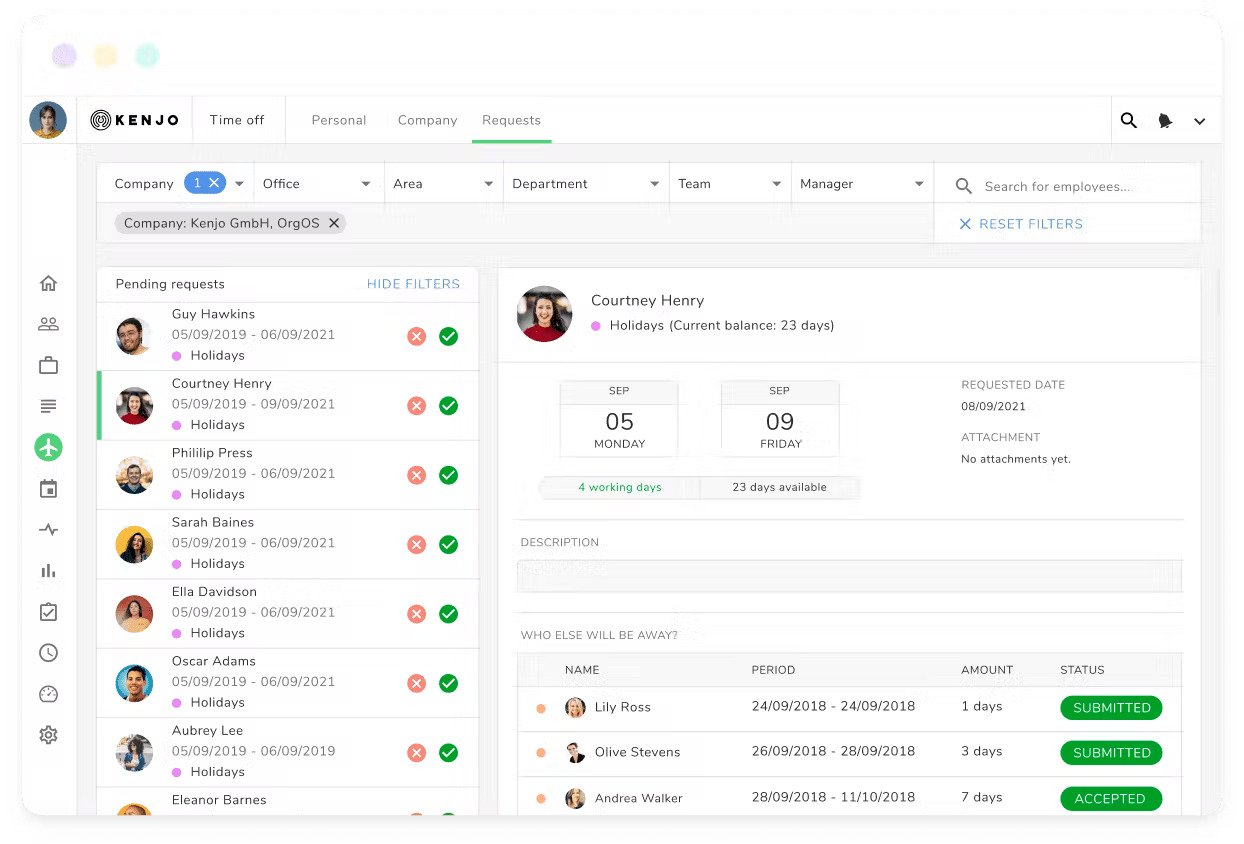 Managers can also easily track and approve leave. Using Kenjo's extensive self-management and automation features, businesses can streamline much of the leave management process, saving them time and money. Kenjo also enables users to track and manage sick leave, which helps with monitoring staff engagement and wellness levels.
Kenjo Price:
From €5 per employee per month
Pros:
Vast range of features
Ensures legal compliance with breaks and holiday entitlements
Competitive pricing
Adjustable plans
Shift planning capabilities
Excellent customer service
Free trial period
TimeTac
This is another popular leave management tool that offers some interesting features. TimeTac is a user-friendly product that can integrate with various other systems, such as CRM or payroll accounting. It's a tool that focuses on project management, leave management and time tracking all at once, and isn't a dedicated leave management tool. TimeTac is suitable for companies of various sizes across all industries, and it offers various software upgrades to support scaling efforts. Businesses with remote workforces can also benefit from the sophisticated time-tracking tools that the app offers, as it provides a live status overview of staff activity.
TimeTac Price:
Pros:
Good for remote workforces
Good user interface
Free trial period
Cons:
Not a dedicated leave management tool
Doesn't offer advanced analytics
Doesn't work on mobile without the app
Feature saturation
Zoho
Zoho is a useful leave management software product that emphasises simplicity in both design and functionality. Business leaders can easily manage their employees' leave requests and keep track of leave entitlements. Many HR admin tasks can be streamlined through Zoho's staff management tools, including shift planning and tracking start and finish times. It also offers self-service options for both staff and managers, relieving pressure on HR staff and freeing up valuable time.
Zoho Price:
Pros:
Community forum
Integrates with other Zoho products
Free trial period
Cons:
Limited customer support
Most useful features limited to the more expensive plans
Only custom options for larger companies
Slow responses from customer support
Nothing particularly unique
Timesheets
Timesheets is a great option for many organisations, as they offer a way to track time off balances and accrued leave based on hours worked or a pre-defined schedule. The app focuses mainly on time management, but also has self-service features for leave requests. Employees report finding it easy to submit leave requests through Timesheets, and managers can easily login to approve or deny requests. Using the in-built time off calendar, managers can compare leave requests with business demands and make informed decisions. The customer support is also great according to some online reviews.
Timesheets Price:
€4.20 per employee
Pros:
Able to run various reports based on inputted variables
Conveniently displays who is clocked in or out
Easy for employees to enter time
Cons:
Complicated employee set up

Relatively expensive

Difficult to navigate

Occasional bugs
Resource Guru
Resource Guru is the final product to make the list, and it's a powerful leave management tool that integrates with many other apps, including Google Calendar. Many users claim that the reporting features on Resource Guru are excellent, allowing some businesses to do away with the Excel leave planner. The app distinguishes between the different kinds of absences, enabling business leaders to manage and deal with each type accordingly. The app also sends helpful reminders about absences so that managers can plan ahead and not be caught by surprise.
Resource Guru Price:
€2.33 per employee
Pros:
Generous free trial period for annual subscribers
Transparent price plans
Cons:
No undo feature for accidental submissions
Reporting features requires premium subscription
Lack of graphics in reporting
The
Best Leave Management and PTO Tracking Software

Comparison
Software

Languages

Price

Capterra Score

Free Trial

Kenjo

English


Spanish

German

€5 per Employee/per month

4.3 / 5

Yes

TimeTac

English

German

Starting at €4.11 per Employee/per month

4.6 / 5

Yes

Zoho

Over 10 languages

Starting at €0.97 per Employee/per month

4.3 / 5

Yes

Timesheets

English

Starting at €0.97 per Employee/per month

-

Yes

Resource Guru

English

Starting at €2.33 per Employee/per month

4.6 / 5

Yes