Summer is around the corner, which means you are probably thinking about the best way to manage your employees' time off. This year, instead of resorting to the good ol' Excel spreadsheet, why not try using dedicated software? Coordinating your teams will be much simpler, and above all, effective.
The importance of managing staff holidays
Managing employees' annual leave is one of the biggest challenges the human resources team faces every year, especially when a company is expanding. It is complicated to coordinate, meaning some basic rules are required to ensure the whole team can enjoy their time off, while allowing the company to continue its usual activities without any problems.
Effective scheduling that benefits both parties is essential for a number of reasons:
Breaks keep the workforce content and preserve their wellbeing, which has a direct impact on productivity.
To ensure the company continues to operate and maintains production levels during holiday periods.
To avoid staff shortages during peak periods or during unexpected spikes in activity.
How do you schedule employee holidays? There are several methods that can help us successfully organise holiday schedules:
Set

fixed periods when staff can take their holidays

, bearing in mind the company's busy times. For example: 15

th

July to 15

th

September. If you run a beachside hotel, you will want to arrange the staff holiday period during the low season.

Scrutinise each team's or department's requirements and set internal guidelines. For example: Anna and John cannot take holiday at the same time because they cover for each other when one of them is absent.
Set a priority list for choosing holidays in case there is a conflict. Rank or seniority is the norm; however, you can also set up a rotation system whereby everyone has at least one chance to get their first choice.
Plan in advance to adapt to the workload and, likewise, give employees time to organise their holidays comfortably.
So, now we know why it is important to manage time off and some tips for doing it successfully, the next question is: how do you manage staff holidays in practice? In other words, what tools can we use to make arrangements more straightforward? In general, there are two options: Excel spreadsheets or dedicated holiday management software.
Excel templates for managing time off
Many companies opt to manage their employees' holidays with the help of Excel spreadsheets. Normally these include the employees' names and a calendar in which someone manually enters any days off staff members take. Some may also input a formula to automatically calculate remaining holidays. At Kenjo, we have created an Excel employee time off tracker template using this model.
However, as helpful as this solution may appear, these days there is a better option. We'll explain why in the disadvantages section below.
The advantages of Excel spreadsheets
They may not be the best tracking system today, but Excel spreadsheets have certain advantages:
Excel is included in the ubiquitous Office software package, so it is free for most companies to use this option.
The program is usually installed on all a company's computers, meaning all team members have access to it.
It is a basic system which can easily manage absences for small teams.
The disadvantages of Excel spreadsheets
Now let's look at the system's weak spots:
Manually recording holidays takes the Human Resources team considerable time.
Manual data entry can lead to errors which can disrupt the organisation and employee.
Excel documents make teamwork difficult as they cannot be edited by more than one person at the same time.
Using spreadsheets and creating formulas requires intermediate knowledge of Excel.
Organising a holiday approval process is more complicated.
Dedicated time off management software
What tool do we recommend for tracking employee holidays? Without a doubt, it has to be dedicated time off and absence management software. It is the most convenient, simplest, and most efficient method.
Thanks to this technology you can track the days off each employee takes and centralise the holiday request and approval process on the same platform. This means hundreds fewer emails with three simple steps: the employee requests the holidays they would like via an app, you approve them on the platform and the employee automatically receives a notification.
But that's not all: you can see very simply on the calendar any overlaps within teams. So, it is much easier to ensure no department is left short-staffed during the holiday period.
The advantages of holiday management software
Holiday tracking software benefits the company as well as the employee:
Employees can directly access the software to see how many holidays they have left, without needing to contact the company's human resources team.
Many processes happen automatically, saving HR managers time.
The calendar is updated with bank holiday dates every year, according to the office location.
You don't need to fill in complicated formulas or calculate how many holidays each employee is entitled to; the software does it automatically.
It saves the HR team oodles of time as they don't have to manage hundreds of emails queries and holiday requests.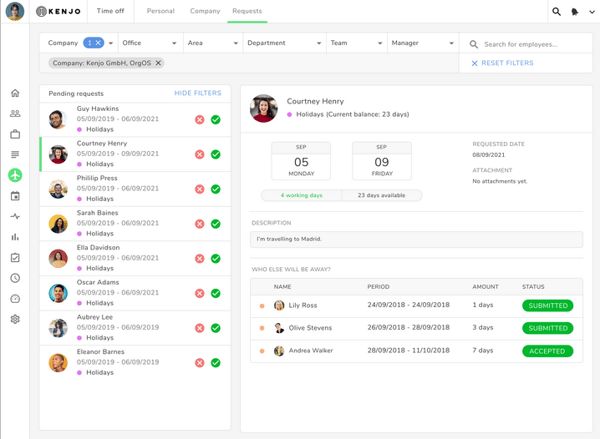 Kenjo Interface
The disadvantages of holiday management software
If we must mention a downside, it's that time off software incurs a small additional cost for the company depending on the number of employees. It also involves an adjustment period for both the HR team and the rest of the staff.