Scheduling staff in their various shifts is a challenging and thankless job in many firms. Before assigning employees to their various time slots, the person in charge of this responsibility must think long and hard. When done correctly, productivity increases and labour expenses are kept in balance.
Shift planning and scheduling repeats every week and month, over years - and is often manually using simple paper sheets, and at best using an outdated spreadsheet. These manual processes are time consuming and error-prone.
To help you in managing your shift scheduling needs more effectively, we've researched and collected the best shift planning and employee scheduling software.
What Is Shift Planning Software?
At its core, shift planning software lets employers effortlessly plan and schedule employee shifts, while giving them the oversight, when they need their employees the most. From an employee perspective, shift planning software allows frontline workers to record their worked hours as well as giving them the tools to check when their next shifts are scheduled.
A shift planning software collects all necessary employee work information in one place and allows for smooth workflows. Employers can effortlessly schedule their staff for shifts that they need covered and keep track of their total working hours, helping all parties involved to stay in compliance with working hours laws.
Depending on the type of shift planning software that you are intending to use, some will also include features such as vacation and sick leave requests as well as internal notification systems, allowing all employees to stay up to date with the latest staffing changes.
What are the advantages of using an Employee Scheduling Software?
Using a shift planning software brings with it a whole host of benefits, both from an employer and employee perspective. While there are numerous benefits of using a software compared to a paper or excel shift planning schedule, we've highlighted the three most important advantages that will have the biggest impact on your business.
Saves time
A scheduling software saves you the time of creating a new schedule from scratch whenever you need it. Most software comes with a copy and pastes feature, which helps you duplicate previous schedules easily. This is very useful if you have recurring schedules.
Less scheduling conflicts
Good scheduling software detects conflicting schedules and alerts you before they occur. This makes you proactive and saves you the time of trying to resolve clashing schedules.
You can get alerts for any of the following issues:
Understaffed or uncovered shifts
Scheduling conflicts
Overstaffed shifts
Saves labour cost
One of your highest costs is likely to be labour. Software can assist you in being more cost-effective by keeping track of:
Breaks
Overtime
Actual hours worked vs. hours scheduled
Sick days
Vacation days
What features should a good Shift Planning Software have?


Digitalisation and software-assisted automation are meant to improve processes and reduce the time it takes to complete operations that would otherwise take too long if done manually.
Scheduling software comes with a lot of features. This section covers some key features you should look out for when selecting a good shift planning software.
Dynamic visual calendars
Employee scheduling software should have engaging calendars that give employees a clear picture of the tasks, responsibilities, and shifts they'll be assigned for the month ahead. These calendars are important because they are simple to understand and offer little room for error. Additionally, most of these calendars allow you to colour code items, making them easier to understand.
Shift shuffling and swapping
It can be inconvenient to go back and reorganise an approved calendar because someone has requested a modification, especially if the software you're using doesn't allow for it. And regardless of the size of your team, this is bound to happen at some point. That's why the software you choose must allow you to make adjustments quickly and easily.
In-built time-off requests and approvals


The key to digitisation is integration. So you'd nearly expect other employee management and HR administrative elements to be integrated with employee shift scheduling software, right?
Look for integrations like these while shopping for a software solution that matches your special needs. Unfortunately, the majority of free scheduling apps lack these functions. But if you can stomach a monthly fee commitment, these are mandatory.
The Best Shift Planning Software
Here's a list of the best shift planner and employee scheduling software, along with a short description of what it does well, as well as pros, cons, and pricing.
Kenjo
Kenjo is a powerful shift planning software that makes it simple to plan shifts and create schedules. It offers an efficient means to manage staff and schedules. With Kenjo, you can save plenty of time by duplicating shifts across weeks instead of manually typing them repeatedly.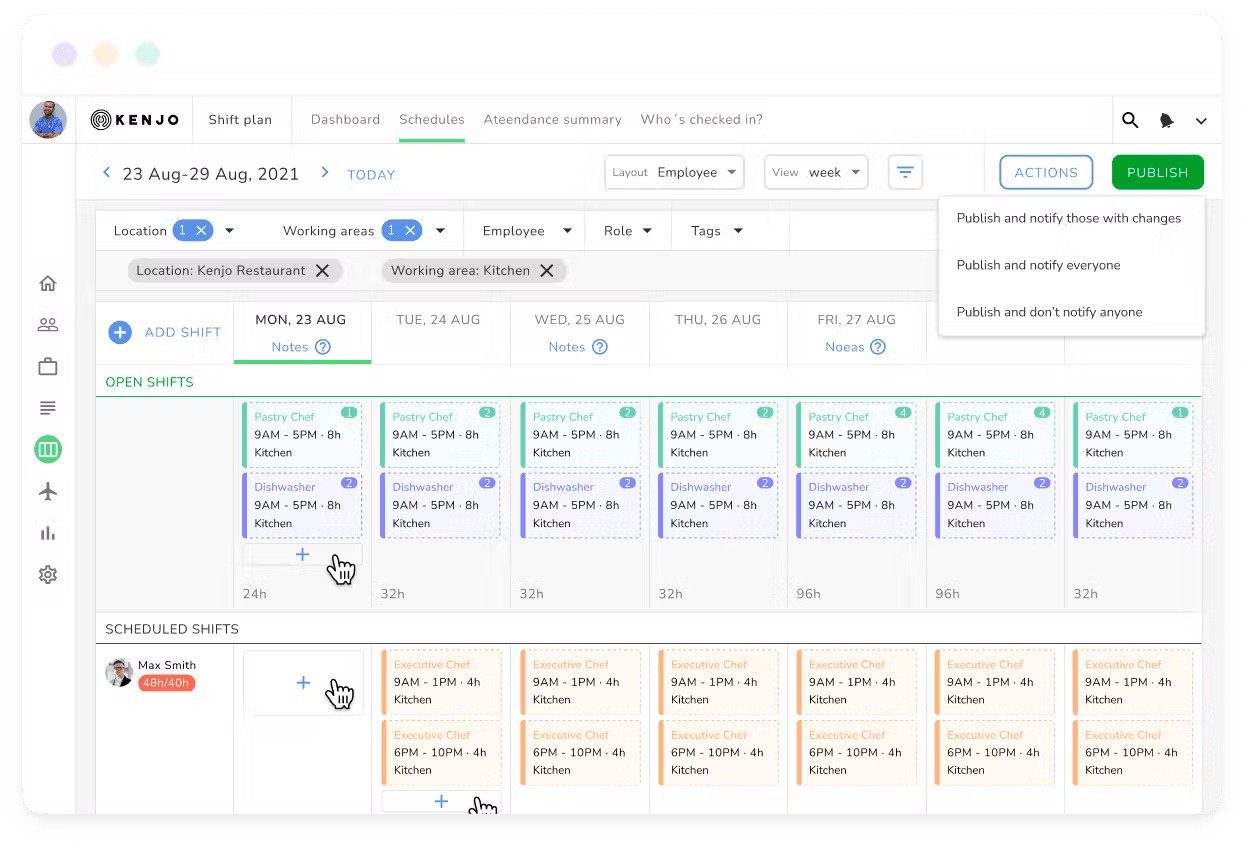 With Kenjo, you can plan customised workforce staff rotas by creating personalised shift plans with a simple drag and drop.
Other useful features that are included in Kenjo's software include:
Assigning employee shifts with just one click.
Switching between daily, weekly and monthly shift schedule views.
A filter system that allows you to filter for locations, employees, roles, working hours and much more.
The ability to create customised schedules for retail, automotive, hospitality, manufacturing industries, etc.
Pros


Deployment across multiple platforms, mobile, iOs, Web-based, Cloud, SaaS
Ease of use
Clear dashboard and fully implemented functionalities
Designed and built for the frontline workforce
Kenjo Pricing:
The software comes with flexible prices. The monthly plan comes with the following packages:
Workday
Workday is an all-inclusive software for employee, staffing, recruitment, and other HR purposes. The software comes with many features that compete with top similar apps in the industry. Its features are a payroll system, financial management, shifts, employee scheduling, a recruitment system, etc.
Workday Pricing:
Workday pricing is only available upon request.
Timesphere
Timesphere is a simple, online-based solution that claims to help you save time previously spent on schedule-related tasks in only a few clicks and through automation, no matter how complex your scheduling is. Timesphere ensures that business policies, pay scales, collective bargaining agreements, and employee requirements are strictly followed, as well as allowing for real-time worker communication via mobile access and SMS.
Timesphere Pricing:
Timesphere pricing is only available upon request.
Smart plan
Smartplan is a universal tool for a wide range of Employee Management operations.
It is built with a straightforward and user-friendly interface to help small and medium businesses with shift planning, attendance monitoring, and absence management.
Smart plan Pricing:
Cost is broken down into the number of employers in the firm.
15 employees — £24.00/month
30 employees — £34.00/month
45 employees — £44.00/month
Snap Schedule
Snap Schedule 365 excels in shift scheduling apps and allows for unlimited customization. It's built and priced for larger enterprises, and as a result, many small firms may find it too expensive.
Snap Schedule Pricing:
The cost of Snap Schedule starts at $450.00. There is no free version available. A free trial of Snap Schedule is available.
Humanity
Humanity is a well-designed shift scheduling application that is both flexible and user-friendly. Both managers and staff should find excellent mobile app integration and a variety of help and support options appealing.


Humanity Pricing:
Humanity offers customised pricing for users in three packages,
Starter
Classic, and
Enterprise
The best Shift Planning Software Comparison
Software

Languages

Price

Capterra Score

Free Trial

Kenjo

English


Spanish

German

5 € per Employee/per Month

4.3 / 5

Yes

Workday

5 Languages

Available upon request

4.4 / 5

No

Timesphere

English

French

Available upon request

4.3 / 5

No

Smartplan

5 Languages

Starting from £24 per month

-

Yes

Humanity

English

Available upon request

4.3 / 5

Yes