Lesson 2 - Why purpose is important for organisations, teams and individuals
12
MIN READ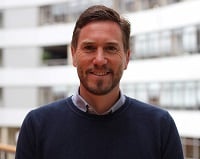 Alberto Gonzalez Otero

Different ways of driving your business
There are many reasons why you may want to start a business. It might be to follow your passion, solve a problem, challenge yourself, be your own boss, gain more flexibility, to make an impact, make money, etc. They are all valid reasons.
The reality is that making money is not the main reason for people to start a business. When you start on your own, or with a bunch of friends, money isn't usually the main driver.
Passion and purpose, along with the desire to make an impact top the list. The problems arise when those organisations start to grow.
You start adding people. People have different reasons for joining you.
You start involving other stakeholders and investors. They also have their own reasons for being part of your journey.
This combination makes it difficult to remember the reason why you started that business, and it can easily become all about increasing revenue and profit for the stakeholders.
The reason why you started your business in the first place gets diluted.
Research shows that more than 90% of purpose-driven companies deliver growth and profits at or above the industry average. Purpose-driven organisations are better equipped to overcome their challenges, achieve positive results and even grow, especially in times of crisis like the COVID-19 one we are currently facing.

According to Deloitte, innovation levels are 30% higher in organisations that have a clear purpose. At the same time, McKinsey shows that, historically, companies that invest in innovation during a crisis outperform their peers during the recovery, also by 30%. You can do the math.
All in all, it seems that no matter which situation your company finds itself in, being purpose-driven is the way to go.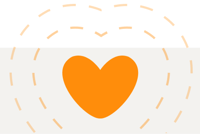 The influence of working to make an impact
A recent analysis of "purposeful" companies by the Corporate Board/EY Global Leadership Forecast reveals the most compelling financial evidence to suggest that purposeful companies outperform the stock market by 42%. It goes on to compare those who have a purpose statement but no more, who deliver average performance, and those who embed it in everything they do.
The report states that companies without a sense of purpose within their vision/mission, underperform the market by 40%.

Source: Development Dimensions International Inc.
Below are some examples of companies whose purpose is beyond making profit, organisations that exist to make a positive impact.

The Body Shop's motto is "Enrich, Not Exploit." It is committed to enriching its people, products, and planet. The company has several specific objectives:
Help 40,000 economically vulnerable people access work around the world.
Ensure that 100 per cent of their natural ingredients are traceable and sustainably sourced, protecting 10,000 hectares of forest and other habitats.
Build bio-bridges, protecting and regenerating 75 million square metres of habitat, helping communities to live more sustainably.

Patagonia's purpose is: "We're in business to save our home planet."
Patagonia is 100% committed to sustainability.
The company supports and is actively involved in numerous environmental initiatives while they remain transparent about their sourcing and production processes.
We saw one of the best examples of Patagonia's purpose-driven approach back in 2011. They ran an a Black Friday ad on the cover of the New York Times asking their customers not to buy their products. They shared their Common Threads Partnership programme to encourage people to repair, reuse or recycle instead.

In the 1890s, Unilever founder William Lever set the company's purpose as "making cleanliness commonplace." In 2010, the company went even further with their purpose to better respond to a world that was starting to exceed its capacity. "Making sustainable living commonplace" was their revised purpose. Unilever has three targets:
Improve the health and wellbeing of one billion people.
Reduce their environmental impact.
Source raw materials in a sustainable way while enhancing people's livelihoods.

Yes, you read it right, British Petroleum is becoming a purpose-.driven company and started this journey very recently when their new CEO Bernard Looney. So, what is BP's purpose?
It's the first thing you see in the "About us" section of their website: "Our purpose is reimagining energy for people and our planet. We want to help the world reach net zero and improve people's lives."
It's pretty clear and an impressive challenge at the same time.

Changing the way people live in cities. The Brompton bike was conceived as a product that increases people's sense of independence and sense of freedom, and this concept is still at the heart of everything they do. I'm the proud owner of a Brompton bike and couldn't be happier with it.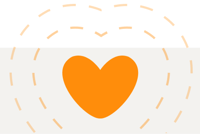 Employee experience
Probably, the most significant positive impact of being purpose-driven is the effect it has on employee experience.
An organisation that has a clear purpose and uses it as a focus for everything it does has an enormous impact on the entire employee lifecycle. This includes everything from finding talent, pre-boarding and onboarding new hires to employee performance, productivity, loyalty, retention, advocacy and even offboarding. If you lead by purpose, you will create a better and more efficient working atmosphere for yourself and your employees. The steps include:
1. Talent acquisition
Finding talent is probably one of the most difficult tasks businesses face right now. CEO's and HR people around the world even talk about the "War for Talent'' as companies compete to hire the best people for their businesses.
But some companies don't have this problem. Can you guess who they are? Purpose-driven companies.
Companies like Patagonia typically have thousands of applicants for each position they advertise. Why is that? When the purpose of an organisation is so clear, candidates whose individual purpose aligns with the company will want to work for them. Being purpose-driven means you'll be able to choose the best fit from a range of high-quality candidates. This without having to spend thousands on finding and convincing them to work for you.
2. Onboarding
Everything becomes easier when people know what you stand for as a company from the outset. Organisations who don't have a clear and compelling purpose need to spend extra time and resources to explain their values, mission, vision, etc.. to their new hires.
People joining purpose-driven companies already know that, which makes onboarding so much easier.
A study from Jobvite shows that 33% of new hires leave within their first 90 days. That's shocking! Some 88% of people say culture makes or breaks someone's experience. The best way to create a great company culture is to make sure they know why your company exists and the impact you are trying to make on the world.
3. Performance
Working with a purpose produces more motivated and energised employees. Currently, 71% of millennials report feeling not engaged or actively disengaged at work. But if you can create a situation where employees derive meaning from their work, it can change everything.
A recent Harvard Business Review study found that employees who derive meaning from their work have almost double the level of job satisfaction. They are also three times more likely to stay with their organisation to fuel business success.
4. Retention
Going back to Patagonia, founder Yvon Chouinard hired an external psychologist some years ago to analyse if the right brains were doing the right jobs in their company. After talking to many employees, the psychologist reported back to him and said:

This explains how a clear sense of purpose both at organisation and individual levels creates a strong bond that makes people want to work for you longer.
5. Customer Experience
A groundbreaking global study analysing the business value of brands with a well-understood "purpose" revealed that consumers are four to six times more likely to buy from, trust, champion, and defend companies with a strong purpose.
The "Strength of Purpose" study of 8,000 global consumers and 75 companies and brands was commissioned by New York-based Zeno Group, an international, integrated communications agency. Zeno surveyed more than 8,000 individuals across eight markets (United States, Canada, United Kingdom, France, China, India, Singapore and Malaysia), rating more than 75 brands on their perceived strength of Purpose.
The study reveals that when consumers think a brand has a strong purpose, they are:

Let's take a closer look at this what these numbers mean:
💎💎 Acquisition: every day, more and more people look at the impact a company is making before they buy from them.
For example, you can see this clearly in your local supermarket. Think back to ten years ago: how many organic products were available and at what price? Compared to the present time are there more organic products available? Are they cheaper? Think about companies' marketing strategies: how many ads do you see today that mention how their products minimise or make a positive impact on the world?
People want something more than just a product. They care about its impact and want to add their two cents to help minimise our carbon footprint, animal consumption, or just to help others.
Cone/Porter Novelli found that 66% of people, and to 91% of millennials, would switch to a purpose-driven brand. Also, 78% of consumers would recommend them to others, and 73% would defend them. Also, according to Fuse Marketing, 85% of Gen-Z are more likely to trust a purpose-driven brand, with 84% more likely to buy from them.
💎💎 Retention: Customers view purpose-driven brands as being more caring and, as a result, are more loyal to them.
Cone/Porter Novelli Research showed that 67% of people feel companies with a purpose care more about them and their families. Of these, 79% said they're more loyal to purpose-driven brands, and 73% said they would defend them.
Another 67% said they would be more willing to forgive such a company if they made a mistake. In light of this evidence, I'm sure you can see the impact of being purpose-driven.
💎💎 Advocacy: Have you ever heard of the snowball effect? Well, that's what you get when you are purpose-driven. Referral customers are the easiest to sell to and the ones who cost you less money to acquire.
Having a good product is key, but what makes the difference is how you treat your customers and what you stand for as a brand.
Take the example of Patagonia: I was at a meeting with the founder of a Dutch company last week, and we were talking about why he started that company because we were planning a series of workshops for his employees. I used Patagonia as inspiration for him to share his story. It was raining at the time (not surprising for The Netherlands) and I had my Patagonia raincoat with me, so I showed it to him.
Maybe I'm wrong about this, but I am 100% sure next time he thinks about buying a jacket, he'll remember our conversation, that logo and he'll go to check their products out.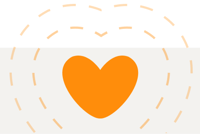 Profit and purpose
Many people think they have to choose between working to make a profit or for a purpose. They think you can't have the two of them at the same time. They are completely mistaken.
More and more companies are leading the way and showing how you can achieve both: make profits while making a positive impact on society and the world. The document below argues the business case for purpose, written by Harvard Business Review in collaboration with EY. Enjoy the read!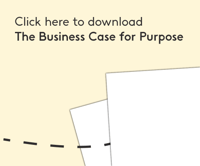 Check out the business case for purpose by HBR & EY for further information.

What's coming next?
Tomorrow's email will reveal how HR can ignite business transformation. You'll learn:
How HR can encourage others to lead by example.

How to share strategic concepts across the organisation.
So stay tuned!
To learn more about Kenjo's solution to increase employee satisfaction, click here. Grab a demo from Kenjo. We'll show you around, and you'll be armed with more info than when you started.
What to learn next
Previous lesson
The power of leadership transformation
Next lesson
How can HR ignite business transformation