We had the pleasure of talking to Anna Bertoldini, who's leading Glovo's, (a Spanish quick-commerce start-up), employer branding strategy. She drew from her past experiences and shared insights from her current role. It was a pleasure having an informative and educational conversation with her on employer branding. We hope you all can learn from her answers and get inspired to start employer branding initiatives at your organisations.
Why employer branding is important for HR
Anna defines employer branding as "the art of positively influencing internal employees and external candidates through authentically communicating your culture and values." She describes that this, in turn, shapes how internal and external people perceive an organisation as an employer. Employer branding is at the exciting intersection between Talent Acquisition, Marketing, and PR. Overall, she loves using storytelling and described employer branding as "telling the story of your company to internal and external stakeholders." By the way, a great employee value proposition captures your organisation's unique spirit and culture.
We now have a basic understanding of what employer branding is. However, we wanted to know from Anna why it is so important for organisations, especially HR departments to have an employer branding strategy. Anna knows that the biggest and most positive impact of any employer branding strategy is on talent acquisition and retention.
"Employer branding allows companies to attract the right talent that will succeed in their workplace. It strongly impacts the business as you can hire great talent that's aligned with your culture and avoid hiring talent that may not be a right fit for your workplace."
Anna Bertoldini, Glovo
This is especially beneficial as hiring and retaining talent is becoming increasingly harder and more expensive. For example, attracting and retaining millennials is the latest challenge in recruitment, highlighting that "this past year has been an interesting time for employer branding, it has been unique because of the pandemic. The type of messages an organisation sends through its communication and actions reflect on how candidates and employees perceive its brand now and in the future."
So, employer branding can help an organisation build their brand for the long run, which will help them attract and retain a constant stream of talent which should make the process less laborious and more cost-effective. Treating employees fairly and having transparency in communication is key to success and has a real positive impact on talent acquisition and retention.
Employer branding strategy at Glovo
Focusing on talent retention, internally, employer branding fosters a positive workplace that boosts employee engagement and aids in retaining top talent, even in difficult times like a global pandemic. Energised and loyal employees tend to stay and drive the success of an organisation.
"At Glovo, during the pandemic, we kept our employees engaged through virtual events such as e-classes, virtual team buildings, and we continued our traditional Culture Days virtually, in which we share business updates and major projects being worked on across the organisation."
Anna Bertoldini, Glovo


Transparent communication
"This facilitated transparent communication across our organisation. Hence, leveraging employer branding initiatives during challenging times is an effective way to keep up company morale and maintain employee engagement ." And this helps build trust, principally in a remote working environment.

Regarding the external importance of employer branding, "at Glovo, during this past year, we really focused on communicating our impact on the community, and how we supported our stakeholders and partners through our platform and logistics.
Translate expectations
There is often a gap between what employer branding portrays online to prospective talent and what the internal employees feel about the culture. It can be hard work to translate expectations of employer branding into the workplace culture. Organisations can bridge this 'gap of genuineness' by being "honest with employees and candidates about where you are now, where you will be and what you would like to achieve in the future" (in terms of workplace culture and opportunities).
According to Anna, transparency is key, and organisations should provide a true reflection of their culture and values. "Really show this by admitting what can be improved and what is being done to improve things", she added. Anna is also quick to point out that honesty fosters a human aspect to the brand, which people relate to much more. From her own candidate experience at Glovo, she reflects back on the positive impact the process had on her work ethic as recruiters were very transparent from the start about what challenges awaited her once she joined. They were clear about the current status of the employer brand project, the exciting and impactful work she would do, and what the company's goals and vision were for the future. This motivated her because she was able to manage expectations and was excited about the challenges ahead.
Don't be afraid of creating a unique work culture
She interestingly told us that "at Glovo, we have a non-vanilla work culture," describing how Glovo's culture is not for everyone (a little like "pistachio ice-cream"), as they move fast and take calculated risks, but those who do enjoy this type of environment thrive in it and ultimately drive the success of the organisation.
"This unique culture is the basis of our EVP. We aim to provide people with the job of their lives. At Glovo you'll find a non-vanilla culture which encourages new ideas and diverse perspectives, filled with talented people who aren't afraid to take risks and roll up their sleeves to help with projects outside of their scope of work."
Anna Bertoldini, Glovo
Being aware of what differentiates your culture, and knowing that it's not for everyone is crucial in hiring the right people for your organisation. Beyond that, owning your unique culture through your employees is vital for a healthy work environment.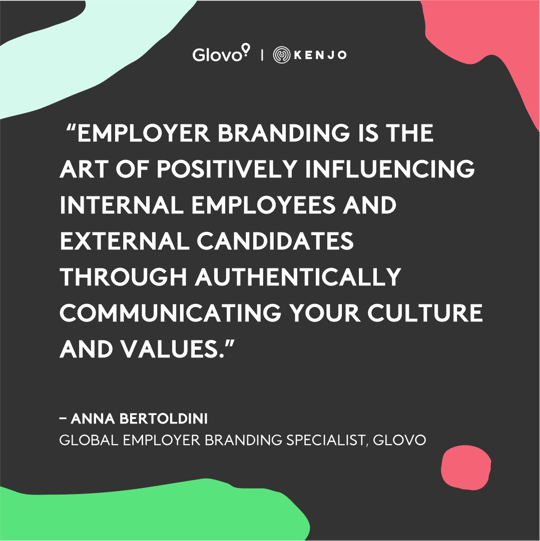 Common misconceptions of employer branding
While establishing a workplace culture is important for an employer branding specialist, others seem to fail to understand its point. A common misconception, for example, is that companies don't really need to focus on their employer brand. She highly disagrees with this because "every company does need one in terms of strategy or activity to be a great place to work at and for their talent acquisition."
Measuring the KPIs of employer branding is not only an important task for any HR manager, but also there are indirect and direct means of tracking its influence on the processes of the organisation.
Some examples of direct KPIs for employer branding include the "number of applications for a job, conversion rate from paid hiring campaigns and engagement rate on social media." Her examples of indirect KPIs were "reduction in time to hire, quality of hires, and reduction in talent leaving costs or attrition rate."
On that note, let's not forget that employer branding is not only for big companies. Anna emphasises that regardless of the size of the company, organisations need great talent to keep growing and maintaining a healthy bottom line. This is especially harder if they are in competition with bigger, more established companies. Hence, smaller companies need to get their brand out there and can do so on any budget. And targeted employer branding initiatives can greatly help them with this.
Employer Branding on a Budget for SMEs
Employees as brand ambassadors
To Anna, 'employer branding on a budget' means to firstly, look inward to your employees and empower them as brand ambassadors. Keep up with employee engagement, start encouraging more employee advocacy, and communicate your culture and values online through social media. This is a low-budget and almost free way to get your employees excited to tell their stories and to share your brand with the world.

Looking at Glovo's Instagram (@lifeatglovo) it's clear what she's talking about: employees share their pictures, quotes, and stories about their career and projects they have worked on. She also found out that perfectly crafted videos do not do so well online. The more amateur and real the content, the more authentic the message. This style of communication resonates a lot more with people than perfectly curated and staged content.
Consider the audiences' expectations
Secondly, she suggested being strategic with your content strategy if you do not have a large budget to promote to wider audiences. Anna recommended focusing on defining what's relevant for your target audience and how you can develop content around that looking inwards. For example, to keep scaling Glovo's engineering brand, she leveraged Glovo's 'Glovo Tech Talks' Meetup group. She invited engineers and tech professionals at Glovo to have a chat with them, ask them about the projects they were working on, and get them to share their stories. She grew this by inviting external guests to participate in the discussion of trending tech topics. This initiative ended up being successful in giving back and inspiring the developer community at Glovo. It also showed that the company catered to the audience and employees' needs for more visibility on cool tech projects and tools at Glovo.
Analyse the lifecycle of an employee
Analysing the lifecycle of an employee is often overlooked by marketing but is incredibly important for employer branding. After all, "identifying each contact touchpoint with a candidate going through recruitment and onboarding, and improving this experience results in positive word of mouth growth for an organisation's employer brand which can be leveraged for social media."
Communication Style
Employer branding is a multi-faceted role for any HR expert, and effective communication is a part of her role.
"Setting up a culture of cross-functional collaboration and open communication is key to setting up a successful employer brand team, as we often seek internal partnerships with different departments to align on a common message and visual identity."
Anna Bertoldini, Glovo
The success of her employer branding function and strategies come from when they are aligned with the goals and targets of other teams that they collaborate with. At Glovo, she communicates with a variety of teams such as Marketing, PR, Branding, Public Affairs, D&I, Internal Communications and coordinates expectations from the start. This way, everyone is on the same page before embarking on a big project.
Employer branding and HR software
At Glovo, they are all about tech-enabled experiences and expressed that in general, "a powerful HR software can be a real game-changer to improve people's experiences." She personally uses a social media management tool and collects data on campaigns and from the ATS software she uses. She vouches for automation because it allows for more time to be spent on important tasks.
Whether you're looking to implement an employer branding initiative on a budget or hire an employer branding specialist, we hope Anna Bertoldini's answers will help you with this process.
To continue learning more about how to leverage digital processes to drive success in your HR department, read the following blog posts. Discover Kenjo's features through our 14-day free trial to improve your employee experience and propel your organisation's growth.
Read more on this topic here:
Anna Bertoldini is the Global Employer Branding Specialist at Glovo, where she is leading the company's employer branding strategy. She's a globally experienced professional specialised in brand strategy, employer branding, marketing communications, and content management and development. She has worked in Fortune 500 companies such as Disney, Intel Corporation, and BlackRock, where she learned what makes a good brand story and how to localise it across different cultures.
You can learn more about Anna through her profile in English and in German and read her articles on her blog, The Restless Banana.