Time and attendance systems have multiplied since European employers were obliged to keep records of workers' time and attendance in 2019. Essentially, its up to the company to decide which solution they adopt from the many that exist on the market.
How can you tell which system best suits your needs? We analyse the different tools below, to help you decide which best suits your organisation's needs.
Tools authorised under time and attendance laws
On 12 May 2019, companies across Europe were obliged to keep records of their workers' start and finish times. This measure was introduced in the European Working Time Directive, with the objective of "establishing whether the maximum weekly working time – including overtime – and minimum daily and weekly rest periods have been complied with, and to ensure better health and safety of workers"

In the UK, time and attendance laws are governed by the Working Time Regulations, which have not yet been amended in accordance with the European directive. How the UK will approach this will largely depend on its relationship with Europe after Brexit. However, UK employers are required to keep records of some employees' working hours, including those who have opted out of the 48-hour weekly maximum and night workers, among others. The main points outlined in the Working Time Regulations are currently as follows:
Employers are obliged to "keep records which are adequate to show whether the limits specified in regulations 4(1) and 6(1) and (7) and the requirements in regulations 7(1) and (2) are being complied with in the case of each worker employed by him in relation to whom they apply and retain such records for two years from the date on which they were made".
The recent COVID-19 crisis, however, has considerably changed the way many UK companies have operated, with millions of employees having to work from home.
This has increased the need to monitor the number of hours employees spend working from home. And from now on, remote working will most certainly become more common in the future.
These regulations, however, make no reference to the time and attendance systems that companies should use. So, it's up to the company to choose which system best suits their needs to ensure they comply with any legal objectives.

And considering the recent rise in remote working, employees need these systems more than ever to ensure smooth communication, that employees continue to be productive, and to guarantee their health and well-being.
The most popular time and attendance systems
This is a software or mechanism that is used to supervise and record employee start and finish times. Their purpose is to record the number of hours worked by each individual, their punctuality and register incidents that may arise during their working day.

There are now many types of time and attendance systems available, and especially after the 2019 European Decree: from sign-in sheets, which is the most traditional method, right through to highly sophisticated biometric systems.

Considering that companies can choose which time and attendance systems best suit their needs, let's start by taking a closer look at their advantages and disadvantages.
Excel templates
Excel templates, both physical and digital, have been widely adopted by companies to track employees' working hours. The employees themselves have to sign and tick the corresponding boxes when they start and finish their working day.

While it's a very practical and cheap solution, Excel templates cause a range of problems for the human resources department.
In the case of physical documents, for example, every single sheet needs to be stored in a safe place for at least two years in the UK. This not only takes up space, but there's also a high risk of losing them.
Excel templates also contain formulas that need to be constantly checked to avoid confusion and mistakes.
This system isn't compatible with remote workers or those that spend much of their time away from the office.
Time and attendance software
Time and attendance software is an IT platform that can be accessed via a computer, tablet or mobile app for time attendance, and which employees can use to register their start and finish times. They are normally available in paid plans and the rate normally varies depending on the number of employees or users in the company.

Some solutions that are available on the market offer features that enable us, for example, to determine an employee's workload, manage time off, get real-time data and create automatic reports in just one click.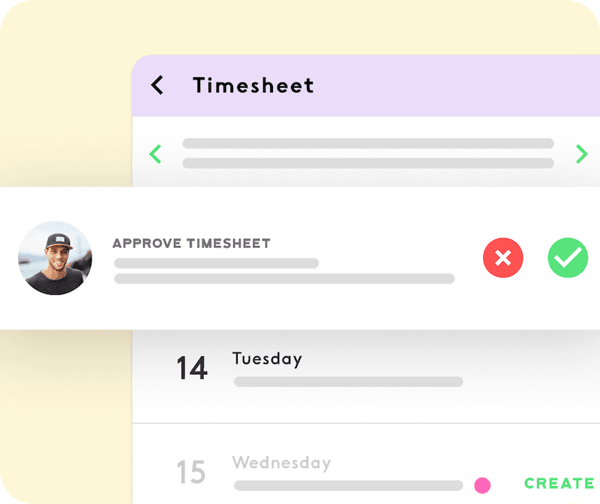 In other words, a time and attendance software not only records and stores employees' working hours, but also offers a series of extra features that can be extremely helpful to a human resources department.
Some of the advantages worth mentioning are:
Accessible from any device.
Easy, fast, and convenient clock-in and clock-out.
Extra features, such as absence management software.
Real-time information and reports.
You save money as you only pay for the people who use it.
On the downside: it's a self-management too,; or rather, the employees themselves provide the information which can lead to certain mismatches with reality.

→ When looking for a software, we recommend you choose one that offers you:


Clock-in and clock-out features.
Cloud-based technology that can be accessed from anywhere.
Personalised reporting to obtain detailed information.
Absence and leave management.
Integration with biometric systems.
Mobile app for remote workers.
Intuitive and user-friendly design.
Integrations with calendars and messaging apps, etc.
Notifications and alerts.
Clock-in machines

Clock-in machines have been used in service sectors or industries for many years, to monitor working hours and calculate overtime. They were the most commonly used time-tracking systems until technological and modern systems and alternatives emerged.

This system is now considered obsolete. They need to be physically installed and represent a financial investment that, with the other options that exist on the market today, no longer makes sense. Even so, some companies still use them through companies such as AccuTime or Time Systems UK.

Apart from that, they don't meet the needs of current work dynamics which are predominated by flexible and remote working. Normally, the machines are physically located onsite at a company and employees have no choice but to clock-in in person.

So, the disadvantages are:
A high financial cost.
Inflexible.
Lack of security (anyone can clock-in or use your card).
Not appropriate for SMEs or startups (due to their cost).
Biometric systems
Biometrics are probably the most sophisticated of all the different time and attendance systems. Biometric control monitors employees as they enter and leave the company by their fingerprint, iris, pupil or facial recognition, etc. It applies mathematical and statistical techniques about physical traits to verify someone's identity.

Fingerprint recognition systems are not currently recommended, however, to avoid COVID-19 infection. While the UK government has made no specific announcements on the matter, there is a growing concern around the world that such systems pose a risk to employee health. For example, US-based non-profit newsroom, The Markup commented on this in a recent article: "With the global outbreak of COVID-19, your personal health could be at risk when using frequently touched screens and fingerprint scanners. The Centers for Disease Control says that coronavirus can remain on surfaces for hours, so screens and scanners should be regularly disinfected with cleaning spray or wipes. And you should wash your hands for 20 seconds or use alcohol-based hand sanitizer immediately after using one."

This kind of solution are common in companies where security is extremely important as they guarantee that only authorised personnel can enter the building. We could say, therefore, that this is their main advantage. On the other hand, the high costs involved are a major drawback.

Discover Kenjo's time and attendance software
Having looked at the advantages and disadvantages that the different time and attendance solutions the market has to offer, Kenjo's time and attendance software is the most logical option that adapts to most companies' needs.
Kenjo, the all-in-one HR platform offers time and attendance features that enable all companies to comply with legislation, as well as looking after their employees' health. Our software was designed to offer employees and people management teams a totally comprehensive experience:
Accessible via a desktop computer, tablet, or mobile app.
Fast and easy clock-in and clock-out features.
All records are safely stored in the cloud.
The HR team can see every employee's working hours, at a glance, as well as keep an eye on overtime hours.
You can create reports and weekly or summaries.
With Kenjo, keeping track of your employees' working hours will be so much simpler, and you'll have all the information you need to make better decisions for your organization, at your fingertips.