External recruitment continues to be the go-to option for most companies, not least because it opens the door to a broader range of professionals, who bring with them their experience from other businesses.
In this article we will look at how it differs from internal recruitment, the advantages and disadvantages of this model, different options for sourcing talent and some tips for optimising the process.
The definition of external recruitment
In external recruitment job vacancies are filled by hiring professionals that are not part of the company. In other words, by looking for candidates on the market.
There are different ways to approach recruitment:
Advertise the vacancy internally and allow interested employees to apply.
Ask human resources or the department manager to preselect a candidate shortlist.
Create a succession plan to establish which people can apply for the position.
Analyse the database and the expertise and skills within the company to find the best candidates.
The company should carefully assess the positions they have available and choose the best method to find the perfect candidate. At this point you will need to decide, for example, whether to opt for external or internal recruitment.
External recruitment vs internal recruitment
So how does external recruitment differ from internal recruitment? As you may have guessed, the clue is in the name.
The first, as we have said, involves hiring a professional from outside the company, while internal recruitment selects candidates from among the current staff. Instead of advertising the vacancy on a job portal, human resources will announce the opportunity internally for employees to apply.
A 2019 report, cited by Empire Resume, found that around 80% of new hires came from external sources, while only 8% of vacancies were filled internally. However, internal candidates were more efficient in the medium to long term.
The advantages of external recruitment
External recruitment offers certain plus points over internal processes:
External recruitment has a higher conversion rate: this method attracts a wide variety of candidates with different abilities and skills, thereby increasing the chances of finding the right person for the job.
Better quality candidates: an external recruitment campaign means the recruiter can select the best candidates. It has a much wider reach, often resulting in better options to choose from.
Improve the company's growth prospects: in external recruitment the candidate is expected to grow and develop, but so can the organisation itself. When we hire a candidate with lots of potential, we are also betting on the positive impact their results will have on the company. At the same time, it may also spark extra effort from the rest of the workforce.
Import new perspectives and ideas into the company: external candidates have different work experiences and varied expertise. Hiring them means gaining insight into new practices, understanding the competition better, etc.
Encourage diversity: a more diverse global workforce gives companies access to a wider variety of skills, experience and expertise that can improve their day-to-day processes. Using a number of external recruitment sources can expand the range of professionals within the organisation.
The disadvantages of external recruitment
At the same time, like with any process, it is important to realise there are negatives to take into account to judge whether it is the right option for us:
A greater risk of making the wrong decision: an external hiring process open to anyone and everyone will attract a higher percentage of unsuitable candidates. Furthermore, as they are an unknown quantity, it increases the chances that the recruiter will make the wrong choice.
Higher costs and more resources: external recruitment usually means greater investment in resources (especially time), which multiplies the costs. The hiring manager has to advertise the vacancies on different platforms, screen the potential candidates, contact them, hold interviews, etc.
It takes longer to fill the position: one of the main disadvantages of external recruitment is that it takes much longer to find the perfect candidate. The selection process is more complicated, leaving the position open for longer.
It's more likely the employee may not fit into the company or the position: sometimes new employees find it more difficult to adapt to the environment and position. When we've not made right choice, and there is a lack of understanding between the worker and the organisation, it's not uncommon for the employee to abandon ship, and force the company to begin the recruitment cycle once again.
How can our ATS software help with your external recruitment?
Kenjo offers you an all-in-one solution for your external selection processes. What can it help you do?
View and visualise details of the selection process from a single platform.
Integrate LinkedIn and the key job portals to advertise vacancies simultaneously and manage candidates easily.
Effortlessly review all the CVs from our CRM and filter according to the agreed selection criteria.
Automate and personalise communication with candidates to keep them informed on the status of the selection process.
Organise the hiring process on a Kanban board to track what stage each candidate is at.
Create a detailed record of every professional profile and set an overall assessment guide to allow you to objectively compare their potential against the rest.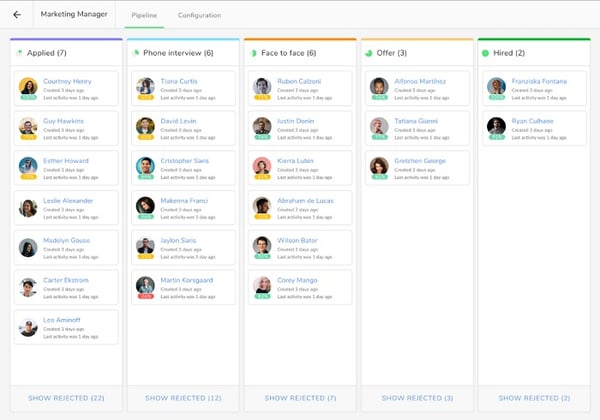 Kenjo Interface
Kenjo's recruitment software can mitigate the impact of the disadvantages of external selection processes: a lower risk of making the wrong choice, automated processes to reduce the cost and find good candidates more quickly.
The main external sources of recruitment
External sources of recruitment include the various means available to the human resources department to find new candidates.
External recruitment specialists usually opt to use multiple sources, although it can be tricky to manage without the support of integrated selection software.
We'll review a few of the most common sources below:
Job portals
One of the most common recruitment sources are third-party job pages or portals. These can be divided into the generic portals, that companies advertise on to reach a higher number of candidates, or portals specialising in a certain type of profile.
However, it's important to note that 76% of candidates prefer to apply to vacancies directly from the company's job page.
Jobs webpage
Your website should include a "Jobs" or "Work with us" section, where you advertise current opportunities. As we saw in the previous point, many candidates prefer to apply via this route.
Moreover, having a page with these features will enhance your employer brand and help you rank higher on search engines.
Social networks
LinkedIn is an excellent recruitment tool. It is the top professional social network and has more than 600 million users connected. Sharing your job vacancies via this channel should be almost mandatory.
You can also make use of other sites such as Facebook, Instagram or any other social network where you have a presence and an active community.
Job fairs
Job fairs offer a space for companies, normally within a specific sector, to meet talent and vice versa. This format is common, for example, among developers, IT technicians, engineers, etc.
Participating in these types of events provides the opportunity to hold an initial meeting with candidates, get to know them in person, and start to assess whether they might have what you are looking for.
Recruitment agencies or headhunters
Another source of external recruitment are the agencies or headhunters who carry out the selection process for you. Normally they will provide a shortlist of candidates that have already been screened.
Jobs boards
Many universities and colleges have job boards that professionals actively looking for opportunities can sign up to. They are particularly useful if you are looking for mostly young talent.
Temping agencies
If it is a temporary vacancy, you can also use temping agencies that have their own database of professionals looking for work. It's a quick and simple option for certain cases.
Adverts
Although print job adverts are now practically extinct, they were for many years a company's main source of external recruitment (especially before the internet existed). Nowadays they are rarely used, but they can be an option depending on the profile you're looking for.
5 tips for improving your external recruitment
If you are looking to optimise your external recruitment processes, make sure to take note of our tips:
Use an applicant tracking system (ATS):

this software allows recruiters to track applications from start to finish and automate communications, resulting in time savings and a better candidate experience.

Include the essential requirements in the job description: when writing a job advert keep it brief and only include the essential requirements. According to Forbes, women are less likely to apply for a job when they don't meet 100% of the requirements, compared to 60% for men. Including unnecessary details could reduce your options and prolong the search.
Prioritise communication with candidates: if candidates feel they are not being kept in the loop, it will only serve to distance them from your company and into the arms of the competition. Try to keep in touch with them, even if it is only to say that there are no new developments. Many are likely to have a number of ongoing selection processes at the same time and if they don't hear from you they may decide not to wait.
Identify where to find your ideal candidates:

knowing where to look for your perfect candidate is the first step to streamlining and centralising the search process. If, for example, we are looking to fill junior positions, it would be appropriate to use social networks or consult job boards to connect with them more easily.

Make sure the company culture forms part of the process:

yes, the candidate needs the necessary expertise to do the job, but they also need to identify with the company mission, vision, and values. In other words, the culture. If not, they may not fit in and we may find ourselves looking for their replacement.