At Kenjo we closed a Series A investment round of 8.8 million euros led by Hi Inov with the participation of Lightbird and Innovation Nest, as well as previous investors such as Redalpine and The Delta. Wolfgang Krause, Managing Partner of Hi inov, has joined the board of Kenjo.
This investment will allow us to strengthen our presence in the European market with special emphasis on the southern area and the DACH region (Germany, Austria and Switzerland). It will also solidify our expansion in LATAM which began in 2022 with the creation of a team in Mexico.
This series A investment will also consolidate our position as a market leader in HR software for frontline workers in small and medium-sized companies in sectors such as manufacturing, retail, transport and logistics and healthcare. Moreover, we will expand our suite of digital solutions to streamline the management of HR departments.
A commitment to boosting the HR area
At Kenjo we offer an 'all-in-one' software designed to reduce the number of administrative tasks in the HR area and make it easier for companies to comply with labor regulations in different countries. To do this, we provide companies with solutions focused on optimizing the most important HR processes such as attendance control, vacation and absence management, payroll, shift planning, data analysis or performance evaluations.
David Padilla, CEO and co-founder of Kenjo, said: "This funding round will allow us to continue to make progress in our product innovation and solidify also our commitment to supporting HR managers."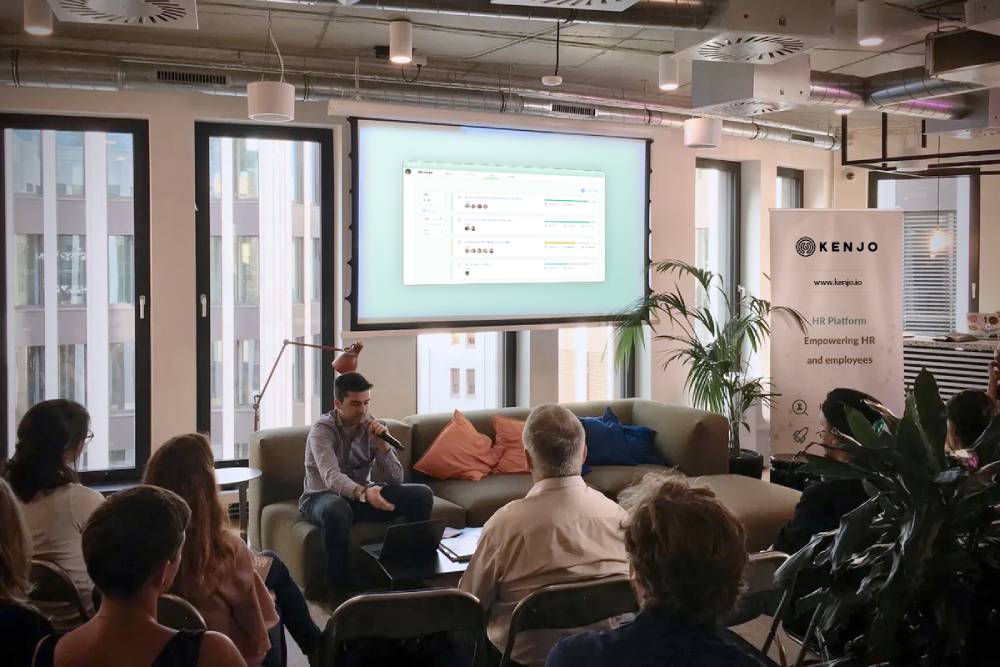 David Padilla, CEO and co-founder of Kenjo, during a presentation
"The fundamental role HR teams play in driving growth and organizations is often overlooked. We believe it is essential that they have the technology and resources they need to be more efficient, thereby improving company culture and employee development."
Wolfgang Krause, managing partner of Hi Inov, said: "We are excited to work with the team, are impressed by its achievements so far and are pleased to add Kenjo as our first investment of our new fund Hi Inov 3, which we closed during this summer. This shows our commitment to supporting promising teams in Germany, France and Benelux."
Kenjo ha offices in Madrid, Berlin, Zurich and Mexico City, as well as a client base of more than 1,000 companies with between 20 and 500 employees. Kenjo's board also includes Julian Teicke, CEO of Wefox and Noor van Boven, Co-founder of Invested and HR expert having led this area in companies such as N26, SoundCloud and TomTom
What is Kenjo's mission and vision?
At Kenjo we have a clear mission: to provide companies with the right technology and knowledge to manage and grow their frontline employees. We want to streamline their internal communications, with easy access to data and recruitment according to the current labor regulations of each country.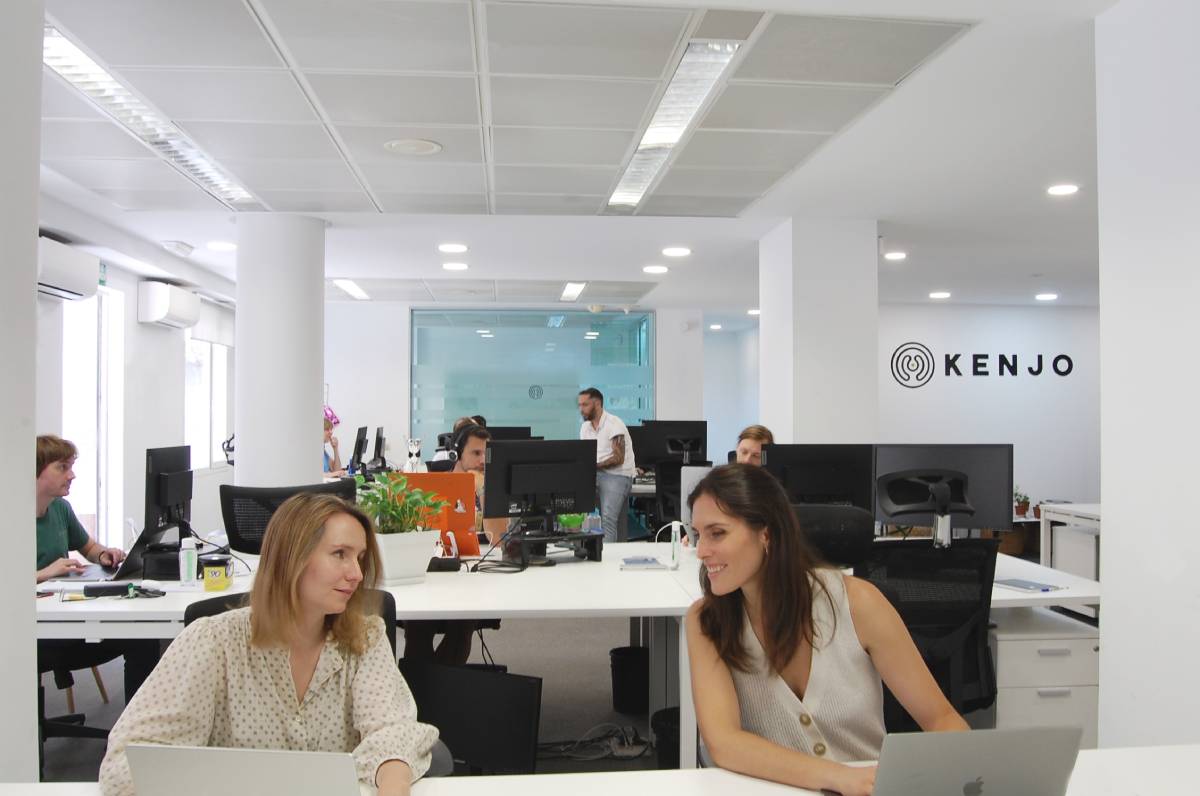 Kenjo's team in the Madrid office
We believe that it is possible to create a work environment in which HR departments become a key part of organizations to drive growth and to improve the culture and well-being of employees. Thus, with Kenjo admin tasks and compliance work become effortless freeing up valuable time and space to create a more human-centric work space.
Overcoming the HR challenges with Kenjo
We are aware of the HR challenges faced by companies in sectors such as manufacturing, retail, health, tourism or transport and logistics. Staff shortages, absenteeism, shift planning, high turnover rates or remaining compliant are just some of them. thus, we offer solutions specifically designed to overcome these challenges:
Advanced recruitment software: easy and agile hiring of candidates to optimize the recruitment of qualified talent.
Shift planning software: digital organization and shift planning with assignment based on availability.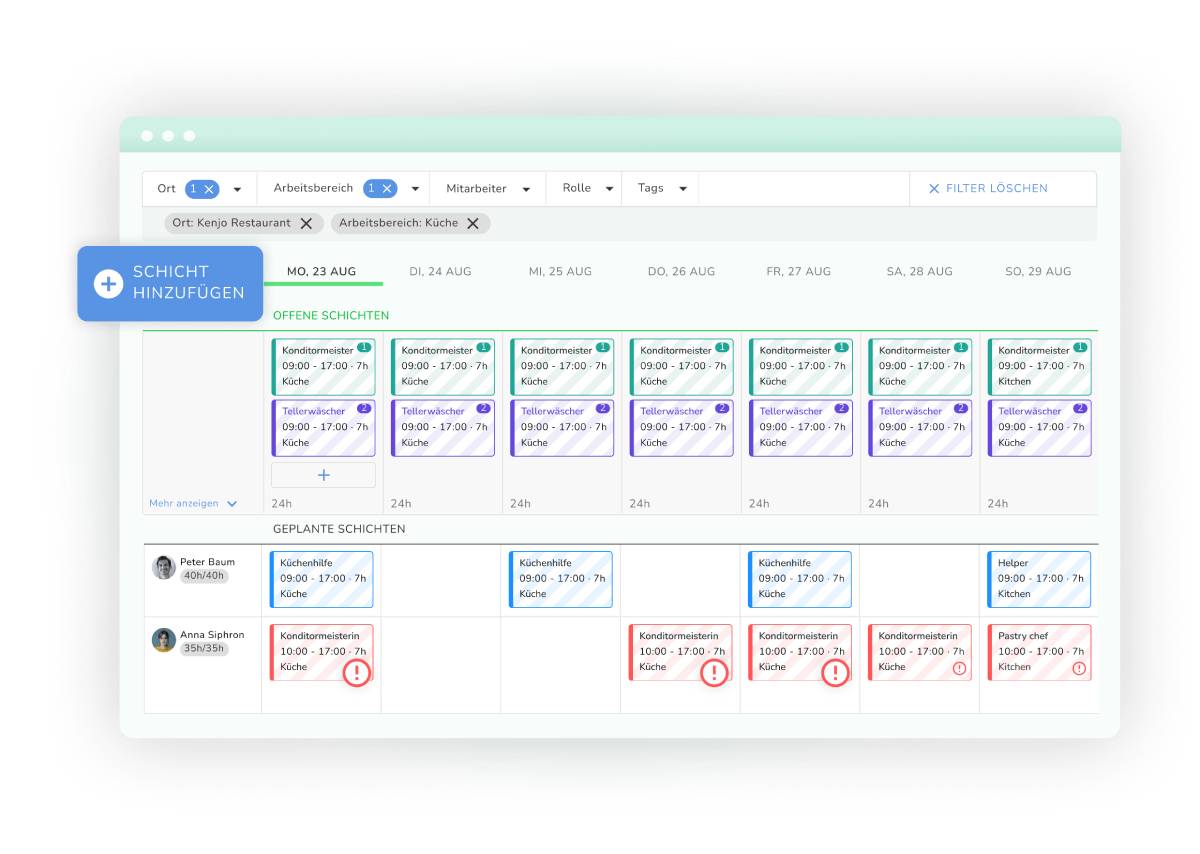 Kenjo's shift planning software interface
Time and attendance software: overtime and attendance tracking for better workload management.
Performance evaluation software: structured and effective employee performance evaluation to drive employee development.
Data analytics software: analysis of the most important HR KPIs and creation of automatic reports.
For more information about Kenjo do not hesitate to contact us. If you want to join our team, take a look at our job offers!