Diversity and Inclusion is an important term that is sweeping the HR world however many struggle to implement effective diversity and inclusion programs in their workplace. It is a long-term undertaking that requires resources, time, and effort on everyone's part.
When done right, its outcomes can be exceptional, not just for the organisation but importantly for the individual employees. We have interviewed German D&I consultant, Floria Moghimi, to help our human resources community understand how to promote diversity and inclusion in the workplace.
How would you define Diversity and Inclusion and what are the differences between these two terms?
Diversity is the visible and non-visible commonalities and differences that people have with each other. This includes age, disability, sexuality, gender, race, ethnicity, religion, belief, and social background. They are some of the most important aspects that make up our personality.
Inclusion means creating an environment where people with all identities are heard, seen, and valued. It is an environment where there is equality of opportunity. It is about creating access and distributing resources so that equity can succeed. In companies, this means defining processes, policies, and structures that enable people to be themselves and to feel safe in order to participate and share their ideas.
The goal is to dismantle structural and institutional discrimination so that individuals can develop and grow.
When and how did you start your D&I journey?
'Journey' is a good word in this context because I believe this is a lifelong journey. For me, there is no one starting point where I personally began this journey.
As a woman of colour, I was born into structures that were not designed for me. Of course, that has an impact on me! I studied politics after high school because I have always been interested in how the world is interconnected, who the decision-makers are, how they act, and how social movements are formed. In the gender narrative, I started out by believing that it did not concern me at all, however, now my perspective has changed.
But my time in the working world, across various large corporations, taught me otherwise. And so I decided to found a company to actively work against discrimination and for equal opportunities using my knowledge and skills.
What are the differences you saw between Big Corporations and SMEs in the way they targeted D&I?
The main difference is the financial resources: many large corporations have D&I officers and some even have entire D&I teams. This is of course also necessary, but is still rather rare in DACH and Europe, apart from the UK.
Despite us being in an era of transformation, D&I departments are still too small and underfunded. Small and medium-sized enterprises very rarely invest in D&I and hardly have any colleagues who specialise in this role. Yet it is important for SMEs to do D&I work in order to be competitive and to attract talent even in remote and rural regions.
What is 'Unconscious Bias'? Please give us an outlook and three main ways on how to overcome them to build a better workplace culture.
Unconscious biases are implicit attitudes based on social stereotypes that influence our behaviour. For example, imagine a developer. What kind of person spontaneously appears in your mind for this role? In most cases, it is a white, cis-male, non-disabled person, around 30, perhaps wearing a hoodie having a casual style.
If we were now in an application process, this person would be evaluated positively on the basis of his or her identity alone. This is because the confirmation bias ensures that we automatically conform to existing assumptions rather than refute them. This group structurally dominates the entire tech industry, which makes it easier for them to be positively evaluated. For example, a queer Black woman with a disability would be harder to find in the tech industry.
That happens unconsciously, unfortunately, if we don't question it. And this is highly problematic because it's how discriminatory systems keep reproducing themselves.
What are the main barriers to D&I initiatives you have come across in Germany?
Overall, too few companies have yet recognised the value and necessity of D&I. This will definitely be a competitive disadvantage sooner or later. For many people in Generation Y and Z, a D&I program is an important decision criterion when choosing an employer.
Then there are companies where D&I initiatives are definitely taking place. Unfortunately, most of them still lack clear strategy and goals, don't have enough of a budget and in addition, usually, the employee in charge voluntarily signs up for the role. It is obvious that this cannot lead to success in D&I in the long run. If you are interested in building a D&I strategy watch this education video we created with by Dr. Aditi Raghuram, organisational psychologist, workplace well-being & DEI advisor, and coach.
How do you think companies in Germany can deal with these blockers?
Companies should learn that diversity means equalising justice and that it is their responsibility to act on this. Thus, long-standing and ingrained ways of thinking and structures have to be questioned and sustainably changed.
It is time to break down these systems in companies by looking closely at where discrimination is taking place. It has been proven that this process leads to positive change for all. For example, establishing a corporate culture that provides opportunities for all, where all voices across different positions are heard and valued, and a place where people feel like they belong. These are incredibly valuable traits of a company culture that directly impact the success of the organisation.
What are the top 5 tips you would give companies in Germany and Europe on fulfilling their D&I mission i.e. turning words into actions?
For me, the first and most basic requirement is that people in senior positions are open and willing to work on power structures. Starting with individuals through education about privilege and following on in groups through organisation-wide dialogue to share this power.
Secondly, investing time in D&I and setting up a team that works closely with the C-level. Thirdly, of course, this requires an adequate budget to develop the various strategic measures and goals.
Fourth, a good D&I strategy is based on data and a clear vision and mission - with the necessary flexibility in implementation. And fifth, it is important to create accountability and commitment. For example, D&I targets could be linked to management salaries, or key management positions could be filled by people with different marginalised identities - Black women, queer people, people with disabilities.
By the way, we talk about D&I in our latest newest free online HR course on learning and development. Professor Aditi Raghuram, who specialises in D&I explains the link between learning and development and D&I. You can find the link to download the course here.
About our interviewee: Floria Moghimi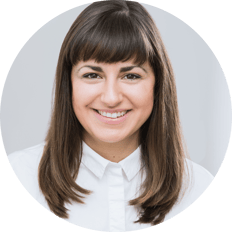 Floria Moghimi is a Diversity & Inclusion Consultant and works with clients from innovative industries. She previously worked in internal and external communications for major international corporations (KPMG, Deutsche Post DHL). She is particularly good at simplifying complex things and seeing the essentials. And because identities are also multidimensional and complex, she thinks and works hard on intersectionality. With workshops, audits, and analyses, she helps formulate and implement suitable D&I strategies. She also loves to be present in the digital space: with her blog and the management of the largest German D&I group on LinkedIn.