This interview is truly special for us because it's being made to Goodpatch GmbH, one of our clients, a Japanese / German company whom we have helped with the digitization of its human resources department. Sandra Wulff, her Human Resources director for the last 3 years, is a great professional who has agreed to share with us advice on team internationalization, remote work management and her experience facing the COVID-19 crisis from an HR point of view.
How many employees are in the company?
We have 31 employees in Europe and over 130 in Tokyo. Generally speaking, people work either from our office or from our client's office, and only occasionally work from a home office. We consider remote working more of a perk, to make life a little easier.

When did you implement remote working?
Flexible, remote working has been a part of our culture since I joined the team three years ago. We were only 15 people at the time and things were largely based on trust. We have the rule that everyone can work remotely three times per month and only once per week, but we usually work something out in exceptional circumstances.
Anyone wishing to work remotely must inform their team at least one day in advance, and the client always comes first. When we say, "work from home," it doesn't mean stay home and have fun, but rather a change of scenery assuming the quality and output of work remains the same. This only works when there is a high level of trust among the team, which we fortunately have.
Which tools and methodologies does your HR team use on a daily basis?
When I started at Goodpatch I was used to heavy email communication, but I quickly learned that my responses were much more reliable via Slack. As a company, we communicate almost exclusively through Slack, whether for personal messages, company-wide announcements, or project-specific communication. This also works very well for us since we often have to communicate and share information with our Tokyo colleagues.

We also use Zoom for video calls, whether they are internal or external, e.g. client calls, first interviews. With so many colleagues travelling and a chunk of the team based in Munich, we often have team meetings that include many "remoties," as we like to call them, calling in from their respective workspaces.

As a company, we use G Suite products to organise and share documents. Our designers like using collaboration tools like Figma and Whimsical.

Since we have so many people moving around, we use Kenjo to keep tabs of who is on holiday, who is off sick, and most importantly, who's having a birthday or work anniversary. Kenjo also allows us to store important employee documents, like contracts and payslips, and make them readily available for both HR and employees.
We started to use Kenjo as a recruiting tool and it made our administration work much easier. Job offers can be created and placed on different platforms, but the application button is linked directly to our Kenjo recruiting page. An automated response is sent to all applicants, and the HR team can follow up with a more personalised approach.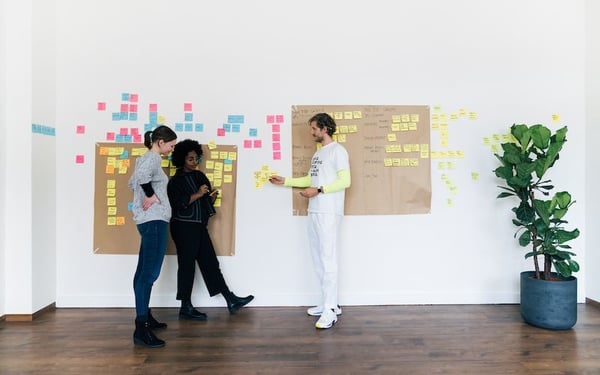 What did the HR team do to mitigate the COVID-19 crisis within Goodpatch?
I think in times like these, there is always an element of uncertainty, so all we can do is try to keep the team informed with the facts. That also means, of course, that we keep an eye on the news and are updated on what's happening. We are still a relatively small company and as the only one responsible for HR, I am also part of the core management team. We meet regularly to discuss updates and have spent a lot of time the past few weeks figuring out how best to deal with the obstacles that COVID-19 creates.

Our Tokyo team went fully remote the week of February 17 and as a team of 130, the transition was a bit more complicated to organise. In Europe, we decided to go fully remote earlier this month because things were getting noticeably worse in Italy and across Europe on a daily basis. Everyone was quite happy about the decision. The only person who still visits the office daily is one employee who lives across the street. She's looking after our plants :)

We transported screens, chairs and technical equipment to everyone who needed a proper work station at home. This way, we're confident that everyone is comfortable and able to continue their work and routines from their respective homes.
What has been your biggest internal challenge over the last few weeks?
We've only just started this home-office experiment so our challenge is still how to connect. It's easy to feel isolated at home, as you don't casually run into colleagues in the kitchen or around the office. We are currently in the process of figuring out how many remote calls it will take to keep that connection going and to stay aligned. It's fun to see where and how people live, to interact with their children, or to get to know pets via video calls.

As with every other company, we're also having to navigate the economics of the situation. What will happen to the market? Will our clients stay financially stable? Will they continue to work with us? Will we be able to keep our sales pipeline full? We are looking into our options, the assistance available from the government , and the legal aspects to consider, especially in the event of a worst-case scenario. We want to do everything we can to stay in business and leave this crisis shaken, but alive. This challenge isn't behind us, but ahead of us.

I come from a systemic coaching background, so I also offer the team regular, 1:1 check-in sessions with me. During these sessions, we can discuss whatever may be bothering them. We also offer free weekly yoga classes at the office. The colleague who organises these classes made sure that we could also keep things going with a remote set up. A lot of our team members are sharing links to free online courses via Slack and people are proactively trying to help create a better daily routine for everyone.

We have just had our monthly Pizza Patch. Pizza Patches are our monthly, usually in-person happy hours, where we do a check-in round to see how everyone's last month has been, as well as eating, obviously. It's a great way to connect with the team on a more casual, personal level. This month, things were slightly different considering the fact that everyone had to stay home. We decided to connect anyway via Zoom. Someone came up with the idea to dress up to add some extra fun. Sometimes you only need to slightly adjust your routines to make the best of the unusual situation. The spirit was still there and I don't think I'm exaggerating when I say we had a lot of fun.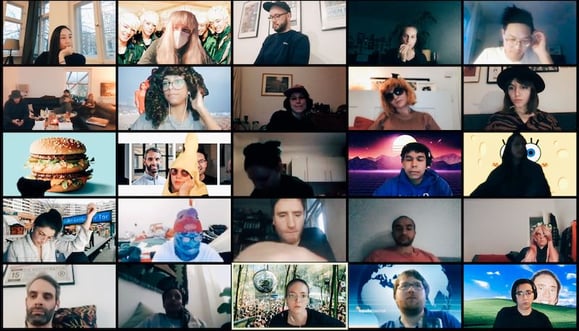 Any recommendation for any HR colleague who may be trying to figure it out how to prepare employees for the uncertain future this crisis brings?
Keep your company informed, present the most updated facts, ask them what they need, and address their concerns head-on.

I find HR networks incredibly helpful because there is always another HR professional with the same question. All the answers are already out there - collect them, sort them and put them into an action plan. Purple Squirrel and Secret HR Society are great Slack networks by invitation. Hungg Lee's recruiting Brainfood is also a great source for information via email newsletter. HR tools often have blogs with very useful information. In terms of our current situation, legal updates can be found on the Arbeitsamt page or in the IHK newsletter (Chamber of Commerce).

I would also recommend that leaders keep their routines as much as possible or adopt new, adjusted ones. You would think that people enjoy working in the comfort of their own home, but in reality it's an incredibly lonely experience for some people. Some people miss the personal interaction and the separation between work and life. For this reason, it's important to show empathy, keep checking in with people, and take notice of mood changes. We can get through this together.
Nowadays, thousands of workers in Europe and Asia have been forced to stay at home and work remotely. How do you coordinate all your different teams located in different countries?
At Goodpatch Europe, people are largely self-organised and we're quite used to managing ourselves. We work with roles and circles. People can be in multiple circles and every circle has someone responsible for coordinating the different roles, and that circle's output. We also have team and studio leads that manage our resource planning and make sure that everyone is aligned. We use 1:1 calls, regular team meetings and check-ins to help create this alignment.

Given the geographic limitation, time difference, and language barrier, our Tokyo team has its own organisation and routines. However, we do keep each other updated and informed.
How did you implement remote working in Goodpatch?
Going from occasional, sporadic home working, all the way to 'everyone must work from home' is quite a leap, so, to be honest, it was a bit of a cold start for us. Our main priority was that everyone should have a good set up. As I mentioned before, we prioritised the transport of screens and other furniture/equipment that people needed to do their jobs at home.
These days, everyone has an internet connection at home, so at least that wasn't an obstacle. We also provide each employee with a MacBook, so they are also very mobile. We're very lucky that the team is self-organised and our international set-up means that everyone is quite used to working remotely.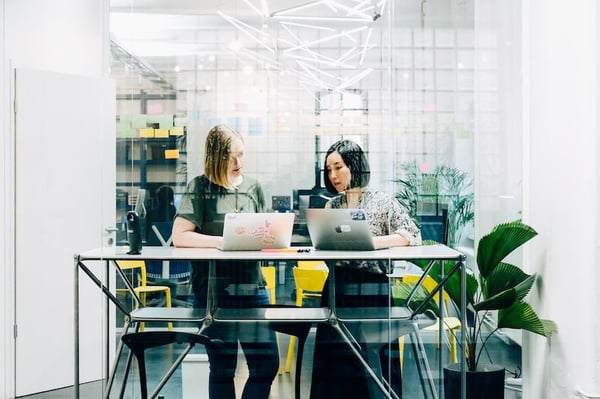 What was the role of the HR department in this process?
As HR manager, I am a part of a team that includes our studio leads, business development and our managing director. We all have very different points of view, different levels of expertise, and different sets of information. We work very hard to consolidate these perspectives and information to come up with the best solutions as a team. My role is to consult teams on the best way forward given the information we have available, to know where to find key information, and to be a sparring partner to the rest of the team.

As the HR component, it is my responsibility to gather all relevant legal information and look at things from the employee perspective, but it is also my responsibility to look at things from the economic side. This involves a lot of administrative work, a lot of research, and, at the same time, the regular day-to-day tasks that need to be done.

I am also a people person and take great care that my work-life balance is always as positive as possible. In this respect, I check-in with the team regularly, lend an ear and help them tackle their own personal challenges, and generally ensure the spirits stay high.
Any inspirational material that you want to share with HR heroes like you?
The Slack group, and the Secret HR Society, which has been an amazing resource for important information, feedback, and is a great networking tool. You have to be invited, but they have a ton of useful links and recommendations on all HR-related topics. I also like to look through other company's best practices. There are some amazing companies out there that take their employee obligations very seriously and run inspirational HR strategies. Without motivated, happy employees, no company can ever be successful.
You may also be interested in our article about how tech companies standardise remote working.