Since 2017, all UK companies with 250 or more employees must comply with gender pay gap reporting requirements. As part of the Equality Act of 2010, this legislation aims to achieve remunerative gender equality and put an end to the pay gap, which according to data from the Office for National Statistics, was 15.5% among all employees in 2020, to the detriment of women.
Smaller companies in the UK have, to date, been exempt from these reporting obligations. However, eliminating the gender pay gap is certainly easier to achieve with fewer employees. As a result, it is prudent for all companies to implement gender-equal recruitment and business policies from the word go, especially fast-growing start-ups, for example.
However, completing pay gap reports can pose certain challenges for the Human Resources department. In Spain, for example, where reporting is mandatory for all companies no matter their size, 68% of managers admitted having considerable difficulty fulfilling the task, according to a survey carried out by Kenjo into mandatory pay gap reporting.
To make this task easier, at Kenjo we have launched a new, simple, and intuitive tool to automate the reporting process in line with legal requirements. Below, we'll explain the legal framework and how to use the tool.
What does the legislation say?
In the UK, as we mentioned previously, all larger companies with 250 employees or more must submit salary information on their male and female employees. This is done via an annual "snapshot" of a company's workforce, which records:
Salary information for the workforce separated by gender
Variable remuneration (bonuses and additional benefits)
In addition, employers should include:
The arithmetic mean and median: to detect any difference between women and men's pay.
Snapshot date: the calculation must be done annually on the same date – usually 5th April and published within a year.
Supporting narrative: while voluntary, many companies choose to include a supporting narrative to explain the existence of any pay gap that exists and highlight steps the employer is taking to address the disparity.
What does Kenjo's wage reporting tool include?
Our pay gap reporting tool digitalises and simplifies the process. It comes with a set of functions to help companies comply with the legislation and easily submit the mandatory information.
Here we explain how it works and how to use it. All the data included in the following graphs are fictitious and prepared for the purpose of this article.
Staff salary information
The tool gives you an overall view of your staff's salary information, split by gender. In this way you can see at a glance if a disparity exists in your company that you need to correct. Using the tool you can choose and view the following parameters:
Selection of reference period: this must be one calendar year. You can choose the current year or previous years.
Basic salary: you will see a graph showing the percentage of women and men on the basic salary in the company.
Basic salary and variable benefits: on top of the basic salary, bonuses and additional benefits are also calculated automatically.

Kenjo Interface
This section also includes:
Mean and median calculations: the tool calculates automatically the mean and median earnings of both sexes.
Variable remuneration: disaggregated information on bonuses and additional benefits. For example, a target, sales or training bonus.
Employee information: beneath the graphs there will always appear information relating to the employees in question.
Salary information for job roles of equal value
Here, the tool allows you to do the following:
Select roles of equal value: choose between the different job roles that exist at the company
Make a comparison between men and women: the operation automatically carries out a salary comparison between men and women in a comparative role. For example, for those with a 'Sales Manager' job title.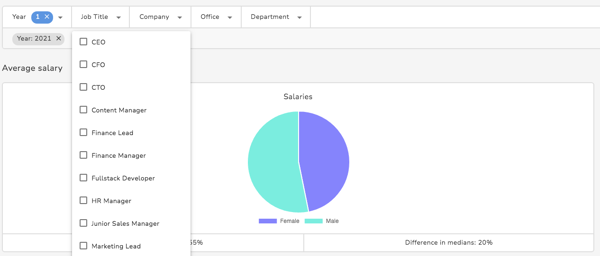 Kenjo Interface
Calculate the arithmetic mean and median: again, the operation will automatically calculate the arithmetic mean and median for men and women.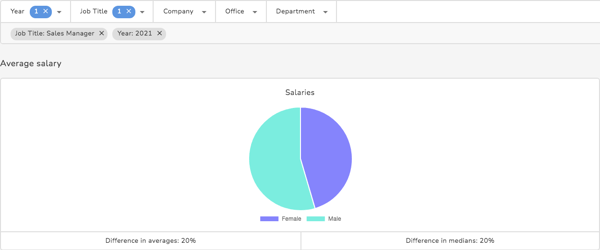 Kenjo Interface
Salary inequality alert
The tool will alert you with these parameters:
Significant salary disparity: if the salary difference between men and women in the same role is 25% or higher, the tool will alert you to the inequality.
Difference to the detriment of women: when the inequality is to the disadvantage of women, Kenjo will show the mean and median in red.
Difference to the detriment of men: in contrast, if the inequality disadvantages men, the result will appear in black and white.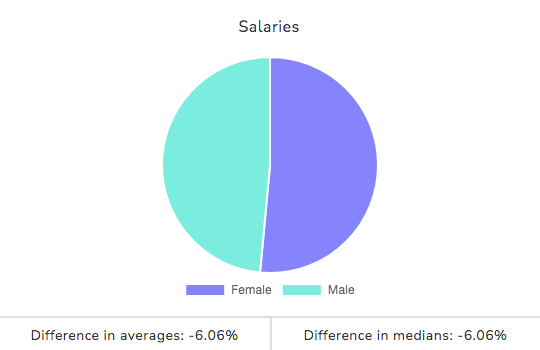 Kenjo Interface
Selection of different variables
The tool allows you to select different variables, such as:
Companies: if the organisation has more than one company, it is possible to view the salary information for each one and even do a comparison between them.
Offices: if the company has more than one office, you can also select one, or various.
Departments: in this section there is a drop-down menu with the different company departments, such as human resources, finance, marketing or sales.

Reference dates: as we have seen, you can choose the current year or previous years.
Job roles: likewise, it is possible to choose between different job roles to compare all employees who share the same job title.
Data export
As well as these helpful data graphs, the tool also provides an accompanying document to explain the information. For companies of all sizes, whether they are required to complete mandatory reporting or not, this report is an essential aid to ensure there is no pay inequality in the company due to gender discrimination.
To help with this task the tool allows you to:
Export reports: all information regarding remuneration can be downloaded as a PDF with one click. The report will contain the following:
Document description

: a brief introduction explaining the purpose of the report.

Reference graph: an image of the salary percentages is displayed with a written explanation of each one.
An indication of variable remuneration: bonuses and additional benefits are also displayed in graph format with a written explanation.
Data confidentiality: to comply with data protection, the document does not contain personal employee information.
If you would like to try the tool or obtain more information, go ahead and arrange a demo with our team of advisors.