Human resources management tools are seeing an upsurge in popularity as more companies discover the many benefits they bring to the department. For starters, they deliver time and cost savings, and can improve decision making in all organisations, no matter the size.
Why should you use digital HR tools?
Whether you belong to an SME or a large international corporation, all organisations can benefit from HR management tools. They are designed to simplify processes, save time, and generally make it much easier for the department to do its job and achieve better results.
Time savings: once the implementation and launch stage is out of the way, the HR team will be able to work much more efficiently. The most repetitive tasks can be automated saving the team valuable time. A definite improvement for the team's internal processes.
Enhance the employee experience: people today use their phone for everything and want results yesterday. Digital HR allows employees to interact with the team digitally, providing them with a much more positive experience and opinion of the company.
Save the company money: HR software is usually paid according to the level of service provided, and tariffs are flexible. In general, technology will create cost savings, allowing organisations to reallocate this portion to other areas.
Promote better decision-making: gathering all company and employee data on a single platform means it can be used more effectively, and previously inaccessible information comes to light. This enables us to automatically and accurately obtain valuable insights to help us make better decisions.
Provide transparency: HR software these days is stored in the cloud, so all team members need to access it is a device with an internet connection. This improves accessibility as well as transparency, as everyone has the same information available to them and can stay up to date on everything.
Competitive advantage: when a company has more information on its employees and HR processes, it can make better decisions and in turn improve its competitiveness.
Employee portal tool
The HR team must receive hundreds of emails from employees submitting receipts, requesting annual leave, or asking how many holidays they have left, etc.
Reviewing and managing all these communications takes a huge amount of time. For this reason, many companies use their own employee portal. This is a private access website in which
workers can manage basic admin such as the tasks mentioned above.
On one hand, this gives the staff a sense of self-sufficiency, but, above all, it has a massive impact on the HR workload. No more spending their days opening and responding to hundreds of emails. Workers can resolve many of their queries by themselves, and the rest can be managed via a single platform.
Moreover, as we said above, employees (like everyone these days) are used to using their smart phones or the internet for almost everything: ordering takeaway deliveries, reserving restaurant tables, or buying cinema tickets. Having an app to communicate with HR improves their employee experience.
Time off management tool
Managing time off is another one of the HR department's great challenges. Every year, when holiday season approaches, employees submit their requests (usually via email) and expect a response by return.
For the HR team, this deluge means a significant increase in workload, as they have to find out how many holidays each worker has left, update the information, check there is no cross-over with their cover, and make sure no areas will suffer production and service disruptions, etc.
Time off and absence management tools have completely transformed the HR management landscape. Employees request days off via an app (goodbye emails), their line manager automatically receives a notification to approve or deny the request and HR receive the need-to-know information in real time. It simultaneously generates a calendar showing each employees' days off to ensure there will be no departmental issues.
Performance review tools
Performance reviews have become the tool of choice for HR departments to objectively measure employee output. They also provide a very complete view of the company's talent and any training or recruitment needs that may arise.
However, carrying out performance reviews with Excel spreadsheets or other traditional methods can be a nightmare. From designing the questionnaires, gathering the team members' feedback, and pooling the information, to doing calculations, extracting conclusions.
It is much easier with the help of performance review software. These allow you to create your own processes or start from predesigned templates, automatically send out questionnaires to reviewers and process the information via individual reports that highlight strengths, areas for improvement, a general rating, etc.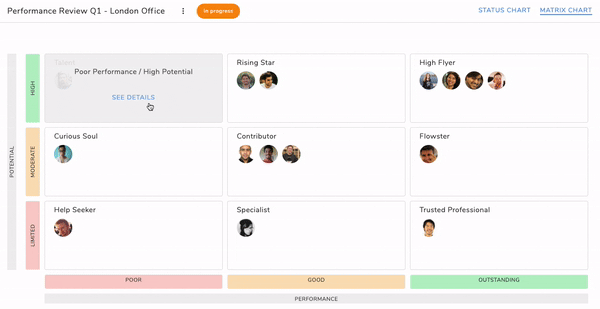 Kenjo Interface
Kenjo also creates a talent matrix which displays a simple visualisation of your workers' potential compared to the others.
Ultimately, this HR tool will help you create objective and reliable processes to help you get to know your employees better and support them in their professional career path.
Attendance tools
Tracking worker attendance is key to measuring business performance and efficiency. In some countries it is even a legal requirement. In Spain, for example, it has been compulsory to record employee attendance since 2019. All Spanish companies must have a record of when each employee starts and finishes work and retain it for a minimum of four years.
Many organisations opt for simple Excel spreadsheets which their employees complete every day, week, or month. However, it's not the best system. Time tracking software makes it easy for your employees to record their hours, even from their phone. They can also do it from anywhere, making it ideal for client meetings or teleworking.
The software also includes reports that highlight the hours worked by each employee. They help identify variances and determine whether a certain department may need another person, for example.
And, of course, all the information is saved automatically and securely in the cloud. So, if you ever need to access the information, for a dispute or for planning purposes for example, it's all there waiting for you.
Recruitment tools
The hiring process, from the moment a vacancy is advertised until a new employee joins the company, costs money. So, it goes without saying that it is important to find the best candidate as soon as possible.
Recruitment tools are immensely helpful for accelerating this process, as well as achieving better results. Firstly, they let us advertise the vacancy on several platforms at the same time. But that's not the best bit; you'll also receive all applications via the tool itself.
Once you've attracted as much talent as possible, it's time to screen CVs and initiate the selection process. You can design tests or interview questions within the tool and use it to communicate with candidates. The process management will be much simpler, allowing you to devote more of your attention to the candidates themselves.
Each candidate will have an individual record showing their basic details, which you can add to as you go along when interviews or tests take place. Kenjo software generates an overall scorecard to help you compare candidates and decide which one is the best fit for your company.
Workflow tools
The automation of tasks and processes is one of the main strengths of HR management tools. You can create personalised workflows to make day-to-day work easier, more relaxed, and intuitive.
For example, you can automatically send emails to all company employees whenever there is a new starter. In this way, with no effort at all, you will keep all staff up to date with new developments.
Cutting the workload for the HR team, especially when it comes to mechanical or manual tasks, it key to allowing team members to concentrate on more valuable strategic tasks.
Onboarding tools
A positive onboarding experience is vital for two reasons: to help the new employee to adapt much sooner to their new position and the company, which will in turn save the organisation money. It's therefore particularly important to design this process carefully and implement it correctly.
Using an onboarding tool we can create a list of steps, so nothing falls through the cracks, and involve the rest of the team in welcoming the new member.
OKR tools
OKRs became fashionable thanks to their inventor, Google, and many companies have adopted them to help their employees work towards clear objectives. The system is based on selecting goals, identifying specific actions to help reach them and define the expected results. This allows the company and employees to focus their efforts and establish objective evaluation criteria.
A tracking tool for goals and OKRs allows you to save each person's goals and targets. They will have access to the platform to view developments. Most importantly, you can use it to evaluate results achieved and track them as they develop over time.
Work environment survey tools
How's your staff morale? Are your employees happy? A work environment survey will give you an answer to these questions, as well as the information you need to implement any changes required for improvement.
There are many different ways of carrying out this survey, but the best has to be to use tailored software. This will propose sample questions for you to configure a survey targeted towards your areas of interest. It will be sent out to the whole company automatically and deliver a report of the results.
Furthermore, as you build up a set of work environment surveys, you will also be creating a timeline which will show you how certain data have evolved and if the changes you are introducing are having the desired effects.
Which types of companies use these tools?
HR management tools are for all companies: from small scale companies large international corporations. As we have seen above, they deliver significant management benefits and time savings.
Small companies, which have only one or two people in charge of people management, can do more with the resources available. They will be able to save time, speed up internal processes, and achieve better results.
Large companies, on the other hand, with extensive teams, can improve their internal processes and increase efficiency. What's more, the whole team will have visibility of what is happening in the department to make better use of the data.
At the end of the day, HR tools are essential for department management. And in time, they are likely to become obligatory for companies to remain competitive on the market.