There can be little doubt that human resource management has changed significantly over the last decade. Traditionally, HR was seen as little more than the department which kept employee records, set pay scales, and ensured that the company was complying with governmental regulations.

But the role of HR has now exploded beyond these tight confines. The modern HR department is involved in every aspect of running a successful business by marrying the goals of the company with the needs of the employee. From identifying training needs to developing corporate culture to talent management, HR is essential for success.

Part of the reason for the huge expansion in the role of HR is the ever-increasing role that technology plays in the office. A flood of HR related software has hit the market over the last 10 years, designed to make the role much more efficient, freeing up resources for HR departments to concentrate on their own development.

In this article, we want to look more closely at some of these IT solutions and define what features the best performance management software in 2024 should include.
What is Performance Management?
Let's begin by defining what we mean by performance management.
Simply put, performance management is the act of ensuring that an employee is meeting the expected performance requirements of their job. This is a continuous process which begins with onboarding and continues periodically throughout the employees time with the company. The main thrust of performance management includes:
Communicating job responsibilities during recruitment and onboarding.
Clarifying performance expectations from the outset.
Regularly reviewing and appraising performance outside of annual reviews.
Identifying training needs in order to optimise individual and team performance.
Strategising methods which maximise potential and productivity.
Working between employees and management to ensure effective communication and a harmonious working environment.
And this is often just the tip of the iceberg. Performance management encompasses a huge range of tasks through which the modern HR department must navigate. Luckily, there is a wide variety of performance review software solutions on the market. Generally, these are designed to aid, organise, and ease the work of the busy manager.
But which appraisal software is the best?
Well, we'll get to that soon, but first, in case you aren't convinced, let's talk a bit about the advantages of using employee evaluation software.
What Are the Advantages of Using Performance Management Software?
So, what benefits can specialist software bring to an organisation? Well, the advantages are myriad, and there are virtually zero downsides for tech-savvy HR managers.
As a quick aside, before we begin, this type of software has many different names, depending on who you talk to. As you'll see from the headings below, we've peppered them with some alternative terms for performance management software, but remember, they all refer to the exact same thing. These alternatives may aid you in your own research.
So, with that being said, let's look at the advantages.
Digitise and Automate Daily Administrative Tasks with
Performance Appraisal Software
A paperless office, or at least a paper-light office, is an admirable goal that many businesses aspire to these days. Employee appraisal software can bring you closer to this goal while allowing many daily tasks to be digitised and, more importantly, automated.
Take staff attendance, for example. Performance review systems allow you to track start, finish and break times, sick leave, annual leave, personal days, and overtime. These can then be linked directly to HR protocols and payroll systems to create a seamless, automated system. The time saved through this automation frees up staff and managers to concentrate on other tasks.
Other administrative tasks which can be digitised and automated include:
Shift planning
Holiday scheduling
Payroll reports
Staffing levels
HR presentations
Your chosen software package will often set automatic alarms to keep you informed if, for example, an employee goes over their allocated holiday allowance for the year.
Performance Evaluation Software
Provides Valuable Insights
As we've already mentioned, establishing and agreeing achievable goals with the employee is an important aspect of the modern HR department. Performance management software can be used in all aspects of this, from recruitment onwards. It matters not whether this is in sales, manufacturing, or administration, there will always be measurable metrics which can be used as a benchmark for staff performance.
These metrics can be tracked easily using software, automatically converting inputted data into easy-to-read charts and graphs. This is objective, irrefutable evidence of how well a staff member is doing their job. This data is invaluable when it comes to performance reviews, considering salary increases, and making decisions about promotion.
Training needs analysis also becomes a breeze when you have all this data available at a click of a mouse. Strengths and weaknesses become instantly recognisable, meaning that support can be given exactly where it is needed, maximising the potential of employees and profitability of the business.
Self Appraisal Software
Encourages Staff Autonomy
The use of performance management software shouldn't be limited to just HR and managers. This should be a system which is integrated into the business, and the metrics should be available to every employee. This will allow them to monitor their own performance, adjust their workflows accordingly, and identify their own training needs.
Traditionally, this self-monitoring would come once a year before an annual review. Nowadays, thanks to employee appraisal software, this can become a monthly, weekly, or even daily occurrence.
Of course, some control must be exercised over this to ensure staff members do not become obsessed with the numbers, something which can be detrimental to morale, but, generally speaking, giving workers the ability to monitor their own performance is a positive which will improve workplace processes. It will also make them feel more involved in the corporate culture, leading to increased job satisfaction.
Performance Review Software
Improves Communication
Overall, using this type of software simply makes communication better. This is especially noticeable in large companies with many different and diverse departments.
Software such as this can be used to unite disparate working environments and bring everyone together into one glorious whole, working together towards achieving corporate goals.
Changes to documentation can be made in an instant and updated for everyone in the organisation at the same time. Interdepartmental planning becomes clear. Management can be connected to manufacturing in an instant to get updates on inventory and production times. Marketing can be kept in contact with the design department in order to keep track of campaigns and advertising.
Good performance management software can do all this and more. In the end, it improves the business, brings more profit, and makes the work experience better for all.
What Features Should Good Performance Management Software Offer?
Ok, you've read the above and decided that employee performance software can benefit your business, so what's the next step? Well, there is a large amount of software solutions on the market, some more comprehensive than others, some with excess features that you won't ever need. So, how do you make the decision?
Let's take a look at some essential features that your management software should include.
Intuitive User Interface and Ease of Use
Without a doubt, this is one of the most important features you want to consider. Performance appraisal software is supposed to make HR processes easier, and you don't want to be fighting with the system everyday in order to do the tasks you want it to.
A clean UI with easily laid out workflows are the first signs of good performance management software. You don't want to be hunting through hundreds of menus to find essential processes that you need to access on a daily basis. A degree of customisation in the main UI may also be a welcome addition.
Apart from that, some things to consider would be:
A design which is easy on the eye and comfortable to work with for long periods.
Access to key features directly from the main menu screen.
Automated systems which offer prompts and reminders.
Documents which can be signed with electronic signatures and don't need to be printed.
The best way to assess the look and ease of use of software is to try it. Any reputable software company should offer a free trial before you buy it.
Quick, Thorough Performance Review Data
You need to be able to access your data fast and it should be available in easy-to-read formats.
The best employee review software will take all the inputted data and automatically turn it into charts, graphs, spreadsheets and databases which give you easy, at-a-glance access to the information you need.
Dashboards, data matrixes, data analytics, and data visualisation are essential components of HR software. This makes it easy to give feedback to management, perform periodic reviews with employees, and identify areas of performance which need to be improved.
Employee Autonomy and 360-Degrees Feedback
As we discussed above, self-assessment is becoming more and more important in the modern workplace and good management software should embrace this.
Workers should be able to check their performance on any given project. From here they can rate and weigh themselves against the established expectations. This will allow them to self-evaluate and improve for the next project.
In addition to this, 360-degree feedback is becoming ever more popular in the corporate world. This allows everyone to get involved in performance review. Traditionally, feedback was dictated by the hierarchical structure of the organisation. Management would feedback to team leaders who would feedback to their underlings. In the 360 model, everybody can give feedback regardless of their place in the structure.
This gives a much more complete picture of an employee's performance, giving them objective and subjective data which can be used to make actionable plans for the future.
These are just a few of the main characteristics that employee performance review software should contain. There are many different features offered by individual developers. The best way to see these and decide which would be useful to you is to do your own research and get a free trial of the software that most interests you.
Having said that, let's move on to talk about some well-known software solutions currently in the marketplace.
The Best Performance Management Software in 2024
Below, we list some of the best known employee performance evaluation software currently available on the market. Many of the features available in these programs are similar, so the choice mostly comes down to usability and price.
As we said earlier, the best way to judge these is to research carefully and, if possible, do a free trial of the software. Some of the software listed offer free trials directly from their websites, others may need to be contacted to request this.
Whilst there may be some free performance management software available, these tend to be open source, complicated to use and lacking in features and usability. Because of this, we've decided to reserve this list for professional paid-for software only.
So, let's get started with our appraisal software comparison.
Kenjo
A relative newcomer in the field of staff appraisal software, Kenjo offers a cloud-based all-in-one solution for human resource management.
Integrating all the benefits and features of performance management we mentioned earlier in this article as well as much much more, Kenjo is a fantastic option which is scalable to any size of business.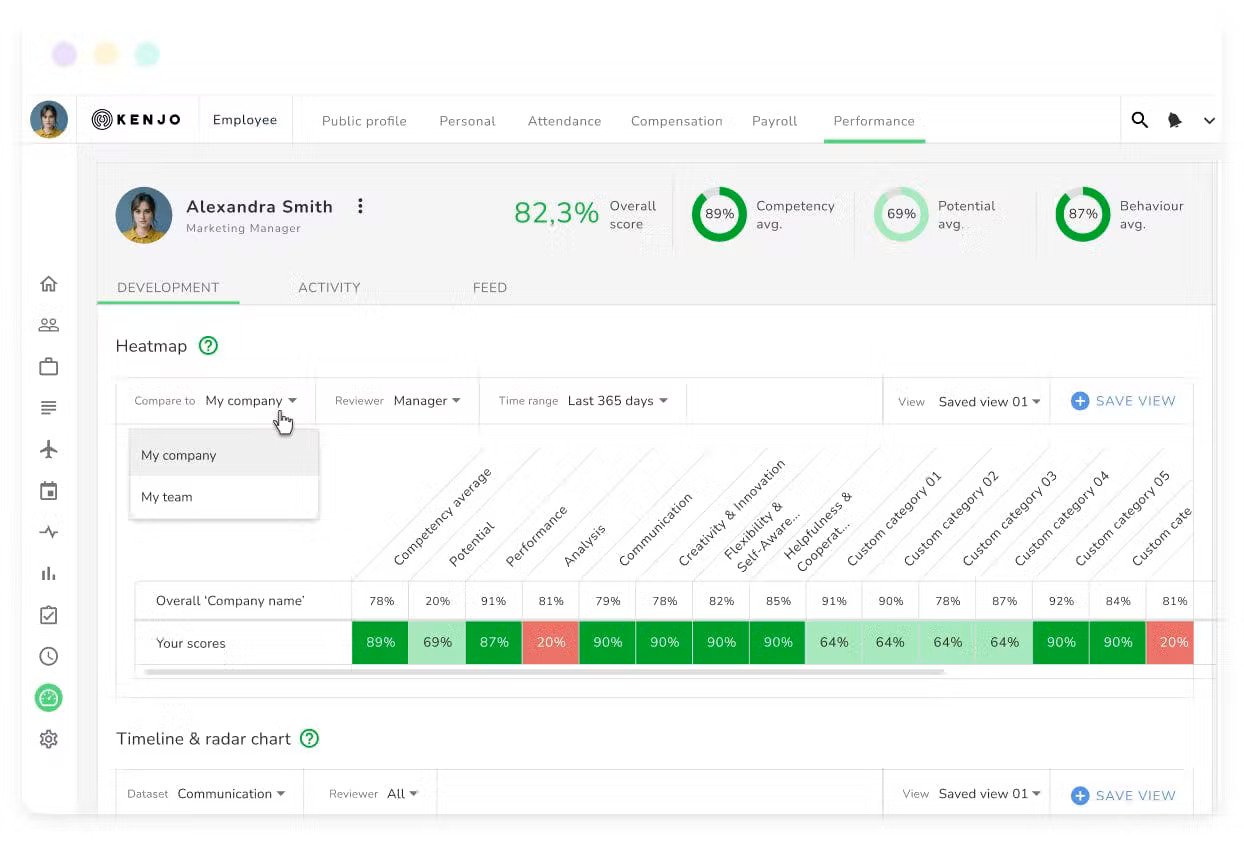 Add to this great customer service and support, a good looking interface, and hundreds of quality tools for all levels of human resources, and you have a modern solution for the busy office.
Prefect for the retail, manufacturing, health and education sectors, Kenjo offers a free 14-day trial and a personalised demo of the software so you can see exactly what you get before you buy.
Pros:
Fully integrated HR systems which offer all the benefits you would expect from this type of software. Cost effective. Well designed website offering a direct free trial.
Kenjo Price: Packages starting from €2.70 per user per month.
SAP SuccessFactors
SAP SuccessFactors is an established suite of HR software software which includes talent management, payroll functionality, HR analytics and workforce planning.
Developed more with large businesses in mind, Successfactors contains many features designed to give employees recognition at all performance levels.
Pros:
Good for large businesses.
Cons:
Some processes are overly complex. Some reports of poor customer service. No free trial listed on website.
SAP Price: From $8 per user per month.
Oracle HCM
Another piece of staff appraisal software designed for large businesses as opposed to small and medium enterprises, Oracle offers a comprehensive solution for performance management.
Offering easy access to profiles and talent pools, team performance can be tracked in real-time for easy management.
Pros:
A huge list of features, wrapped up in an easy-to-use interface.
Cons:
Although they do seem to offer a free trial, the process for starting it seems to be over complicated.
Oracle HCM Price: From $8 per user per month.
Namely
Similar to Kenjo, Namely provides a software solution which is scalable to any size of business.
The software is a cloud-based solution which contains a large number of features covering all the essentials we mentioned earlier in the article.
Pros:
Scalable to any size of business. Customisable interface.
Cons:
Initial set up may be complicated. Reported problems with customer service and support since a change to these systems in 2018.
Namely Price: From $12 per user per month
Sage HR
Sage HR is ideal for small to mid-sized businesses and contains a module based pricing system which is easy to understand. Offering hundreds of HR tools, you can customise your plan to get the tools that you need.
Sage allows for a high degree of customisation in their dashboards and contains all the essential features mentioned in this article, although some may only be available in higher level plans.
Pros:
Very good customer service. Clear website. Free trial offered.
Cons:
Basic package is very basic. Reported bad translations in some versions.
Sage HR Price: From $5.5 per user per month.
The Best Performance Management Software Comparison
Software

Languages

Price

Capterra Score

Free Trial

Kenjo

English


Spanish

German

5 € per Employee/per month

4.3 / 5

Yes

SAP SucessFactors

Over 10 languages

Starting at $8 per Employee/per month

4.0 / 5

Yes

Oracle HCM

Over 10 languages

Starting at $8 per Employee/per month

3.9 / 5

Yes

Namely

English

Available upon request

4.2 / 5

No

Sage HR

Over 10 languages

Starting at $5.5 per Employee/per month

4.4 / 5

Yes