LinkedIn's 2020 Workplace Learning Report talks about L&D's potential as "a growth engine for career trajectories and meaningful business impact."
At its best, that's what learning and development is all about.
It's why budgets and buy-in are continuing to grow, with organisations recognising the mission-critical impact corporate training can have on people – and business – outcomes.
But for years, learning and development hasn't been at its best.
Some of the biggest external constraints to building an effective learning function have disappeared – but for many businesses, L&D still falls short of its potential.
Could the answer be building a culture of learning?
Corporate

learning culture

often ineffective
Training Industry analysis says businesses spent more than $370Bn on corporate training globally in 2019. That figure has increased by almost $100Bn since 2010 – which you'd assume is testament to L&D's effectiveness.
But the stats don't bear that out.
McKinsey found, for example, that only 25% of employees feel training programs measurably improve business performance. And most companies don't even track training ROI.
You'd think organisations would be more fussed about ensuring their investment's paying off, given the sums involved.
Harvard Business Review found much the same. In 2019, they reported that 75% of managers are dissatisfied with their company's L&D function. And 70% of employees say they haven't mastered the skills to do their jobs effectively.
For HBR, "not only is the majority of training in today's companies ineffective, but the purpose, timing and content of training is flawed."
They talk about a training function plagued by 'signalling' – like employees earning continuous professional education credits to signal their worth for promotion. And L&D professionals themselves, signalling their own success by focussing on vanity metrics like number of credits earned instead of measuring business impact.
The truth is, most learning and development simply isn't effective. As HBR put it, we're learning the wrong things, for the wrong reasons, at the wrong times – and we quickly forget what we learned anyway.
And now, you've also got the impact of the pandemic to contend with. It's the perfect storm for learning and development.
How COVID has upped the stakes for L&D
Roughly half of in-person training programs between March and June were postponed or cancelled in North America, McKinsey say, leaping nearer to 100% across much of Asia and Europe.
Across the world, an already less-than-effective training function was thrown into chaos – with companies racing to adapt. As the CIPD say, "L&D is simply not a disposable aspect of company culture".
It's no surprise, then, that Training Industry report an 8,135% increase in web traffic to training topics related to remote learning, virtual instructor-led training (VILT) and leading through change.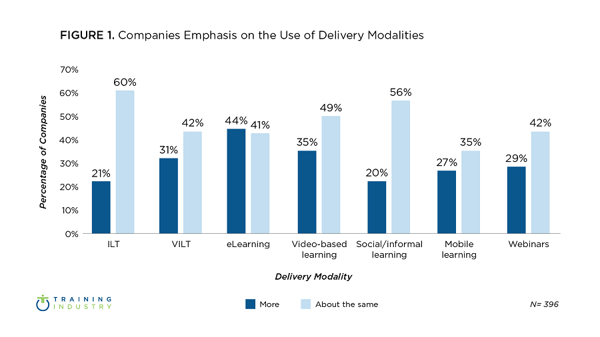 Source: Training Industry
COVID has forced the corporate training industry's hand – but simply scheduling endless tedious Zoom sessions isn't good enough. It might be ticking a compliance box, but it's not necessarily effective. (Hence why budgets have been shifting away from instructor-led training for years, LinkedIn say).
Even back in 2018, LinkedIn's 2018 Workplace Learning Report said the number one reason employees felt held back from learning was lack of time.
Now consider SHRM's finding: 45% of professionals regularly work longer hours during the week than before the pandemic, and 70% said they now work weekends.
The point is, lack of time is a pressing concern that's gotten even more pressing.
The same's true of what LinkedIn call "the upskilling and reskilling revolution coming in the next 3-5 years". The pandemic's changed that timeframe from 3+ years to yesterday.
The work-from-home transition, plus possible layoffs increasing workloads, plus the unstoppable march of AI and automation mean – as the CIPD say – "the need to upskill and reskill workforces" is "being accelerated by the onset of the pandemic".
In the post-COVID pressure-cooker, companies need to urgently evolve their L&D function. To create a culture of continuous learning that helps build resilience, empowers employees to adapt to new things in new ways, and equips organisations to effectively navigate turbulence.
How to build a learning culture at work
In 2018, Josh Bersin coined the term 'learning in the flow of work'. That is, learning that happens at the point of need; learning in the moment.
The CIPD give a great example, of an employee needing to use pivot tables in a spreadsheet:
"In the traditional approach, people would be allocated a place on a course that covers a range of spreadsheet skills, including pivot tables.
Within learning in the flow of work, the L&D team could identify relevant online videos or infographics to share with those who need to learn. The videos can be accessed many times 'in the flow' of working with pivot tables, until the employee feels confident."
This type of learning is an answer to the lack of time we've talked about above. As Josh writes:
"The average employee only has 24 minutes a week for "formal learning." People simply do not have as much time as they'd like to learn in a formal way, so this informal "in-the-flow" work is just necessary for success."

In other words, increasing the volume of training doesn't make a culture of learning. All it actually does is create a culture of frustration and resentment with endless time-consuming training courses that achieve little.
You can also think of this 'learning in the flow of work' as lean learning. Just as business processes have tended towards embracing agile, lean methodologies over the last few years, so too can learning and development.
Harvard Business Review define lean learning like this:
Learning the core of what you need
Applying it immediately to real-world situations
Receiving immediate feedback and refining your understanding
Repeating
Lean learning – learning that happens according to those four steps – is inherently part of your culture, because it's happening contextually and continually. It's not a sidenote, pursued when employees find time (or are harangued by senior leaders to make time). It's fundamentally embedded in employees' experience of work.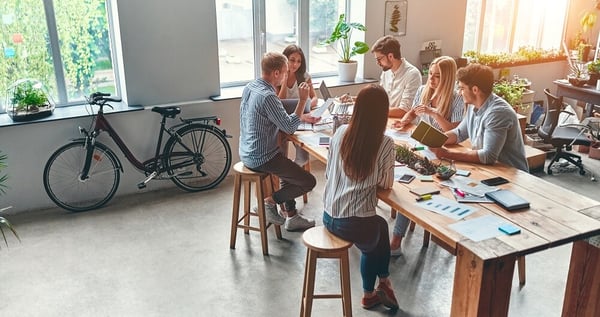 What does a learning culture really look like?
Let's come back to the CIPD's pivot table example. Say you're that employee, staring down the barrel of a complex spreadsheet and needing to know how to execute pivot tables to meet your 5pm deadline.
What does lean learning – learning in the flow of work – really look like?
It could mean Googling; reading a couple of articles; scouring YouTube for a good explainer video.
In practice, that's probably what happens anyway if the business doesn't already offer lean learning. Sure, you might enrol on the month-end Spreadsheet Skills course, but that doesn't help with today's deadline.
Or it might mean going to a trusted colleague for advice. Research shows that when wanting to learn something new, 55% of employees turn first to their peers. And that can be a powerful tool.

But there's also a problem here.
These are both reasonable tactics for learning, right? They're an example of an employee taking control over their own learning needs.
But they're not a culture of learning.
The opposite, really, as they're actually evidence of a culture where all the responsibility for seeking learning falls to employees rather than the business. Relying on individuals to set organisational culture is unreliable at best.
And a bigger issue, they're reasonable ways to learn – if the only measure of effectiveness is being able to do pivot tables.
But what about maintaining productivity? Meeting deadlines? Not spending all day hunting down a video that makes sense? Not distracting a busy colleague, potentially causing annoyance and friction that further disrupts the team dynamic?
For learning to be most effective, the organisation needs to take control over the learning experience. With our pivot table example, that could mean:
Having a searchable internal content database accessible anytime, anywhere with pre-approved content explaining pivot tables (third party, owned or both)
Getting your top spreadsheets person to record a video troubleshooting all the common pivot table issues, then uploading centrally.
Embedding internal chatbots to help employees find immediate answers, and referring to the appropriate person for extra support where needed.
Establishing an online hub for employees to connect with available peers who're able to teach pivot table skills – like an internal forum, for example.
Creating automated follow-up workflows to check in with employees who've recently done pivot table training, to test their skills and re-train if needed.
Tracking and measuring employee training needs over time, then developing more robust learning offerings where they're most needed.
Using tools with embedded contextual learning – like tutorials in the flow of work. Plenty of digital tools today leverage this principle.
Taking ownership – to create a culture of learning, where employees learn the right things, at the right times, for the right reasons – means normalising learning as an organisational, public process.
So when an employee faces a problem with pivot tables they don't solve it themselves, under the table.
Rather, the business knows there's a learning opportunity and provides multiple in-the-flow ways to learn, then follows-up to check learning has been absorbed. And scales that learning across the business, so everyone participates – with sharing their own knowledge – and benefits – learning from others.
That's what a learning culture looks like.
We're Kenjo. We help HR professionals become HR leaders – to help organisations achieve their most important business outcomes. Learn more about our all-in-one HR software.